Bodrum was an ancient Roman fortified port city. It would be from here that we sailed on the Gulet boat to the island of Kos to see the famous Asclepion. But first we visited the leading underwater archaeology institute in the old world….just fascinating. The lab is not big, but it does important work, because it enables the recovery of sunken ship booty and artifacts to enhance our knowledge of ancient sailing vessels and their cargo, and life in general in the ancient world. The director and our tour guide was Dr. Tuba Ekmeckchi from Izmir, who has been the director of the Institute of Nautical Archaeology's (INA's) Research and Conservation Center in Bodrum since 1991. This institute has a close relationship with the Texas A+M center for such nautical recovery work and study of ancient artifacts. They work together. Here is Tuba….
explaining the recovery of these enormous capital drums for a temple that went down with a ship off the coast of Turkey.. The smaller recoveries are inside, where the jugzaw puzzle work of putting back together amphorae and canteens and boats is ongoing…. Why do they do this? To find out the capacities of such vessels, and whether there were standard sizes and shaped and a host of other things…..They are also into the preservation of ancient ship wood, using brine and chemicals… Here are some shots….
That's Levent and Dr. Mark Wilson in the background…
An ancient hatchet….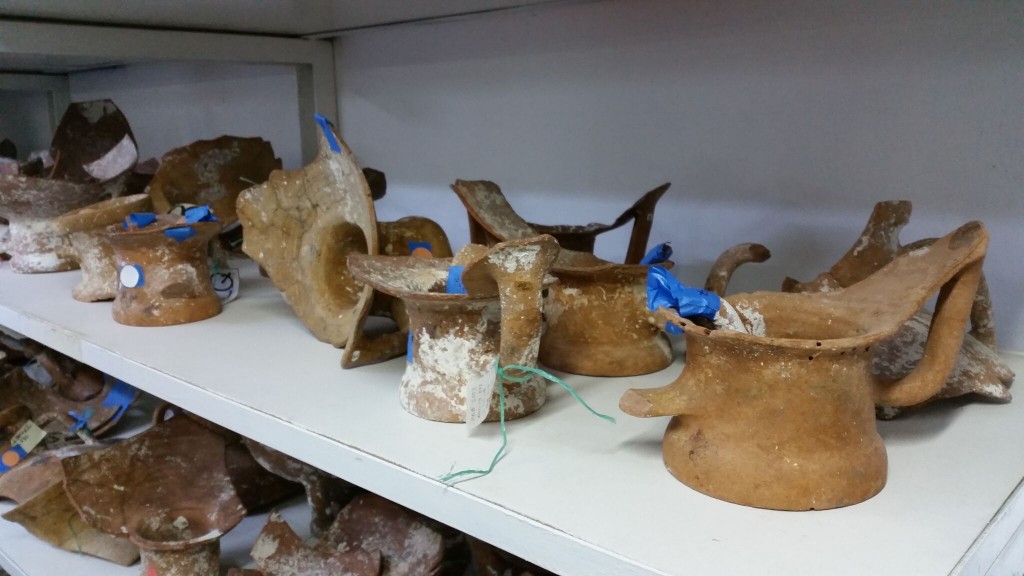 Tuba explained at length the process of recovery and the painstaking work of reassembly.
What she is holding in two of these shots is a cluster of ancient nails….and as it turns out nails just like those used in Jerusalem for crucifixion, as we know from the findings of an ossified ankle bone with nail through it near Jerusalem…..
I can tell you that the assemblers of modern jigzaw puzzles got nothing on Tuba and her band of reassemblers….. I am thankful for their work, but don't desire to join their lab!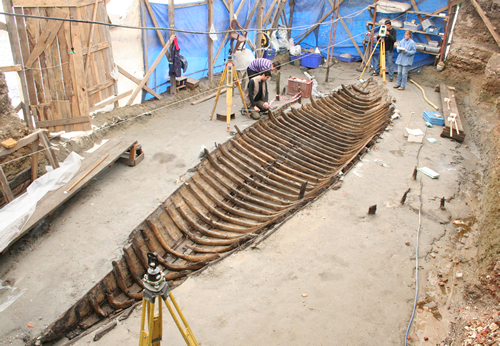 When it comes to this kind of work, not only is 'some assembly required' an infinity of patience is also required.