Somewhere in the 1880s, about 1884 a woodworking factory in Louisville, owned by an immigrant family, the Hillerich's, turned mainly into a bat factory, home of the Louisville Slugger. The reason for this transformation was because of the local budding baseball team, which in due course was to move and to become the Pittsburgh Pirates. And then there was, just up the road the Cincinnati Redlegs as well. Bud Hillerich, the son of the owner created a bat for Pete Browning in 1884, who, not incidentally was known as the Louisville slugger, and who according to legend got three hits with the bat the first time he used. The bat factory was off and running. Here's a shot of our man Bud, quite the dandy, and also of Pete in his Louisville uniform, and oh yes, those bad hombres who actually made the bats! Run to first if you see them coming!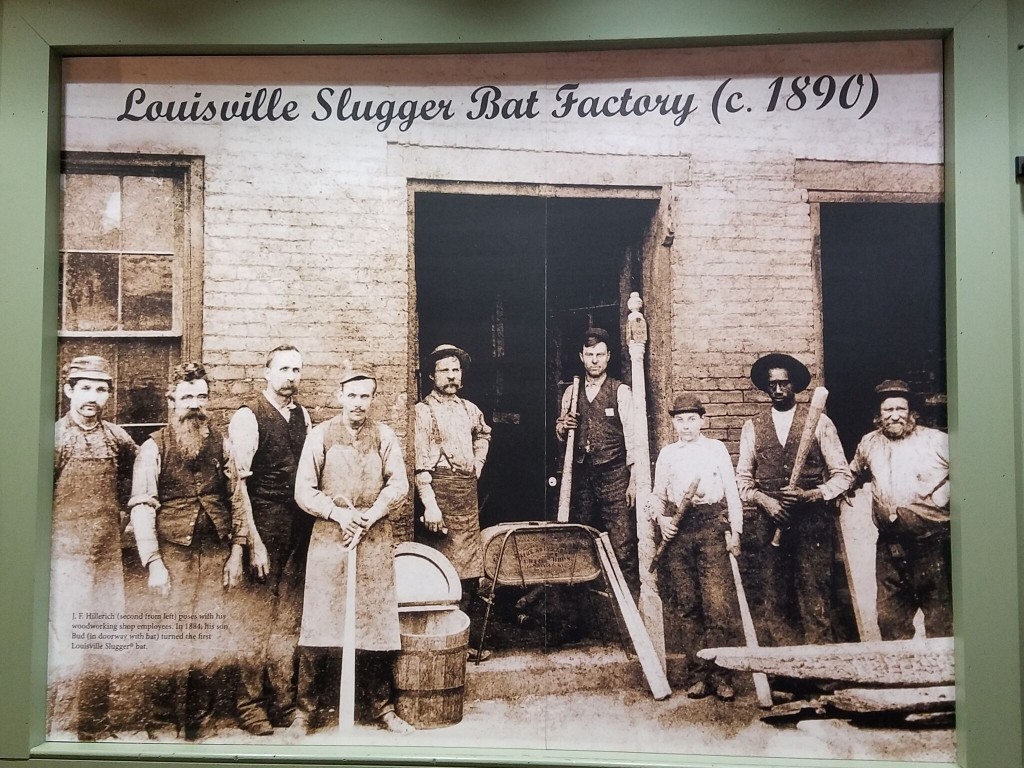 (First two pictures courtesy of the museum website. I forgot to take them when I was there.https://www.sluggermuseum.com/about-us/our-history).
Here's a recreation of young Bud and Pete at the shop…..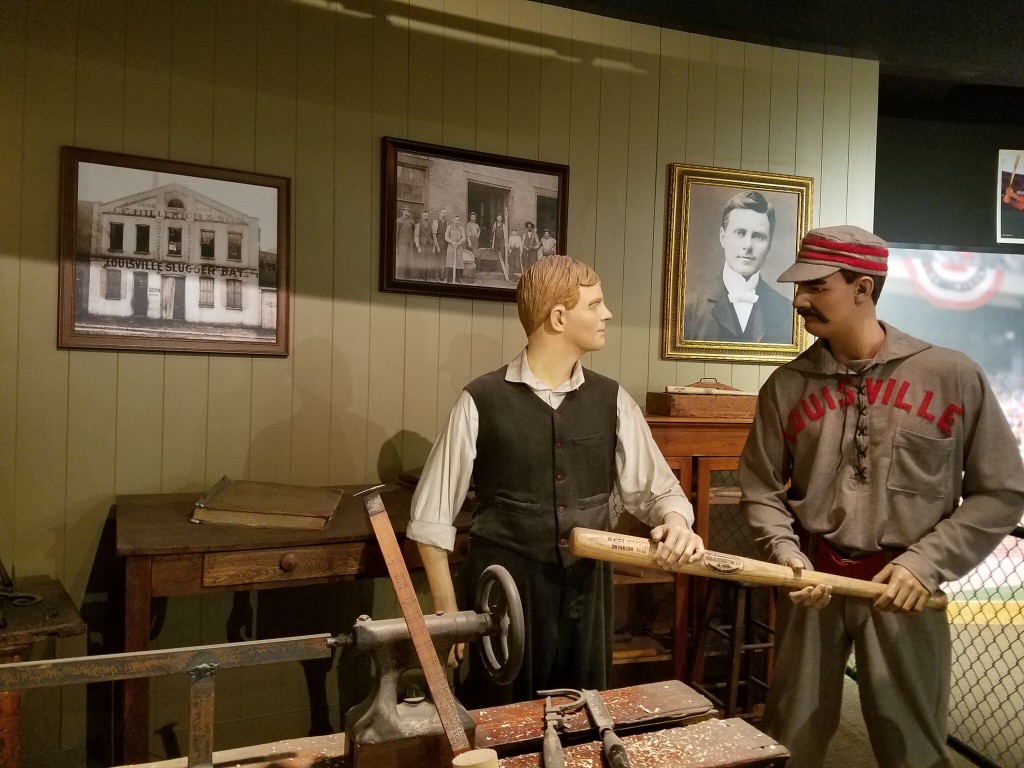 And here's a Hillerich with the Babe at the Kentucky Derby–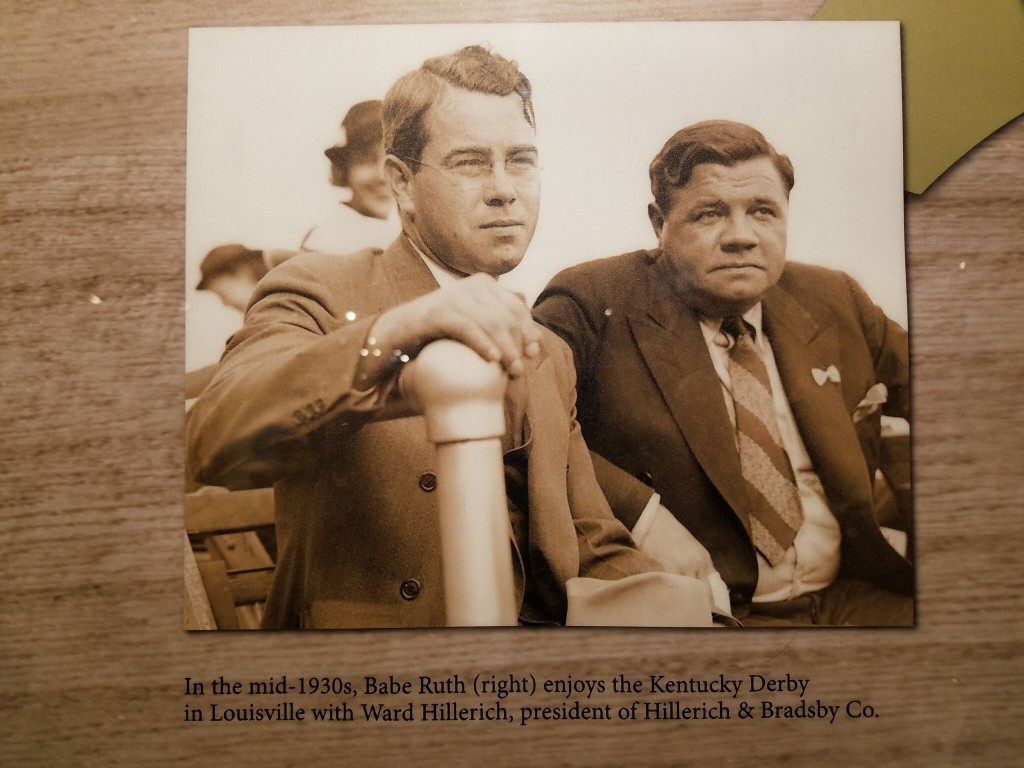 Here's what confronts you if you enter from Main St. into the Museum/Factory.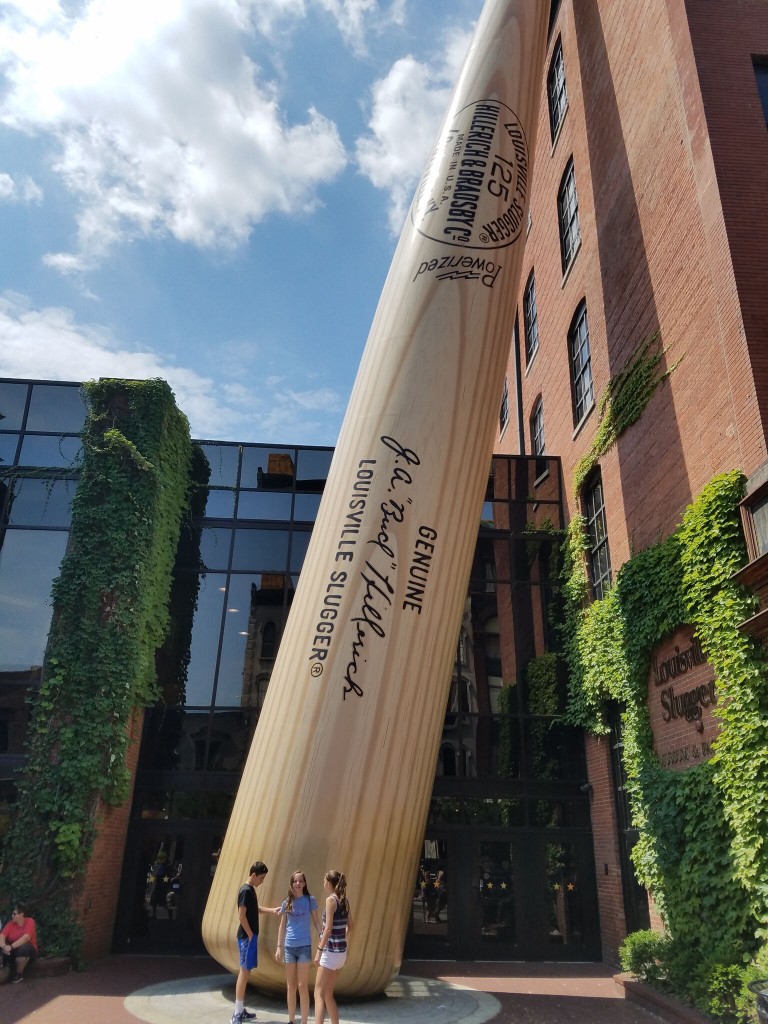 I've always loved baseball, the American pastime, a game invented here in the U.S. partially indebted to cricket and rounders (see the museum in Cooperstown). My father and I used to watch the 'Game of the Week' on NBC on Saturdays with Dizzy Dean and Pee Wee Reese as colorful announcers, and ole Diz would sing the Wabash Cannonball at some juncture for sure. Baseball is a game for people who actually have patience, and care enough to learn the intricacies of signs and signals and finesse and strategy. It is the only major American sport where at the beginning of every play the defense has the ball, and a plan as to what to do with it. No other game is like that! Advantage defense. And oh by the way, a player has exactly one third of a second from the time the pitcher releases the ball before they have to decided to swing or not. So batters have to learn to read pitchers motions, and yes, there's a lot of guessing involved as well. It's why they say hitting a baseball is the hardest thing to do in all of sports. Having played the game long ago, I believe it. My Dad on occasion would take me to Greensboro, to see the Greensboro Yankees, and I saw Mel Stottlemyre, Tommy Tresh, Bobby Mercer and Joe Pepitone come up through the minors. It was great. Two of my heroes growing up were Babe Ruth, and Ted Williams, and here they are, life size in the museum.
Here's the splendid splinter—-
Babe and Ted swore by their Louisville sluggers, even kissed them. Today major league players order up about 150 of their own personal bats for a full season. Here are some bats from last years World's Series champs…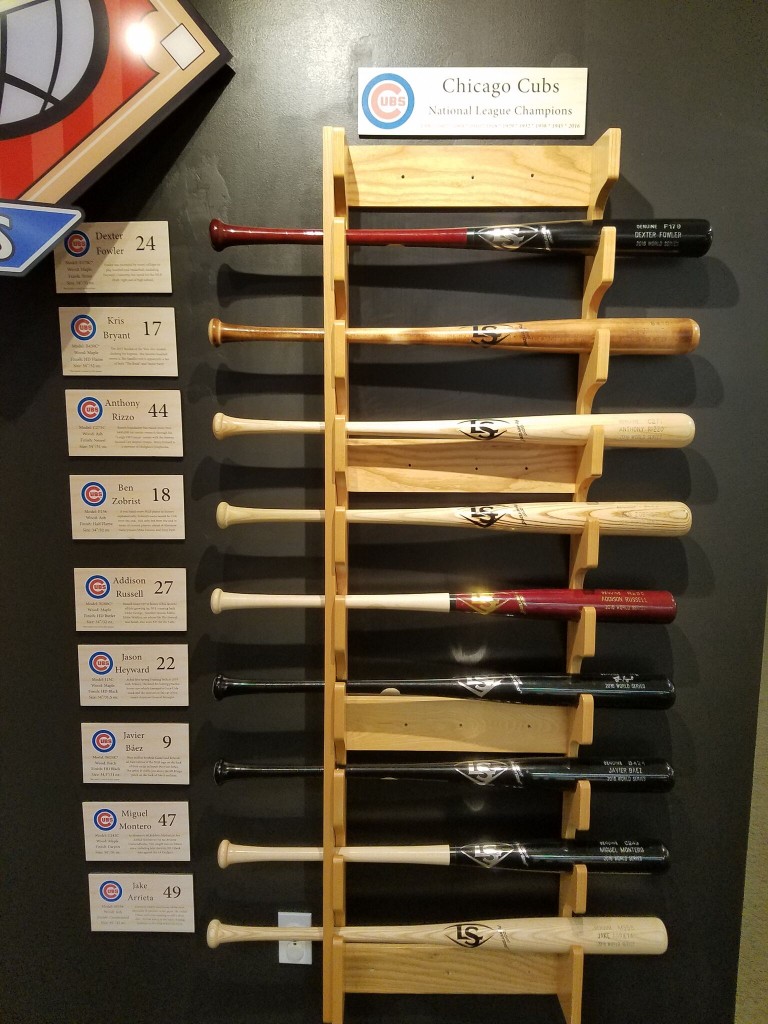 And the Indians too….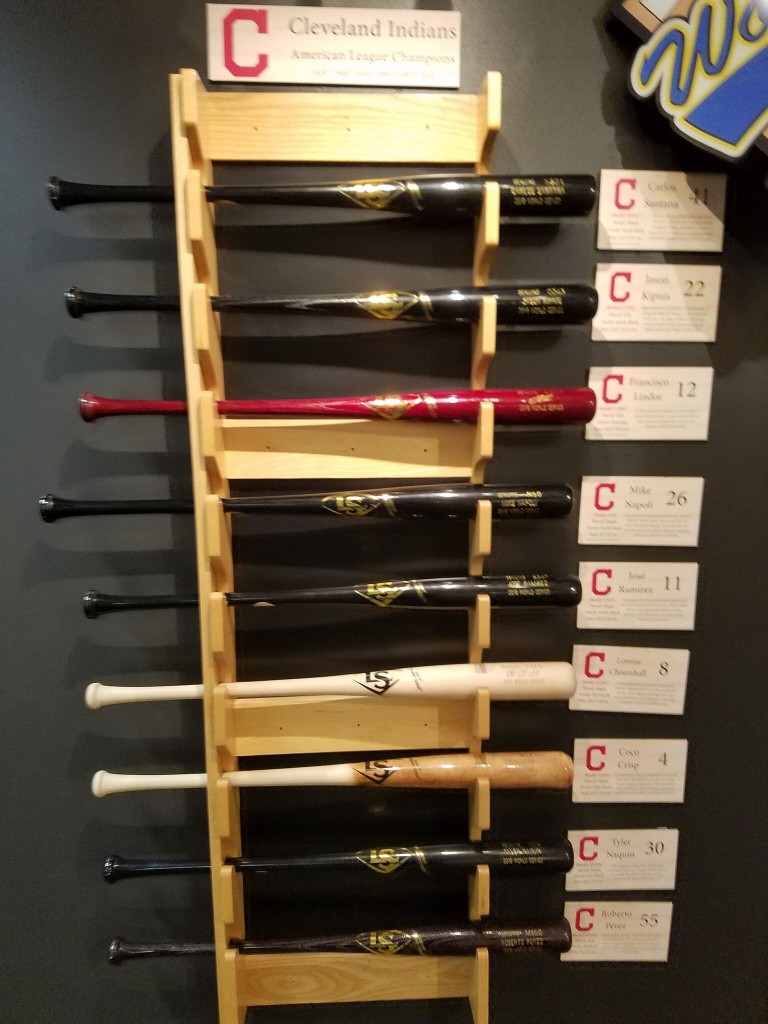 These bats are traditionally made out of ash from Pennsylvania and upstate NY, but many today are also made of maple…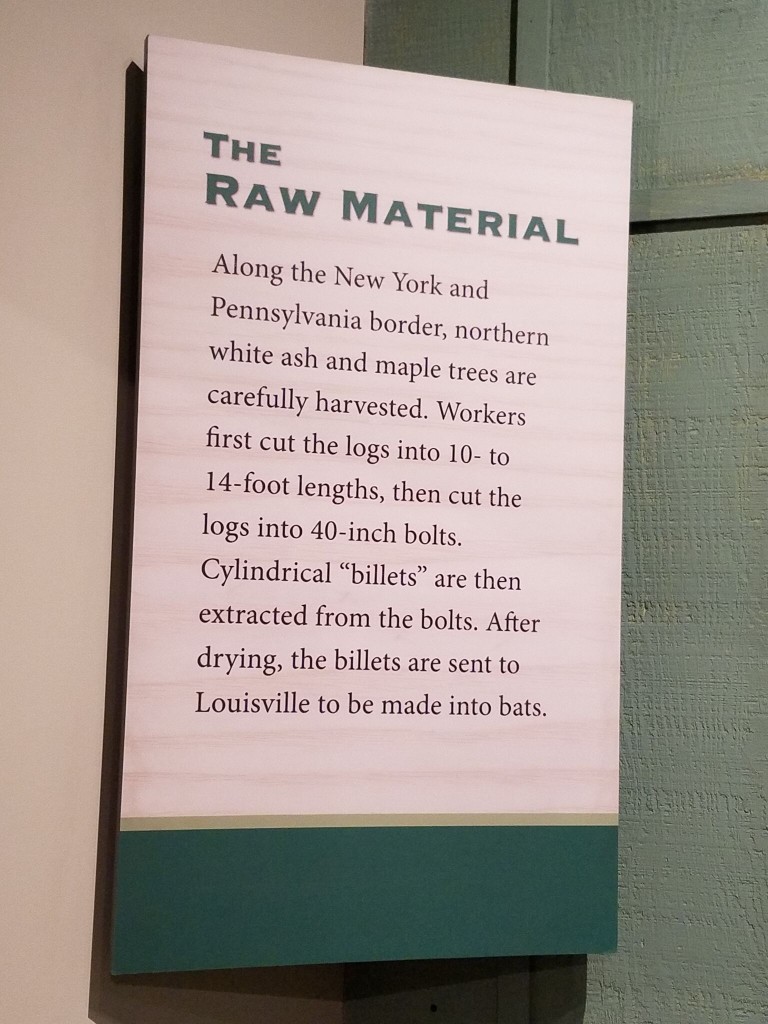 As for me, I did play on a championship church league team back in the early 80s, and did well. Had a .500 batting avg. (no home runs, but I was fast so lots of doubles and the like). I never fulfilled my childhood dream of playing real baseball in the Majors, but at the museum, I got to swing one of Big Papi's famous black bats made here, as you can now see. Yes, I'm a lefty like him.
Sometimes, childhood dreams do come true!