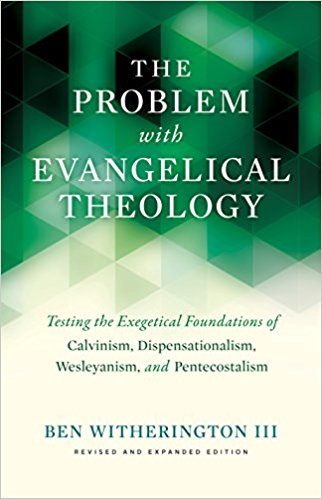 The Problem with Evangelical Theology: Testing the Exegetical Foundations of Calvinism,
Dispensationalism, Wesleyanism, and Pentecostalism
Ben Witherington III
Waco, TX: Baylor University Press, 2016 (2005), 978-1-4813-0421-4, $39.95, xi + 321 pb (this review appeared in the most recent issue of JSNT).
This is a revised and expanded edition of Witherington's 2005 book, which as well as
discussing Calvinism, Dispensationalism and Wesleyanism, covers Pentecostalism. The
author finds each of these major evangelical theologies to be exegetically weak in places, especially where we encounter the distinctive element of each, for example, the second blessing of Pentecostalism or the predestinarian theology of Calvinism. Writing as an evangelical himself, Witherington sets out to take stock of the evangelical Reformation theological heritage in its current form, investigating how 'well grounded it is in God's Word'. He is convinced that the problem with evangelical theology is that 'it is not nearly biblical enough'. The book has five parts, one devoted to each of the four theologies with which Witherington wants to contend and a final part which seeks a direction for evangelical theology which avoids the problems he has highlighted throughout the book. He calls for much more critical awareness and self-awareness in dealing with the biblical texts, for engagement with oppressed voices, for doing the 'hard work' of historical and linguistic analysis and, above all, for humility, a willingness to 'resist the Evangelical lust for certainty'.
Witherington's critiques of the various theologies are well presented and justified. He
seems as comfortable with the historical development of each of these as he is with the
text of the NT. One may differ with his particular exegesis of various texts along the way, but the tough questions he asks of these major foundations of evangelical thought are ones that ought to be faced squarely by evangelicals of all hues.
Gary W. Burnett