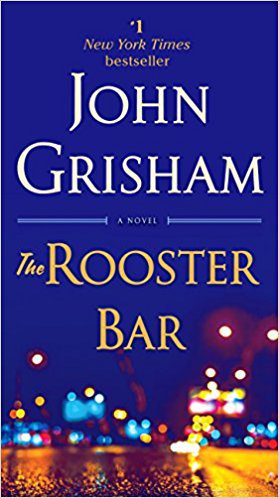 If you are looking for a quick (although there are some 400 or so pages), but in many ways troubling examination of the plight of students caught up in massive debt from their education, and suckered into some sort of for profit paper mill of an online or on campus school (think Trump University), then this is the novel for you. Here's the summary on Amazon—-
"Mark, Todd, and Zola came to law school to change the world, to make it a better place. But now, as third-year students, these close friends realize they have been duped. They all borrowed heavily to attend a third-tier for-profit law school so mediocre that its graduates rarely pass the bar exam, let alone get good jobs. And when they learn that their school is one of a chain owned by a shady New York hedge-fund operator who also happens to own a bank specializing in student loans, the three know they have been caught up in The Great Law School Scam.
But maybe there's a way out. Maybe there's a way to escape their crushing debt, expose the bank and the scam, and make a few bucks in the process. But to do so, they would first have to quit school. And leaving law school a few short months before graduation would be completely crazy, right? Well, yes and no . . ."
As an educator, I have grown increasingly concerned about phony education, false credentials, inflated grade reports and the like, especially when from time to time I continue to have some graduate students (thankfully a minority), who still haven't learned how to write coherent term papers or essays, nor have they learned how to do critical thinking.
This novel of Grisham's is meant to be disturbing. The three protagonists decide it is fair to game the system by pretending to be real lawyers prior to getting their degrees and passing the bar, in order to deal with their massive debt. You have to somewhat admire their bravado and courage, but not their professional ethics. More than anything, what makes this novel stand out from many previous Grisham thrillers, is he is dealing with how legal institutions end up ripping off students and offering them great jobs at the end of schooling, when in fact the vast majority of them will never have such a job, and will never pay off all their loans. Do these three students get their revenge on the system for ripping them off? I'll let you read the novel and see what happens. But their plight as accurately described here, is all too common these days, and our society should be ashamed of allowing the profit motive drive educational institutions even to the point of chronically dumbing down the curriculum, and the actual worth of the degree. When education is simply measured in terms of the dollars and cents it will produce for the institutions or their students, then we have forgotten the basic point of education which is the gaining of not just information, or even knowledge, but rather wisdom for living well and wisely, whether or not we ever gain wealth. And note to self— what is legal is often not ethical.