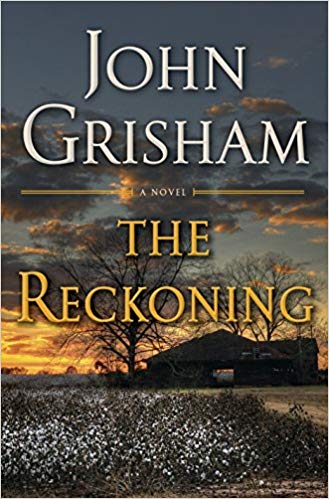 John Grisham is nothing if not prolific. His latest offering, The Reckoning is a thriller which involves the battle for the Philippines during WWII. Indeed, the book is divided into three parts and almost the whole middle part (of 420 pages) is a graphic description of among other things, the Bataan death march. I do not recommend this thriller for pre-Christmas joy, it's more like a buzzkill in various ways. That said, the story is gripping, terrifically told, and this is a really different sort of novel about a war hero. Here's one of the blurbs on Amazon—–"In this saga of love and war, John Grisham has given us a sprawling and engrossing story about a southern family, a global conflict, and the kinds of secrets that can shape all of us. From the courtrooms and jails of rural Mississippi to the war-torn Pacific, Grisham spins a tale that is at once entertaining and illuminating."
—Jon Meacham, New York Times bestselling author of The Soul of America
The novel is somewhat disjointed because the long middle section is all about the War, whereas Parts One and Three are about life back home in Mississippi both before and after the war. In fact, I did something I never do. Once I realized that Part II, called the Boneyard, was going to be about the gore of war, I skipped it on first reading, and went straight from Parts One to Three, without missing a beat really of the main plot. Then I went back and read Part II, slogging through the jungles of the Philippines with Officer Pete Banning a war hero, as it turns out.
In some ways, this is the most somber of all Grisham novels, and it reminds me of some of the short stories of Flannery O'Conner and of course her 'The Violent Bear it Away' or 'A Good Man is Hard to Find'. The title of this novel is appropriate, and like O' Conner's work it is a morality play, in this case reminding us that sin has consequences, and violence only begets more violence. Indeed, it reaffirms that the wages of sin is death….. but when humans set themselves up as infallible judges of other lives, they often get things terribly wrong, and the wrong person may pay the price.
If you're looking for a Grisham for Christmas season…. save this one for the New Year, and the time for either New Year's resolutions, or Lent!!