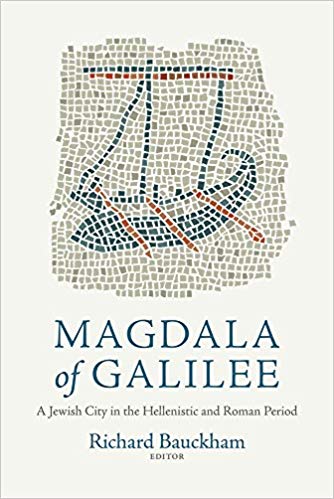 Q. IN LIGHT OF THE RECENT DISCOVERY OF SYNAGOGUES AND MIKVEHS IN VARIOUS PLACES IN GALILEE, IT APPEARS THAT THE AGE OF TRYING TO CARICATURE GALILEE AS 'GALILEE OF THE GENTILES' AND SO NOT VERY JEWISH, OR AT LEAST TRYING TO SUGGEST THAT NON-THEOLOGICAL AND NON-RELIGIOUS READINGS OF EARLY JEWISH LIFE IN GALILEE IS BADLY MISTAKEN. WOULD YOU AGREE? IT APPEARS GALILEANS WERE VERY DEVOUT, VERY CONCERNED ABOUT TORAH, AND RELIGIOUS PRAXIS.
A. Yes, that picture of a "Gentile Galilee" has been disproved on many grounds for some time now. We know now that most of the inhabitants of Galilee in this period were migrants from Judaea, who began to settle here when the Hasmoneans annexed Galilee to their Jewish state and were continuing to settle there up to the time of Jesus. There is no reason to think they differed religiously from Jews in Judaea. Magdala was a Jewish city. No pig bones have been found. Though there were baths comparable to those found in every Hellenistic/Roman city, no statues (normal in baths elsewhere) have been found, no depictions of humans or animals other than a dolphin on a mosaic in the baths. Each of the fish workshops had a small miqveh where the workers could bathe in order to ensure the purity of their products for customers who wanted assurance of that. Of course we can't conclude that everyone was devout and took great care over observing Torah in detail, but at least that was the public culture. There is a problem about the small size of the synagogue, which could only have accommodated a small proportion of the population of the city. I'm inclined to think there must have been another, older synagogue (the one that's been excavated was built in the first century CE) too, but studies have shown that quite a few synagogues (mostly of a later period, but including Gamla) were too small for most of the population to gather at the same time. So were there many people who never went to synagogue or only occasionally? Perhaps we should conclude that. After all, attending synagogue was an an obligation required by Torah.
Q. YOU SEEM TO FAVOR THE MOST RECENTLY SUGGESTED SITE FOR BETH SAIDA, BEING ON THE NORTHEASTERN CORNER OF THE SEA OF GALILEE, RATHER THAN AT THE TRADITIONAL SITE WHICH RAMI ARAV EXCAVATED SOME TIME AGO. WHY? TO ME AT LEAST, PROXIMITY IS AN ISSUE. ET TEL IS NEARER TO THE FISH PROCESSING ACTIVITIES IN MAGDALA, AND PERHAPS MORE IMPORTANTLY PETER IS MARRIED TO A WOMAN FROM CAPERNAUM, AND ARAV'S BETHSAIDA WOULD CERTAINLY BE CLOSER TO THERE.
A. Just to clarify what you say here, et-Tell is the "traditional site" only in the sense that Rami Arav's excavation team identified it as Bethsaida some decades ago and the identification has been widely accepted (so that it is now on road signs and maps). There is no evidence that it was where Bethsaida was located in Christian tradition. The site that Mordechai Aviam has been excavating (al-Araj) is just a couple of miles south of et-Tell and would have been on the shore of the lake. It is closer to Capernaum and to Magdala because it is on the shore of the lake and fishermen (and their families and others) would have made these journeys by boat. It was quicker to travel by boat than on land.
O.K. THE BOOK WAS A BIT CONFUSING ON THIS POINT, AND I THOUGHT YOU WERE TALKING ABOUT A DIFFERENT DIG ON THE OTHER CORNER OF THE LAKE.