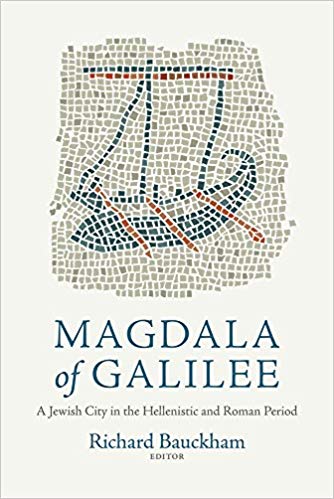 Q. ONE OF THE MOST INTRIGUING PARTS OF YOUR BOOK IS WHERE YOU DELINEATE THE VARIOUS DIFFERENT ROLES INVOLVED IN THE FISHING INDUSTRY, AND SUGGEST THAT FISHERMEN THEMSELVES WERE LIKELY TO BE OF MODEST MEANS, WHEREAS THE OWNERS OF THE FISH PROCESSING PLANT COULD BE QUITE WELL OFF. IS IT NOT POSSIBLE THAT SOME FISHERMEN WERE INVESTED IN THE PROCESSING OPERATION AS WELL?
A. Fishing was very hard work and took all the time someone had during the fishing seasons (and fish processing also, of course, had to take place during the fishing seasons). This is the basic reason why the same people couldn't do both jobs. And it's why fishermen didn't even sell their own fresh fish. They had to sell it to retailers who had the time to market it and who controlled the price. It's rather like dairy farmers in the UK now, who have to sell their milk to the supermarkets who dictate the price – meaning the farmers get very little profit. Magdala had a fleet of 230 boats, most of which must have been fishing on the lake – so there can hardly have been a shortage of fish. Fishermen could not have been able to accumulate the funds to set up a fish workshop – even the small ones that have been excavated in Magdala. Members of fishing families may well have worked there, but as employees. I found no evidence from the ancient world of fishermen making more than a modest living.
Q. IS THERE EVIDENCE THAT THE PICKLED FISH AND THE 'GARUM' MADE IN MAGDALA WAS EXPORTED TO VARIOUS PLACES, LIKE THE FAMOUS ROMAN GARUM WAS?
A. I guess you're thinking of the garum made in Pompeii. Salted fish and fish sauce (they were products of the same process) were made all over the Mediterranean world – Spain, Portugal, North Africa, Italy, Black Sea coast. I think garum was a bit like wine nowadays in that people who could afford it chose fine varieties from various different places that produced distinctive sorts. Ordinary people weren't so choosy. Unfortunately we really have no evidence of where Magdala's products ended up. Maybe no further afield than Palestine and the Decapolis. But Jews could be suspicious about the purity of Gentile-made garum and so Magdala's would probably have been in demand in Jewish Palestine.