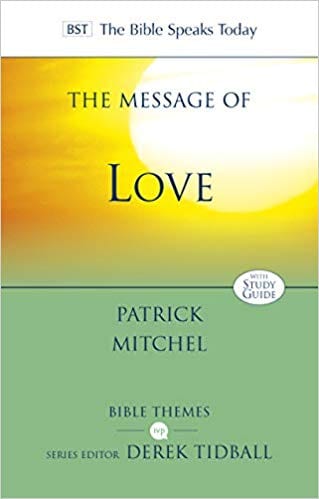 BEN: On p. 153 you say that discipleship is in the end about who or what we love most dearly? I thought it was about taking up our cross and following Jesus, which I don't imagine most of us think of that as something we love most dearly. Bonhoeffer famously said when Jesus calls us, he calls us to come and die. Again, that doesn't sound like something we would be enraptured about. Even Jesus said, if it be possible let this cup pass. Perhaps what you meant was that the one we love most dearly is the one we are the disciple or follower of? Explain.
PATRICK: I'm zoning in on Jesus' words demanding that disciples love him before any other commitment, even family. This echoes God's command to Israel to love him with heart, soul and strength (which has Christological implications but that's another story). Love in this sense is wholehearted allegiance. This is costly love – it's going to mean self-sacrifice, serving others, being willing to endure persecution. No other 'gods' are to get in the way. This is why I argue that discipleship is first and foremost a matter of the heart – which is why I'm sometimes dismayed by 'cookie cutter' discipleship programs that seem to be mostly about about information and techniques but assume that our hearts are already rightly orientated. That's a big assumption, especially in a Western consumer culture.
BEN: There seems to be a clear tension in Jesus' teaching between the physical or birth family and the family of faith, with the latter getting priority in Jesus' teaching. Honestly, I don't know of many churches who really teach or practice life that way. Instead, the church is all about nurturing the nuclear family rather than BEING a family. Where have we gone wrong, and what's the remedy, do you think?
PATRICK: Jesus is deliberately shocking to his listeners: "Anyone who loves their father or mother more than me is not worthy of me; anyone who loves their son or daughter more than me is not worthy of me" (Matt 10:37). Contrary to Messianic expectations his 'sword' will divide families. Disciples are to love Jesus first, before even our deepest other loves. This is perhaps one of his hardest sayings, especially in a Western culture that tends to idolize the family as the source of fulfillment and happiness. We invest immense significance in finding the 'right' person, and children are a source of ultimate significance to parents. I know I'm generalizing, but I agree with you that the church has bought pretty uncritically into this narrative. The family is seen as the goal, those who don't fit in are marginalized in a hundred different ways. A remedy first requires a diagnosis. Once the issue is recognized (and it's often not) then it's a question of leadership to teach and model a different narrative within the church family. One that celebrates singleness as much as marriage. One that teaches about marriage NOT as a private relationship between autonomous individuals 'in love' who construct their private nuclear family, but a porous relationship that is orientated outwards for the good of others in hospitality, service and friendship.