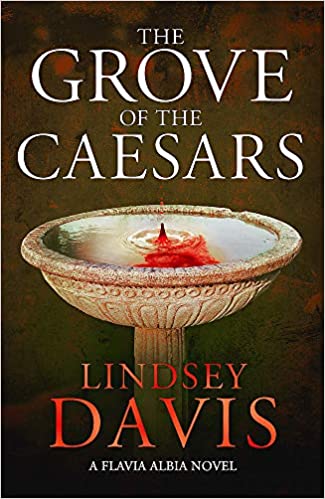 The ever prolific Lindsey Davis has done it again. It's hard to believe but we now have an eighth volume in the Flavia Albia series, and Flavia is gaining in Flava as the series rolls along. Here's the official summary about the book, which only emerges in the U.S. on July 28th….
"Julius Caesar left his gardens to the citizens of Rome, a peaceful sanctuary across the Tiber. Now the gardens and their sacred grove are dangerous haunts, especially for women alone.
'Don't go to the Grove,' people mutter, but when her husband has to leave Rome, it falls to Albia to supervise his building project in an old grotto. Why has someone buried tattered scrolls by obscure philosophers – and does it involve a worse crime than terrible writing?
Soon that puzzle is overtaken. A woman disappears from her husband's birthday party; she meets a dire fate, then Albia learns that on the same night, two louche slaves given to her family by the brooding Emperor Domitian also vanished in the gardens. Apparently, it is well known that a killer lurks there.
The vigiles have failed to investigate properly for decades and this won't improve when the sinister agent Karus arrives. Albia must co-operate, in order to give the many victims justice and find answers for grieving relatives. But can she herself remain safe? And, after others have failed, can she at last identify the predator who has made the Grove his killing ground?"
This particular novel comes in right at 400 plus pages and involves two interwoven stories one about the discovery of some moldy manuscripts apparently containing writings of little known ancient writers, and the other about the discovery that a serial killer has been burying his female victims again and again in the sacred Grove….but how would that be possible right under the nose of the gardeners who maintain the Grove? Inquiring minds want to know.
One of Davis' great virtues is her humor, which she blends nicely with her knowledge of ancient Rome during the Flavian period. Even when the subject matter of a novel is deadly serious, there is still much to smile about involving the way Flavia negotiates being a sleuth and a wife in a male dominated society in ancient Rome. The nice thing about these novels is you learn a lot about ancient historical context painlessly while enjoying a good tale. Highly recommended.