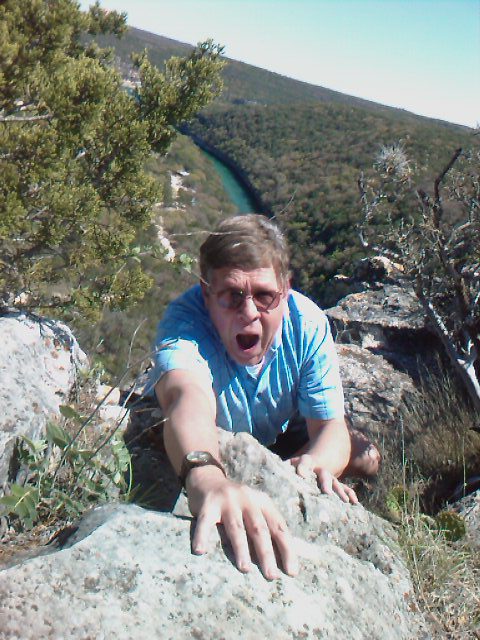 You think your life involves an uphill climb.  Try this one.  Below is the Frio river deep in the heart of Texas.  I do not do these sorts of climbs any more.  Climbing up Mt. Zion or even Mt. Carmel is a piece of cake compared to this climb.  But I digress.  There are sure a lot of verses in the Scriptures about mountains and climbing them, even though the Holy Land has nothing like the Alps, and the largest mountain Mt. Hermon was in fact just north of the Holy Land and today borders Syria.
And in that day The mountains will drip with sweet wine, And the hills will flow with milk, And all the brooks of Judah will flow with water; And a spring will go out from the house of the LORD To water the valley of Shittim.
~ Joel 3:18
For behold, he who forms the mountains and creates the wind, and declares to man what is his thought, who makes the morning darkness, and treads on the heights of the earth— the LORD, the God of hosts, is his name!
~ Amos 4:13
For behold, the LORD is coming forth from His place He will come down and tread on the high places of the earth. The mountains will melt under Him And the valleys will be split, Like wax before the fire, Like water poured down a steep place.
~ Micah 1:3-4
Mountains quake because of Him And the hills dissolve; Indeed the earth is upheaved by His presence, The world and all the inhabitants in it.
~ Nahum 1:5
"Go up to the mountains, bring wood and rebuild the temple, that I may be pleased with it and be glorified," says the LORD.
~ Haggai 1:8
'What are you, O great mountain? Before Zerubbabel you will become a plain; and he will bring forth the top stone with shouts of "Grace, grace to it!"'"