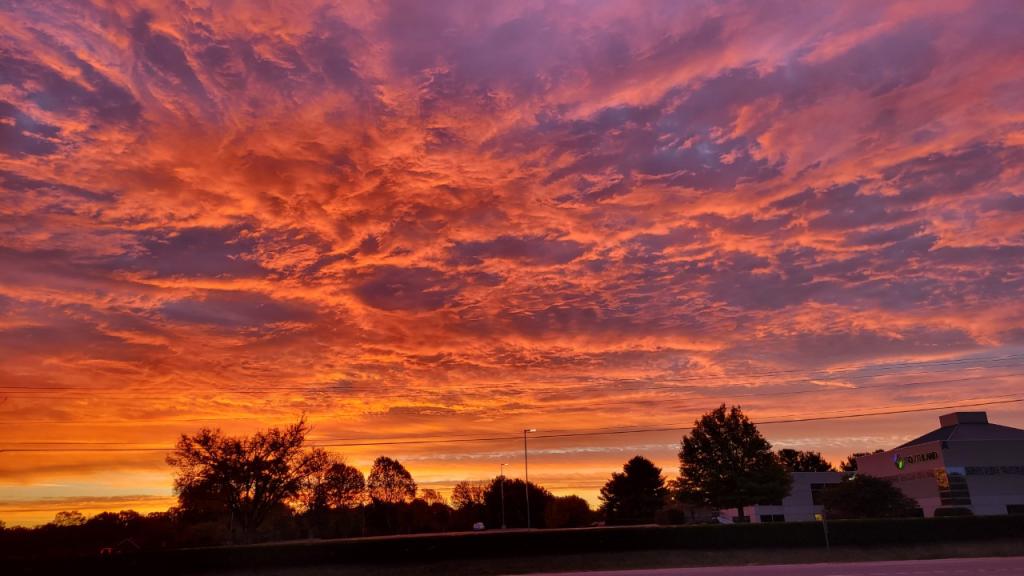 Though I am on sabbatical, I went to Wilmore today to have lunch with an old friend, and it was hard to believe what I saw. It was snowing, and cold, and there were lines to get into Hughes Auditorium going down Lexington Avenue for blocks. In addition, there were people all over the quad, and all over the seminary campus across the street.  There were cars parked everywhere, even in many places where they shouldn't  and now there are booths set up in front of Hughes auditorium, and a big screen TV and sound system so people can see and hear who can't get into Hughes, because friends it's been packed out for many many days now.  Indeed, the college has limited who can go in during the normal chapel hour of 10 a.m. to just students.  Bus loads of Christian college students keep showing up from as far away as Huntington University in Indiana.  It appears the population of Wilmore has temporarily doubled (from 5,500).
But what exactly is happening inside Hughes?  Singing, testimony and other sorts of speaking and Scripture reading, and what can best be characterized as a sweet, gentle spirit of love, repentance, forgiveness, peace, and a clear sense of the presence of the Lord.  So far as I know, no speaking in tongues, no exorcisms, just times of refreshing, renewal, cleansing, internal healing, bonding with other brothers and sisters and with God.  I doubt those participating will ever be the same after this, and certainly they will never forget this unplanned, spontaneous visit of the Spirit.   Yes, this has happened before at Asbury, as recently as 2003 (I was there), but neither in the past nor on this occasion was this something planned.  You can't really plan for when God may choose to show up and visit in a palpable way.  Trust me, many were as startled by this awakening as was Mary when Gabriel suddenly appeared to that teenage girl and said–' by the way your about to be miraculously pregnant and become the mother of the Messiah.'
Now I have read some of the other reports on Patheos  and elsewhere (and my colleague Lawson Stone's on social media have been some of the best) about this event and I have a few comments.  Revivals in the Wesleyan tradition are not mainly evangelistic crusades or missions.  They are not mainly about converting unbelievers of whatever sort.  They are about renewing and refreshing those already committed to Christ, what one reviewer called 'intensification' of one's faith and commitment to God.  From a human point of view, that is right.
But revivals also involve serious repentance of sin, something necessary for revival or renewal to actually happen to the person in question.  And repentance leads to the pronouncement of forgiveness, and rightly so.  Christ has already paid for those sins, past, present, and future, but, to appropriate the benefits of that atonement, one needs to repent. And there are also opportunities not merely to receive forgiveness from God, but to offer it to others who may have hurt or sinned against you.  Read Matthew 18.  Christ says we must forgive ad infinitum— he even says 77 times of 7 times 70 times depending on how one reads the Greek.  And interestingly this number only shows up one other time in Scripture— Lamech in Genesis says he will take revenge that many times.  So, Christ has come to stop revenge taking, stop the violence, stop the hatred, and remind people in the prayer he gave his disciples 'forgive us our tresspasses as we forgive those who tresspass against us'.  That is, unforgiveness in the Christian life can get in the way of receiving God's forgiveness.  There is a connection between forgiveness received and forgiveness offered, and neither is optional. We need to forgive as much as we need to be forgiven if we would model ourselves on Christ who even from the cross said— 'Father forgive them for they know not what they do' and he was talking about his executioners!!!!  Such forgiveness when you've been seriously wronged is not natural, it requires the grace of God to enable it.  Imagine Corrie Ten Boom forgiving the death camp guard who beat her sister to death at Ravensbruck, and you will understand how unnatural and how supernatural such forgiveness is.  Forgiveness breaks the cycle of violence, as it did once Apartheid ended and the Truth and Justice Commission gave opportunities for forgiveness for the tormentors of South African blacks and others.
What is going on at Asbury is not contrived, and cannot be fully explained by sociological studies and ideas. It is something we can pray for and about, and one of its major results is holiness– the sanctifying of the Christian life, including the manifestation of the fruit of the Spirit— love, joy, peace, patience, kindness, self-control and much more, not least because God's Spirit is not a spirit of chaos but the Spirit is absolutely a change agent.   So keep praying for Asbury and the revival.  Hopefully, it will touch many many lives and make them all better, after a terrible cultural season of bitterness, cynicism, hate, gun violence, pandemic, distrust, and worse.  Frankly, the whole country needs revival.  I pray it can be sparked by what is happening here.