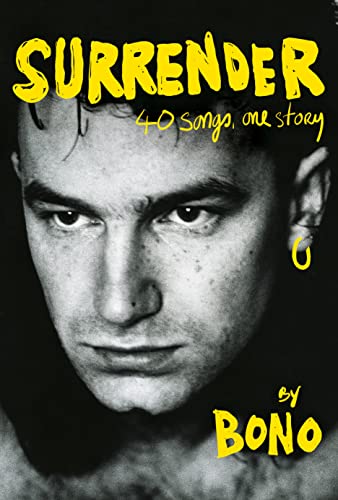 As the rock era winds down, and what once was considered groundbreaking becomes 'classic rock' there have been numerous biographies and auto-biographies written about and by the principals, and I have read a bunch of them— CSNY (all four),  Springsteen, and more.  But none of those biographies come close to being as interesting, moving, and poetic as the recently published autobiography by Paul Hewson aka Bono.  Weighing in at a whopping 576 pages (Knopf) but only $17 in hardback on Amazon, this is well worth one's time and money.  In places it is even eloquent and inspiring.  The 'conceit' or plan of the book is for Bono to tell his story in the context of 40 of U2's songs, mostly one's the fans will know well.   The story is told in episodes, and not in strict chronological order.  This can be a bit confusing,  but that's o.k.  Life itself involves various flashbacks, if you are at all reflective about your past life.  And did I mention this is a very Irish story?  Especially early in the band's career when the 'troubles' were going full tilt in Northern Ireland, there would be songs about the troubles like 'Sunday, Bloody Sunday' which propelled the band into wide recognition.   This band was not going to just sing 'silly love songs', though there were plenty of love songs along the way, they were to provide important social commentary meant to urge change (think 'Pride in the Name of Love').  And many of the songs were inspired by and even incorporated Scriptural themes and texts, without their being 'a Christian band' in the classic sense of the term.  Only three of the four had ever really been involved in a church, a charismatic one called Shalom, but faith of several sorts kept the band together as friends, brothers, musicians from Dublin while most rock groups imploded or exploded.  They initially fancied themselves a punk band (ala the Clash), but they became so much more than a vehicle for rage against the machine, and outrage against their powerlessness.
There is a great deal of time spent in this book about Bono's personal life, and his relationship with Ali, first his teenage friend, then girlfriend, then wife, and she provides a constant and common thread that holds Bono and his story together throughout.  There is also a constant attention to how the songs were written, what were the challenges to keep things fresh, how many musical genre they attempted.   And it must be remember that really U2 was in the third or fourth wave of the rock movement. Bono was only born in 1960, and U2 didn't really become a band until the end of the 70s, and road a remarkable wave to the top in the 80s and 90s and into the 21rst century.  Their best albums of the 14 were not their first couple of albums, and were spread out over a large swath of time— the Joshua Tree in. 1987, the live album 'Rattle and Hum' in 1988,  Achtung Baby in 1991,  All You Can't Leave Behind in 2000, and How to Dismantle an Atomic Bomb in 2004. All of these albums were million sellers, and all of them had major hits (though the hits on the Live album mainly came from the earlier studio album The Unforgettable Fire).  Overall, the band has sold some 175 million records, which puts them in the upper tier of all rock bands.
In the second part of this review, I will deal in more detail with the music, the band itself, and its social conscience and work to help the poor, especially in Africa.