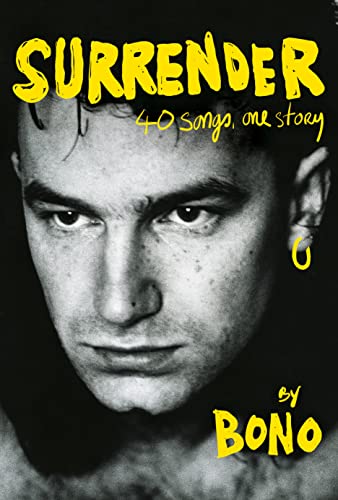 This auto-biography of a rock star is atypical in so many ways, not least it is not about dissipation, immorality, drug taking, and it has a lot negative and healthy things to say about the narcissism of fame and stardom. Nor is it about suddenly growing a conscience long enough to do a benefit concert for some worthy cause.  No there is much more here to show that this person, and the band that supported his efforts was going well beyond one time altruism. My favorite chapter of the book, about half way through chronicles Bono cajoling first the President's aids, then Bill Clinton himself, until there was an actual plan to provide debt relief for some of the poorest countries in African. When it became clear that it would not be enough to have Dollar Bill on board, Bono goes and gets an audience with John Paul II, persuading him to make an appeal for debt relief for the poor in Africa. In a hilarious scene at the announcement at the Vatican, it turns out the Pope fancies Bono's blue lensed sunglasses,  which Bono promptly hands over and the Pope puts on as he makes the announcement. Bono was in the 'whatever it takes' mode, and yes he helped persuade multiple countries to do debt relief for Africa.  There isn't another rock star around that could have pulled that off.  But then Bono acts out of a deep social, spiritual even Christian conscience when it comes to the issues of justice, poverty, violence.
As Bono will say again and again in the book, the success with the music gave him a platform to do much bigger things than just entertain the masses, though, and he is right about this, music can do more to persuade people to do the right thing, than yet another boring speech, time after time.  But why is that? It's because it reaches people at an emotional level that mere words don't.  Music and art in general can spur people to do incredible things.
I also loved the conversations recorded in this book that Bono had with  Warren Buffett, Bill and Melinda Gates, Steve Jobs, Presidents George W. Bush and Barack Obama, and many more.  One of  the reasons Bono had time and energy to do all this is because of his ongoing, wonderful marriage to Ali, and the mutual love they shared for each other, that led them before they had children to go to Ethiopia and stay in a refugee camp trying to help rescue orphans from a terrible war.   I also love they fact that Bono understood that one's reach should indeed extend beyond one's grasp.  'I Still Haven't Found What I'm Looking For' encapsulates so much. He was always striving to write better songs, perform better, be a better man, a better husband, a better follower of Christ.  And he has some apt words to say about religiosity divorced from social conscience.  He would like John Wesley who said there is no spiritual holiness without social holiness, and vice versa.
Bono, as it turns out is a pretty good poet in the rock world. Not, say on par with Bob Dylan or Joni Mitchell or Leonard Cohen, but moving in the right direct, and sometimes his words and rhymes are so memorable and apt they stick in your heart and mind.
This biography would be a psychologist's dream, as again and again Bono plumbs the depths of his soul, trying to get to the bottom of his relationship with his mom and dad, with his brother Norman, with his band mates and other life long friends.  Sometimes his angst bleeds all over the page, and you want to give the man a hug.  And indeed, he is now a man approaching old age.  63 years old. I am very thankful for this biography, and for the impact U2 has had on several generations of youth, who know they need to go on a spiritual pilgrimage, and need to make a pilgrim's progress in life including the impact their ministry has had on me, a fellow poet and musician.  Like U2 I was profoundly affected by the Beatles and was never the same thereafter.
I was fortunate enough to see U2 at one of their best tours, the Elevation tour here in Rupp Arena now a good 20+ years ago.  Like many of their concerts, it felt more like church than a concert, with the crowd in full throat singing Yahweh, among other things. It felt like a good revival, and catharsis was there to be had, for people can change for the better, with the help of God's grace.  And it is better to be moved from within to change, than browbeat or dragged into it.  In short, it involves 'Surrender'.  If you only read one rock bio, this is the one.