Out in the middle of nowhere in Franklin County Kentucky is a Sculpture Park, in a bunch of open fields.  Honestly this whole scenario is almost as twilight zonish as some of the sculptures themselves.  Now I've been to sculpture parks that make sense before— like the wonderful one housing the famous sculptures of Rodin in Paris, but this one is on out there, in every sense of the word.   First, the sign, off of old Lawrenceburg Road, which is just off 127 bypass.
And at first, when you drive in, you think, maybe some really nice normal sculptures.  For instance this one near the entrance entitled The Spirit is Willing…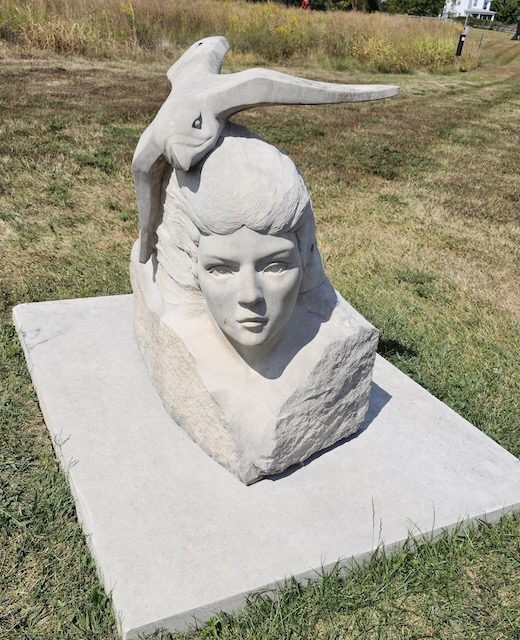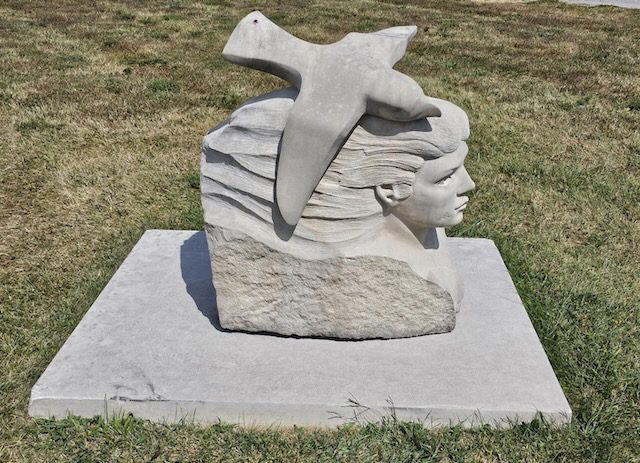 And there is this interesting piece near the entrance….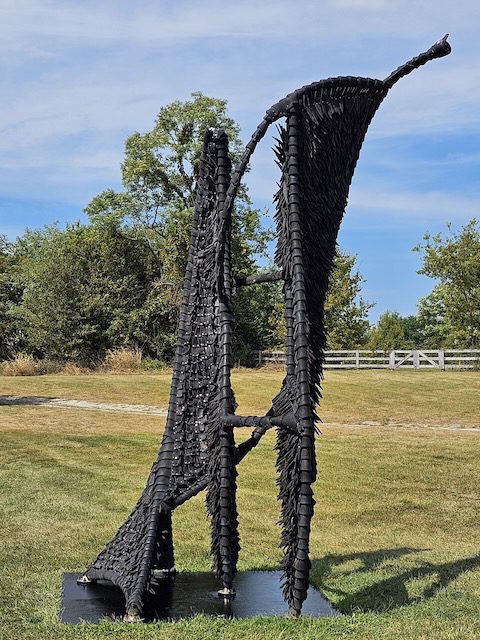 But then things begin to get funky, and we get all sorts of metal sculptures, some made out of rusty steel, and at the parking place there was a forewarning— paintings on the garage next to the parking place….
Now you figure if the sculptor in question is from somewhere in Kentucky, he or she is likely at some point to use limestone as a medium, and sure enough we ran across these sculptures done by Kentuckians.
O.K. so far so good, but then there was this out in a field….
Rubber is an interesting medium to use to make a sculpture, and here's another example which uses a giant tractor tire…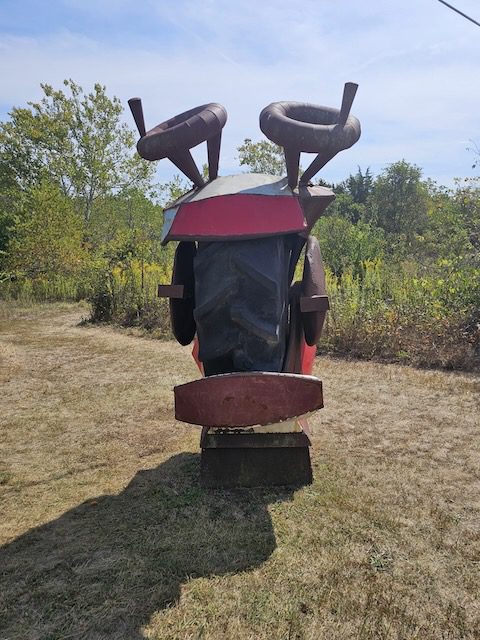 And some of the sculptures had catchy titles, like this one….
Some were just abstract art with a title according to the color of the metal creation…
This one is supposed to have something to do with a gatekeeper….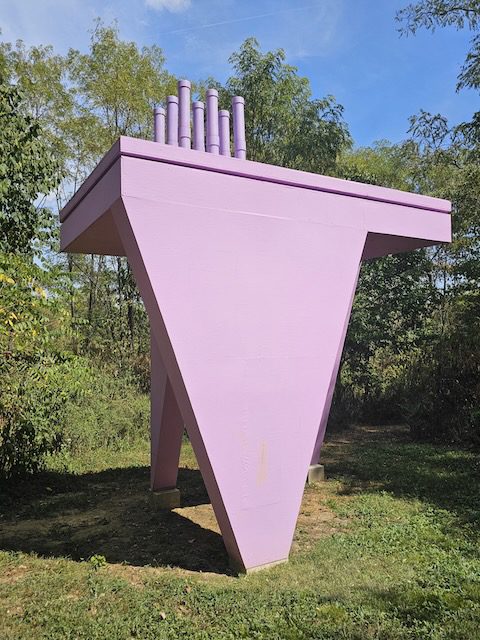 And here is a jungle gym gone wrong, but my sister Laura tried it anyway.
But the home state of Kentucky Fried Chicken of course would have some sculptures come home to roost here….
That one reminds me of the new KFC super spicy wings….. but how about some Kentucky Wildcat blue roosters?
The further you wandered and wondered in these burnt out fields (we are in drought), the weirder things got, for instance just in time for Halloween we have rusty steel skeletons dancing a hoedown upside down…. Really!
Or how about a turtle drum?
Or how about a cast iron telescope…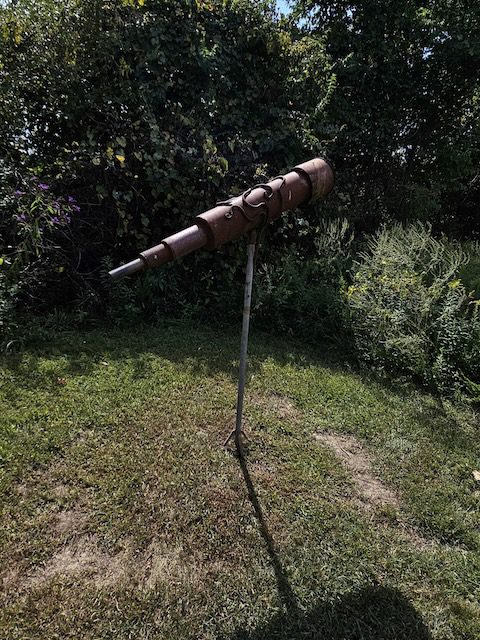 Or a cast iron Ky. out house….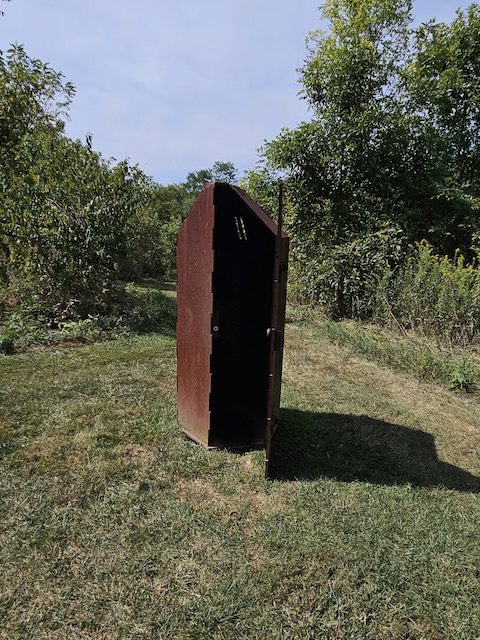 Or the ship the aliens visited Kentucky in….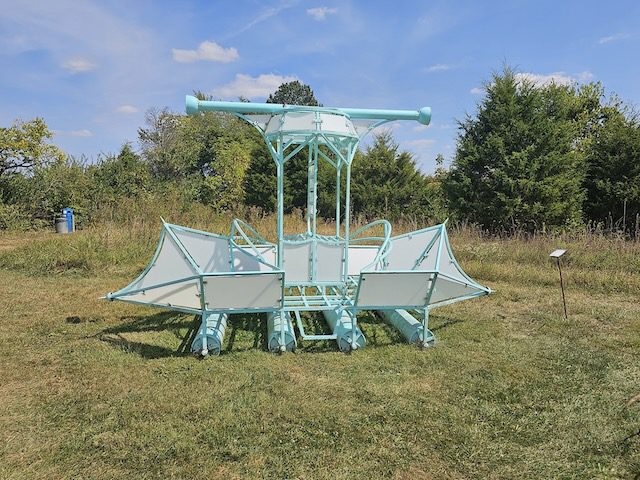 Or a butterfly partly made of a beachball?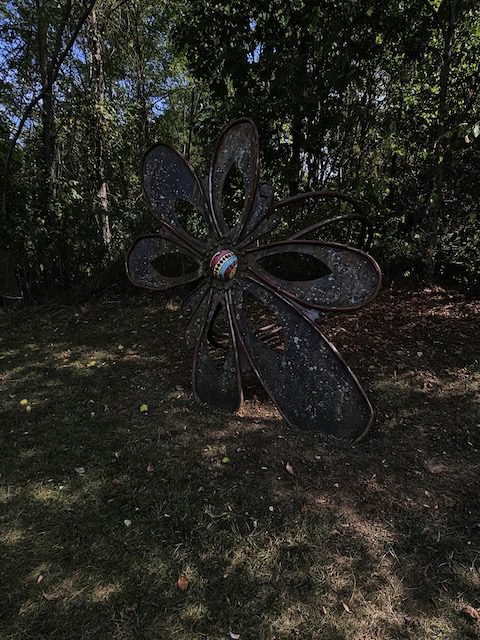 Or a painted beachball etc.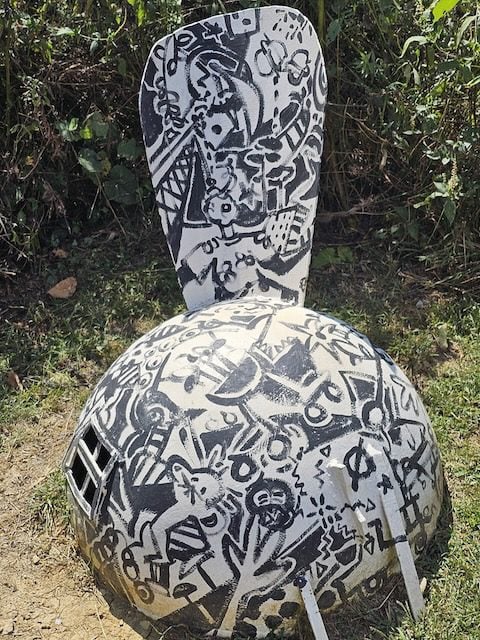 or just some assembled metal things…..
Actually, I've only scratched the surface here….. there's more.