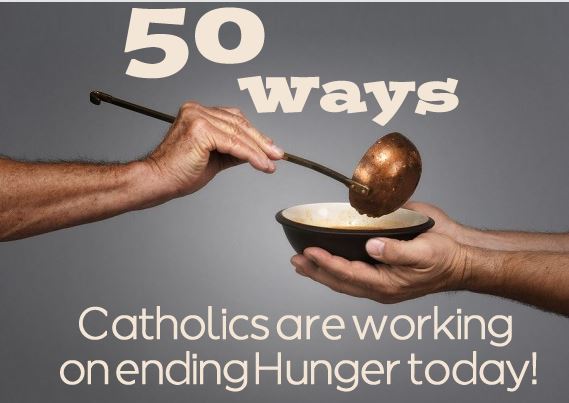 Over the past year I have been working closely with Catholic organizations active all across the United States to try to encourage their work to end hunger. This process has filled me with a great amount of hope. It seems that every day I hear stories of Catholics doing amazing, creative, and innovative things to help address hunger in their own communities and around the world. We are living in an unprecedented time in the history of the world. More people than ever are being brought out of poverty, malnutrition is being conquered at an amazing rate. Since 1990 hunger has been halved, and there is talk that we can effectively end hunger all across the world by the year 2030. This is a cause for great celebration but also a call to continued action. If we are going to be serious about ending hunger, we will all need to contribute our time, prayers, voices and resources to addressing this issue. Ending hunger is a moral issue, and a Christian prescription and we are all called to participate in it. In many ways the Catholic Church has led the way in this work. Today I would like to highlight 50 ways Catholics are helping put an end to hunger!
Leading the way Pope Francis has made addressing hunger one of the key areas of his teaching. He has addressed the FAO multiple times, speaking on behalf of the hungry, he helped launch a global wave of prayer, and he even made it a central part of his Easter address this year.
The international confederation of 164 Roman Catholic relief, development and social service organizations, Caritas Internationalis, has launched a Champaign this year called "One Human Family: Food for All." It hopes this push will begin a movement that will result in the end of hunger as early as 2025.
Catholic Relief Services works on development all over the world helping to feed the hungry and strengthen infrastructure

Father Biong Kwol is working with refugees in the Sudan to stave off hunger as famine ravishes the community.
Jorge Nuño Mayer has led Catholic relief organizations in Europe to address the global food crisis in a presentation given to the European Parliament.
The Franciscan Action Network is working hard to educate people on how climate change impacts food security
Fr. Paul Karam is helping feed the 1 million refugees in Lebanon who have fled Syria.
Cardinal Oscar Rodríguez Maradiaga is traveling all across the globe helping to raise up world leaders to take ending hunger seriously.

Panamanian Catholic have made a music video about how ending hunger intersects with their lives and faith.
In Milan, Catholics made the Christmas season about sharing their food, and opening up their lives to those in need with the slogan "Bread shared with those who have none is better than lobster." (I can only assume lobster is a traditional Christmas dish in Milan?) This message of generosity is underscored in the Christmas homily of Milan's Cardinal Angelo Scola.
Catholic Charities USA provides food pantries all across the USA to help those who can't afford to eat. There is probably one in your own community if you live in the USA.
Catholics in Australia are partnering with those in Bolivia to help educate kids about food rights
Catholics are working with local people in Niger to rehabilitate the land and provide new jobs for hungry people.

Catholics in India are providing agricultural training and pigs to families to help them provide food for themselves and the community, and the economic freedom to begin to invest in other projects.
Manuel Morán is working with Catholics in El Salvador to help bring about more sustainable farming practices.
The Ethiopian Catholic Secretariat is helping to provide fruit trees to families in Ethiopia to help combat the effects of their food crisis.
Catholics are joining together to help provide gardens to help support hungry people in Spain.
The keyhole garden project, part of the work of Catholic Relief Services, is helping to empower families in Afghanistan to provide food to their families throughout the year.

The St Anthony of Padua farming group in Tonga is providing micro-loans to farmers to help build economically sustainable farms, and support the most vulnerable in their communities.
Secours Catholique and the Order of Malta are working in the Comoros to help give better education to mothers about maternal and child nutrition.
Catholic Relief Services has created a campaign to get Catholics across the USA to make a pledge to work to end hunger.
Catholics are helping to spread the ways that Catholic Social teachings relate to ending hunger by sharing this compilation of Catholic Church teachings on hunger.
Catholics all over the world are making the Caritas Prayer to end hunger a part of their prayer lives
Catholic University of America takes time each year to help educate their students about hunger. As part of this program they forgive library fines when students donate food to local pantries. This is only one of many such programs at Catholic Universities across the world.
Erin Mackey is equipping Catholics all over the USA to become ambassadors for helping people and communities commit to fair trade practices with their import of products like chocolate and coffee, and to learn how it improves food security among the most vulnerable people.
Catholic Community Gardens is helping equip parishes to become providers of fresh healthy food in their own communities.
Catholics in Chicago have launched "Crisp! Mobile Produce" to provide fresh healthy food to food deserts in the city.

Paulist brothers in Boston launched the annual "Walk for Hunger" which has raised more than $40 million for hungry people in Massachusetts.
Catholics in Pembroke Township, IL have created a Mobile Food Pantry to help bring food to under resourced communities.
When refugees fleeing the LRA began to show up at Sacred Heart Seminary in Gula, Uganda, looking for food the priest and seminarians began to feed them, helping feed 2,000 people a day. The feeding program continues to this day, in spite of attacks by the LRA, and the abduction and murder of many of their seminarians.
Catholic Charities in Baltimore has launched their "Casserole Program," where people bring in their homemade hot dishes to serve to the hungry in their community. This is one of literally thousands of Catholic programs across the country that provides regular meals to people in need.

The Saint Isidore Society in Denver is a group of Catholics helping to equip the community to grow their own food. Current projects include building top bar hives for members out of salvaged lumber; setting up a community farm in Lakewood; starting a seed library; and working to improve member's yards.
Catholic Worker Farms like "Mustard seed" provide Community-Supported Agriculture (CSA) where people are able to buy shares of the farm and provide healthy, fresh, and local food.
The National Catholic Rural Life Conference helps advocate and educate about farming in sustainable and just ways.
In Zimbabwe Maryknoll Sister Mary Frances Kobets is working to help bring better education about sustainable farming practices.
Bob Waldrop, music director at Epiphany Parish in Oklahoma City, co-founded the Oklahoma Food Cooperative to help connect local producers with consumers.

Catholic Charities USA has made ending hunger one of its top legislative priorities, and is working to urge policy makers to stand up for poor and hungry people.
The US bishops have repeatedly and consistently raised their voice on behalf of the poor and hungry people in the USA and in the world.
The bishops of the US have also released "For I Was Hungry & You Gave Me Food," a resource to help promote an understanding of the Catholic Church's position on protecting every person's right to food.
The Vincentians in Cincinnati have teamed up with Reds fans to gather food for the hungry in their community.
The Catholic group "Voice of the Poor" has taken a stand for hungry people calling for strengthened safety net programs in the USA, and increased leadership for the USA in addressing global hunger.

Catholic Relief services has launched their "Farmer to Farmer" program to promote sustainable economic growth, food security and agricultural development in Kenya, Uganda, Ethiopia and Tanzania.
The National Council of Catholic Women has joined in partnered with the 1,000 days initiative to help promote nutrition in mothers in children in their first 1,000 days of life (from pregnancy until their second birthday).
The group "Catholics Confront Global Poverty" has made ending hunger one of their top priorities, and helps unite Catholics in advocacy and action on this issue.
Catholics are joining in a petition to have congress "set the table on ending hunger."
The Maryknoll office of global concerns has released a paper on bringing both public and private factors together in the effort to end hunger.

JustFaith ministries is launching a special course on hunger in partnership with Bread for the World and Catholic Relief Services.
Capuchin Brother Dave Schwab sends groups of volunteers to serve hungry people in Nicaragua as well as in communities in need across the country. This is but one of dozens of long-term Catholic volunteer programs that serve hungry people around the world. Other examples include the Jesuit volunteer Corps, the Ignatian Volunteer Corps, and the Benedictine Volunteer Corps.
"Gorilla Communion" gatherings in Washington D.C. bring together young Catholics to eat and to help encourage action on behalf of hungry people.
Countless Catholic publications have helped raise awareness about the importance of taking action on behalf of hungry people.
This list is by no means exhaustive, but it highlights just a sample of the kinds of work that are going on around the world through the response of faithful Catholics. I would love to hear how your own faith community is taking action on behalf of hungry people! If there is an example that you know of Catholics taking action that isn't included on this list please let me know.