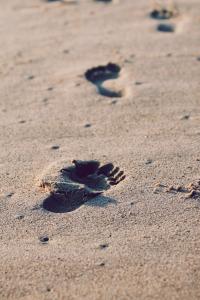 Heavenly Father,
I want to follow Jesus.
I want to follow him step by step.
I want to trust that he will lead me;
Even when it's through the valley of the shadow of death
I want to trust he can work good through all things;
Even in the times I am most afraid of evil.
I want to rely on his strength;
Even in my weakness.
Today I stumbled.
I lost sight of his footsteps.
I began to follow a dangerous path.
The path of my very own choosing.
The path of ease and safety.
I trusted my wisdom,
over yours.
Find me Lord.
Take me back to your path.
I want to follow Jesus.
Step by Step.
Amen