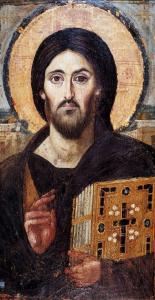 One of the practices that developed early as a regular part of celebrating Advent in Christian communities was the retelling of God's story. Each year individuals would take time to recall the history of what God had done in the world. They would recount the history of God's faithfulness as seen in the lives of the people recorded in the Hebrew Bible who waited for God's promised messiah and they would remember the lives of the saints who had gone before, who had given their lives to the work of joining in God's work of redemption and restoration.
In figures like Abraham, they found a man who placed hope in God's covenant to bless the whole world through his children.
In David, they saw a promise for a king who would come to reign in peace. They saw in the prophet's men and women who would remind the children of Israel to hold onto the greater hope of God's promise of peace on earth and protect the most vulnerable from extortion. Similarly, this season would be marked with the celebration of lives like St. Nicholas, who became a peacemaker to those in his community in Myra. He would often intervene in the lives of the suffering with anonymous gifts that would help preserve the poor and marginalized in times of trouble.
Connecting to the lives of those who have come before us can be a powerful way to remind ourselves that peacemaking can take many forms. I find that when I look to my own heroes of faith I have a greater hope. I see that those who have come before me have found ways to pursue peace through difficult times. In their struggles, I find solace. In their victories I find inspiration.
---
Questions for Today
Who is someone in your own life that inspires you when you face challenges?
Are there any figures from history that have become model peacemakers for you?
---
Advent Action Guide
This is an entry in my Advent Action Guide which will be featured all Advent long.
If you're interested in downloading a copy or signing up for daily emails for the rest of the season fill out the form below: