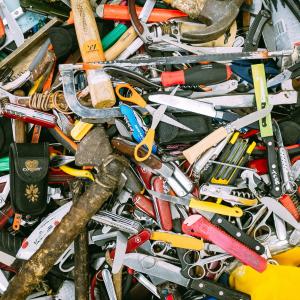 A few years ago a couple of friends and I decided to start a coffee shop. We were able to raise enough funds to buy an old auto shop that was for sale but we didn't have enough money to hire people to renovate it. That meant it fell to us to do the work of transforming the old auto shop into a new coffee shop. It was hard work, and we didn't really know what we were doing. I'll never forget the day that we went to work removing the old car lift from the floor.
It was bolted down with these huge bolts that had been in place for 50 years. Getting the bolts out was extraordinarily hard. First, we discovered we didn't have any sockets that would fit the bolts. Then, we learned that our breaker bar was no match for the rust of the old bolts. We pushed on them will all our might for hours and weren't getting anywhere.
Finally, we called a friend who had experience with this kind of work. He came over with some "liquid wrench" which he put on the old bolts. We waited for about 15 minutes and the bolts came off easily.
Finding the right help and the right tools can make all the difference.
Yesterday we talked about a couple of questions you can ask yourself to affirm each day's value and opportunity for good. By doing this you can set your day on a path of hope. Today we want to customize your hope toolbox for the tough moments when you need heavy duty hope.
---
Questions for Today
In tough times, what kinds of things do you look forward to? What about the world gives you hope?
What truths can you always remind yourself of?
Who has helped to give you hope and how do they do it?
---
Advent Action Guide
This is an entry in my Advent Action Guide which will be featured all Advent long.
If you're interested in downloading a copy or signing up for daily emails for the rest of the season fill out the form below: