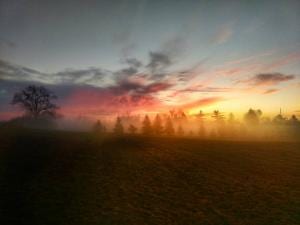 I have four young boys. One of their favorite things to do is read books. The older ones love reading books themselves and the younger ones love having books read to them. Recently I rediscovered a book that I used to read when I was their age. It's called Alexander and the Terrible, Horrible, No Good, Very Bad Day Book. Have you read it?
It tells the story of a young boy who has a bad day; everything that can go wrong, does go wrong. He struggles through his morning, he fights with his siblings, his meals are a disaster and every interaction seems to make things worse. After every encounter, he states that he wants to move to Australia, which is to say he wants to be as far away from his life as possible. I always feel bad for the kid and I can relate.
A couple of years ago, I decided I didn't want to have those days anymore. Of course, there are some things in life we can't control, but too often I noticed I was letting days happen to me rather than being proactive in taking charge of my days. In order to change this, I worked to develop a habit that would allow me to cut off these kinds of days before they ever got started. I made it a habit to ask myself two questions on the way to my office:
1. What are some important truths I can affirm today?
2. What can I do to make today great?
When I ask the first question, "What are some important truths I can affirm today?" I go through a litany of things that are true. I name the goals I have. I think about what the Bible tells me about who I am and who God is. I review what good things have happened in the previous day. I identify some things I am grateful for. This helps me see the world with the right lenses.
Then I ask the second question "What can I do to make today great?" With this question, I review my upcoming schedule and commitments. I think about each place I will be and I state a few things that I can do in each situation that will help me make the best of each opportunity. I've been amazed by how much of an impact these two simple questions can have on my life.
---
Today's Questions
If you were to create a list of affirmations to remind yourself of every day, what would be on that list?
Think about what you're going to do tomorrow. What are some things you could do in each situation that would make it better?
---
Advent Action Guide
This is an entry in my Advent Action Guide which will be featured all Advent long.
If you're interested in downloading a copy or signing up for daily emails for the rest of the season fill out the form below: