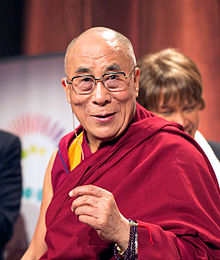 His holiness the 14th Dalai Lama is celebrating his 81st birthday in Dharamsala today.
Formerly both the spiritual and temporal leader of the Tibetan people, he fled to India in 1959 to escape the Chinese occupation of Tibet.
He is the leader of one specific school of Tibetan Buddhism, but since the exile he has done his best to represent all of the Tibetan people. He is an advocate for nonsectarian approaches to Buddhist practice.
Since his exile he has lived in India and regularly traveled around the world.
He's dedicated not only to spreading Buddhist teachings, but also to expressing and spreading the values of peace, interfaith dialogue, and activism.
He's always touring, going on a traveling schedule that I think very few of us could handle. He was here in the United States less than a month ago.
He has written dozens of books with a wide appeal, being able to give teachings to both beginners on the path and seasoned practitioners.
According to a 2013 poll he's the most popular spiritual leader in the world.
I traveled to Arkansas to see him give a talk in 2011 and it was a profound experience. He is a wonderful spiritual teacher and I hope he lives on to celebrate many more birthdays.