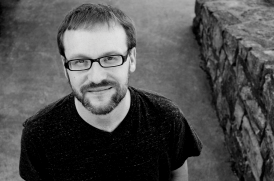 Daniel Scharpenburg is an American Buddhist Teacher. In his day job he's a union labor activist.
Daniel is an American Buddhist teacher in the Zen tradition and also a teacher of Mindfulness Meditation. In his day job he's a union labor activist.
Daniel specializes in bringing meditation practice and Buddhism to people in a practical way that applies to real life. He teaches in groups and retreats. Daniel gives talks at the One Mind Zen Hermitage.
Daniel has been practicing Buddhism and meditating for over twenty years and has practiced with many different teachers. Daniel trained as a Buddhist Minister in both the Chinese (Xu Yun) and Korean (Seung Sahn) Zen traditions, as well as several years of practice with the Rime Tibetan tradition. Daniel received teaching authority from the International Chan Buddhism Institute.
Daniel lives in Kansas City, Missouri with his wife, four kids, and two cats.