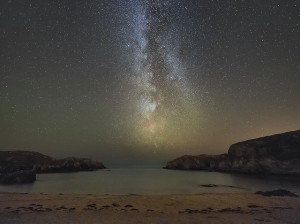 Our purpose on the Buddhist path is to come to an understanding of anatta, or no self. I've heard the claim made that that is really the core of the Buddhist path, the thing that all the rest stems from. When we understand anatta intuitively, then there is the end of suffering and delusion.
Attachment to the self is strongly rooted in us and a difficult thing to wrestle with. It's the root of our suffering and delusion, so we want to try to work with it. This attachment really begins with a specific belief. That belief is the belief in duality, that we are separate from the world around us, that we have a self.
By having constant thoughts about our selves, we reinforce this sense of duality. We think about ourselves all the time. Sometimes with attachment and aversion: "I want this" "I don't want that". Sometimes with labels we put on ourselves and others: "I'm not good enough." "I'm not like them". These separate kinds of thoughts, which I will refer to as "mind" flow together, like bubbles in a stream, to create this image of our selves. But do we have individuality? The teaching of anatta says that we don't, that the truth is that we exist more as processes and events than as individual beings. It's a challenge for us to even begin to see things this way because we are mired in this ocean of suffering and delusion. If we can look closely at these thoughts about ourselves, we can start to see the reality underneath.
Mind is more of a process than one continuous thing. It's a process that goes on all the time, not just with our thoughts, but with our perceptions, memories, and emotions as well. We think of mind as one big thing existing here, but if we can really focus on the details, we can see through that. Mind is not existing continuously, but really re-creating itself each moment. All of the actions of mind come together to reinforce our sense of a self.
It's also out of mind that the three poisons develop: greed, hatred, and delusion. These are what bring us the most pain and suffering.
We deal with this situation through our meditation practice. In meditation we are relating to and working with what's going on in our minds. We are able to start letting go of these things that reinforce our sense of a separate self. We take parts of these streams of thought and pay attention to them, noticing how separate each part of the stream is. Just by noticing the general flow of thoughts, we can become more grounded and calm. This is what helps us develop mindfulness. We are just working with what's there already.
Because of our meditation practice we come to understand that there's really nothing we can grasp that could be called "me". Far from being scary, this is a liberating feeling.
You are not your thoughts. You are not your flaws. You are not your past.
You are not anything at all.
This is called dwelling in emptiness. Hard to understand and even harder to explain, this is the point where we transcend suffering and delusion.