I've been doing public meditation events for four months.
38 people came to my event in September. I never could have predicted that. 38 feels like a big number.
I sort of accidentally stumbled into this but as it turns out there is a demand for public meditation. People want opportunities for stillness and silence for reflection and concentration and they like nontraditional opportunities like on the lawn of a museum.
I think people value meditating in public for a few reasons.
Because it's in public, I'm not renting a space which means I don't have to talk about donations. And that's good because when you start talking about money people get uncomfortable sometimes.
Also, people feel really free to come and go because it's in public. There's no pressure to be on time, there's no pressure to stay for the whole event. It's freeing in a way that entering a Buddhist Temple or Yoga Studio might not be. You can just come and go.
This is not about the opportunity to sit with me…it's about the opportunity to slow down and step out of our daily struggles for just a short time. It's a chance to just be present and just be with ourselves. People want that and there's some subset of people that are just not finding that right now, probably not just in Kansas City, but in places all over the country.
It's not about me. I'm not somehow skilled at meeting people where they are. I'm just willing to show up and do that. I'm also willing to be real and tell people I'm struggling just like they are. Someone at the last gathering asked me, "How often do you meditate?"
I told her the truth. I wish I could say that I do it every day, but I don't. I struggle with my practice sometimes and I skip my meditation more than I want to…for no reason. In short….I'm like you.
I used to think that pretending to be perfect was important. It seems to me that a lot of meditation teachers these days are invested in pretending their perfect, in hiding whatever flaws they have..in being closed off. I've learned that that's not me. I'm not perfect.
A long time ago I used to think I should start my own meditation community or my own Zen Order or something. That's also not really me. And if we're honest the world needs another Zen Order like I need a hole in my head.
What the world does need is more people sitting down and being calm, being aware of our thoughts and actions. The world needs more people being aware of their thoughts and actions, reflecting, feeling more compassion and more awareness. The world needs people to come together and do things that are good. Meditation is good. It's like flossing. We know it's really good for us, but we also don't really want to do it.
Let's do it together.
—————————————————————————
UPCOMING EVENTS:
10/20/18: 11:00AM-11:30AM
4525 Oak Street
Kansas City, MO 64111
We are going to meet up on the south lawn of the Nelson Museum and we're going to meditate in public. I'll give a little bit of guidance and a short talk and we will sit (in the shade of course) and meditate together with open hearts and awakened minds.
Go like the page KC Meditation Gathering to get updates for events like this
————————————————————————————————————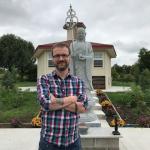 Daniel lives in Kansas City. He's a Teacher in the Dharma Winds Zen Tradition. He regularly teaches at the Open Heart Project and he leads public meditations. He's a co-owner of the website The Tattooed Buddha
Find out more about Daniel here and connect with him on Facebook
---
want me to come speak at your event? Or just come meditate with you?
I'm interested.
reach out to me here: