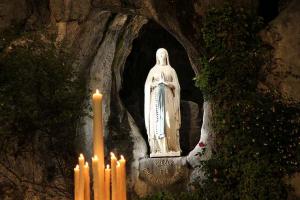 A newly approved miracle at Lourdes has been declared by French bishop Beauvais Bishop Jacques Benoit-Gonin.  Ten years ago a nun suffering from a debilitating disease was cured after she visited the Marian shrine.  This newly approved miracle is the 70th to be recognized as an act of divine intervention at Lourdes.
The bishop of Lourdes announced the approved miracle of Bernadette Moriauat at Mass at the shrine's basilica, on February 11th, the feast day of Our Lady of Lourdes. The bishop has the last word on whether to approve a reported cure as a miracle.
While dozens of people who visit the site of the apparaitions each year claim various types of healings, the Church's stringent investigation makes the actual approval of a miracle rare.  The last one approved for Lourdes was in 1923.
The 79-year old French nun Moriau's experience involved years long extensive studies and tests by the International Medical Committee of Lourdes.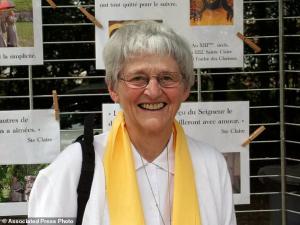 Moriau had four operations on her spinal column between 1968 and 1975 and was declared completely disabled in 1980. One foot was permanently twisted, requiring her to wear a brace and use a wheelchair.  She took what she described as significant doses of morphine for pain.
"I never asked for a miracle," the nun, now 79, recounted of her July 2008 pilgrimage to Lourdes.
After returning to her home convent near Beauvais and praying in the chapel, "I felt a (surge of) well-being throughout my body, a relaxation, warmth….I returned to my room and, there, a voice told me to 'take off your braces,'" she said in a video posted on the Beauvais diocese web site. "Surprise! I could move."  Moriau said she immediately did away with all her aids, from braces to morphine — and took a 5 kilometer hike a few days later.
The bishop said the nun's "sudden, instantaneous, complete and durable change" alerted him to a possible miracle. The Lourdes medical committee said the changes were unexplainable "in the current state of our scientific knowledge," he added.
photo credits: Catholic News Agency
You may be interested in:http://www.patheos.com/blogs/bornagaincatholic/2018/01/heard-lady-good-success/