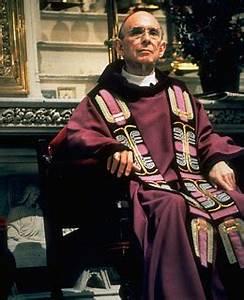 Cardinal McCarrick is accused of despicable things.
In the 1990s when horrible allegations against Catholic priests became a media obsession, then-Cardinal Joseph Bernardin was accused of sexually abusing a minor seminarian during his previous tenure as archbishop of Cincinnati.
Cardinal Bernardin was dragged through the mud, for months, and presumed guilty by the media, the public, and even many of his parishioners.
Only after a year of torture did the truth come out.  His accuser admitted as he lay dying from Aids that he'd fabricated the story.  Bernardin visited him and forgave him.
Ironically, Cardinal Bernardin was one of the first bishops to set up a process for examining these accusations in an objective and public way.  He then had to submit himself to the process he himself had arranged for.
His accuser, Steven J. Cook, 34, filed a civil lawsuit in U.S. District Court alleging that Bernardin sexually abused him from 1975 to 1977, based on vague repressed memories he'd only recently begun to remember.
"I can assure you that all my life I have led a chaste, celibate life."  Regarding his accuser, Bernadin said, "He's had a very troubled history. I understand he has AIDS, so my heart goes out to him," Bernardin said. "I have a great desire to meet him. I want to pray for him and comfort him."
Cook's own father said stated that nothing his son said was to be believed.
The agony of having to endure those humiliating charges, obsessively plastered all over the media for weeks, changed Cardinal Bernardin forever.  Tucson Bishop Gerald Kicanas,  former vice president of the United States Conference of Catholic Bishops, was rector of Mundelein Seminary in the Archdiocese of Chicago during Bernardin's personal hell.
"His name (was) on the headlines of every area newspaper," Bishop Kicanas said. "I remember getting a call from the cardinal two days after the allegation became public. He said that he was concerned about the seminarians. He worried what they might be thinking, how they might be feeling. He asked if he might come out to the seminary and say some words and maybe answer any of their questions."
Bishop Kicanas said Cardinal Bernardin visited the seminary the following week and spoke directly with all the seminarians.
"As we entered the room, everything quieted down," Bishop Kicanas recalled. "You could hear a pin drop. The cardinal gave a brief comment, and then he asked if they had any questions. Well, no one said a word. Finally, one of the seminarians cautiously raised his hand and asked, 'What has it been like for you?'"
Bishop Kicanas said Cardinal Bernardin "paused for a seemingly interminable time" and finally said, "I was totally embarrassed, totally. Here I am, the cardinal archbishop of Chicago, accused of sexual misconduct with a minor, my name on the headline of every newspaper, even in my home town in Italy. I was totally embarrassed. I went home that night all by myself. I entered my home and walked up the darkened staircase to the second floor where my room was. I entered the room surrounded by all the honorary degrees and gifts that I had been given by so many. I prostrated myself on the ground as if I were naked."
Cardinal Bernardin told the seminarians that "at that moment of utter weakness, I experienced the Lord present in my life in a way I had never ever experienced before."
The "irony of the spiritual life," Bishop Kicanas said, is that when "we lose our life, we find it; and when we hold on to our lives, we lose it."
"That experience of utter weakness and the cardinal's later diagnosis of pancreatic cancer made him totally vulnerable," Bishop Kicanas said. "But something happened to him as a result of these two devastating experiences. He became so sensitive to the hurt of others."
We must remember that false accusations are not unheard of, as we pray for Cardinal McCarrick.  And we must pray for his accusers, whether truly victims or those falsley accusing, and those responsible for investigating allegations.