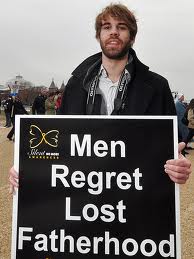 In my work at a pregnancy care center, I've talked to numerous men who are the fathers of aborted children.   Father's Day is a particularly difficult time for them.
There are 55 million men in this country who bear the scars of abortion, men who need to share their stories to show others there's a better choice. While there has been an increased focus on post abortion trauma in women, there is yet to be much discussion on the devastation men experience too.  Depression, anger, relationship problems, suicidal thoughts, drug and alcohol abuse among post abortive men are rampant.
A few of the post abortive men I know have found an element of healing by speaking to young men considering an abortion today.  Talking about their experience, the pain and devastation they've gone through since, is a powerful way to try to prevent someone else from making the same tragic mistake. At the time of the abortion, some men insisted on it. Some even threatened that the relationship was over if she didn't 'get rid of it.'  Some brought her to the abortion center and paid for the procedure.  In other cases, the fathers fought against the 'choice' of abortion, doing everything they could think of to encourage the mother to give birth to the baby. In both situations, the pain and heartache has been ongoing.
Some of these men direct their regret into leading and helping young men in a situation similar to what they were in years ago.  They give their time as male counselors, making themselves and their past available to the boyfriends and fathers that come to pregnancy centers with their pregnant girlfriend or wife.  Others are on the front lines, praying directly in front of Planned Parenthood and other abortion centers, reaching out to men dropping off their pregnant girlfriend or wife for an abortion.  Through their powerful witness, babies lives have been saved and fathers have been spared the lifelong anguish of a horrible 'choice.'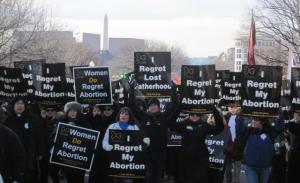 Every one of them regrets their lost fatherhood.  Men whose child was aborted often say decades later, the abortion is the number one regret of their entire life.
In a powerful new video, four courageous men step up to share their stories.  Do you know a young man considering aborting his child that should see this video?
helpful resources:
http://www.menandabortion.info/l0-aftermath.html
http://www.silentnomoreawareness.org/regret/index.aspx
Eleven Year Old Girl Asks, Why Does't Your Mom Just Have an Abortion?