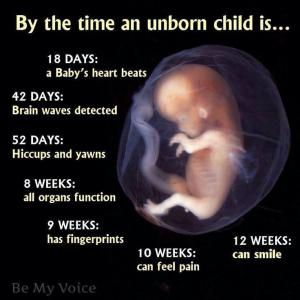 What a mind boggling contrast of life and death we have all around us.
This morning at Mass our pastor asked for prayers for a family in our parish.  He told us the situation of a couple expecting their fifth child.   Both parents and the four siblings had been excited for a new baby until doctors announced that Lisa has a medical condition that is making this pregnancy highly risky.  There's a chance she could even die because of carrying the pregnancy to term.
We hear it all too often these days.  Her doctors immediately recommend she abort the baby, and they've encouraged it more than once.  "You already have four children…" The parents said they wouldn't think of it; only God can take a life.  They would commit themselves and their unborn child to prayer and allow God's will to be done.  Mom is now on complete bed rest, with plenty of household chores and assistance with younger siblings falling to 11-year old Dana.  "You'll be extremely limited in what you can do for the rest of your pregnancy...it will be a big burden for your family," doctors point out.
At school one day recently Dana talked to a few of her friends about her family's stressful situation.  One of her 11 year old friends spontaneously threw out, "Why doesn't your mom just have an abortion and then she won't have to stay in bed plus maybe risk her life??"
Like, what's the big deal? Doesn't she know abortion is legal, that your family can just get rid of this problem?
Dana's beautiful response? "Oh, my mother will do anything to save our baby, even risk her life. It's not right to end someone's life like that."  She went on to tell her friends that she'd seen the ultrasound of her new baby brother; that his heart was beating, he was moving his arms and legs; that he's definitely a little person.
Dana has been raised Catholic.  She knows every life is sacred.  She's heard about abortion and knows that it's legal.  She knows her parents didn't consider it even for a second.  And maybe she just planted a seed in another young girl about the sanctity of every life.