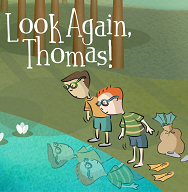 In a world that has lost a sense of the unrepeatable beauty and sacredness of every human person, we need to be people with eyes that really see.  Children with special needs sometimes mean other people have to 'look again' to see that.   The Sisters of Life have written a charming new book for children, Look Again, Thomas!, that points us to the goodness in every person.
Based on a real little boy named Angelo Pio, the story captures the way children with special needs draw out our capacity to love without limits, in the way such children themselves do.
Angelo's mother, Gina, found out during her pregnancy that her child had Down syndrome. Feeling tremendous pressure to abort, Gina spoke to a priest friend who encouraged her to call the Sisters of Life.  She moved in with the Sisters soon after and gave birth to her baby boy.  This little boy has already brought nine years of unconditional love and joy to his family.
Sister Elizabeth Ann is a friend of Angelo and his mother."I've always wanted to write and illustrate a children's book. I never really imagined the Lord would give me the opportunity as a Religious Sister. I'm so very grateful. As Sisters of Life we all all want to spread the message that you are special, good, beautiful and sacred," said Sister Elizabeth Ann. "Every person, most especially, every child needs to hear that, so it was wonderful to be able to send that message through the pages of a children's book!" 
"I can't tell you what a gift it has been to watch Angelo grow; his delight in the world never changes. He sees goodness everywhere. It suddenly dawned on me one day that Angelo is not the one with the disability – we are. Angelo, and other children with special needs, see the world and the people they meet every day with a purity and innocence that is how we are called to see the world.   Angelo loves without conditions   And he shows us all how to delight and wonder in the beauty and goodness all around us that we too often miss. He simply sees everyone and everything through God's eyes.  As Gina will tell you, every day for Angelo is a day to wonder.  When I thought about writing a book like this, Angelo quickly came to mind. He can teach us all how to live each day. And his blue glasses just added the right touch to the story."
The sweet story highlights the unique, beautiful, unrepeatable gift each person is to the world. All of us tend to make quick judgments when we meet someone, superficially by what they look like, what they can do (their capabilities) or what they own.  We fail to meet the real person inside when we do this, and deprive ourselves of discovering and delighting in that unique "something" that  reflects an aspect of God never before seen. We deprive ourselves of the gift.
The lesson of Thomas is to take the time to see beyond the surface, look for the goodness in others. See them as God sees them. He loves them unconditionally. He desires to be close to them. He wants them to grow and become more of who they ARE each day.  We're reminded of the the gift of encouraging others in their goodness, being that "shooting star" that leads others to Christ.
We're called to see the tremendous gift children with special needs are to the world, who bring out the goodness in all of us. They give us permission to laugh and cry and delight in the simple things that are really quite beautiful all around us each day.
"Look Again Thomas" is a wise and wonderful book with colorful illustrations that bring the story to life. Angelo invites his new friend, Thomas, to come on an adventure with him. He tells Thomas to put on a pair of "seeing glasses" just like his own so they can see the hidden beauty in people and things around them. Mark Twain wrote about "the seeing eye" in his book "Joan of Arc". "The common eye sees only the outside of things, and judges by that, but the seeing eye pierces through and reads the heart and soul, finding there capacities which the outside didn't indicate or promise, and which the other kind of eye couldn't detect." Look Again Thomas" is a gem!
-Helen Fitzgerald (grandmother, New Rochelle, New York)
I picked up this book, intending to thumb through the pages. The charming illustrations immediately drew me in and, before long, I found myself reading the story aloud to my own little one (still in utero), following along with Thomas as he learns to look beyond the surface of things. And by the time I got to the end, my husband had joined us and we read it aloud again together. This is a lovely book, whose illustrations match the beauty of its message. Even for adults, the simple truths that emerge from the connections that Angelo and Thomas make, which are presented clearly and without pretense, resound anew. I found myself reviewing my own day, looking for what I hadn't seen. I cannot wait to read the book many times over to my child, after he is born, and watch him enjoy and learn from it.
-Therese Sullivan, Manhattan
I love the beautiful, hope-filled message in "Look Again, Thomas!"  We need to be able to affirm the goodness we see in others today. The world desperately needs to hear the words of St. John Paul II, "We are not the sum of our weaknesses and failures. We are the sum of the Father's love for us." God loves each of us. And He made us good. It's a powerful message that echoes throughout the book! Thank you for spreading that message! 
-Christina Pavlov, (Counseling pyschology doctoral student, University of St. Thomas)
Each book includes a prayer card.
Dear God,
I know that You are my Father in heaven.  Thank you for always loving me as Your special child.
Jesus, You made me good, sacred, and beautiful like You.  And you gave me a heart like Yours.  Help me to make good choices that come from Your truth and the love in my heart.
Jesus, help me to see other people like You do.  And help me to see and encourage them in their goodness.
Then I will be that shooting star, that bright light, that will lead other people to You.  And they will know that they are good, sacred, and beautiful too.
I love you Jesus. Amen."
The book is now available at
 www.SistersofLife.org
, with the hope of reaching children of various faiths or no faith, Catholic as well as public schools. This is a second book for the pro life order.  The first,
I Would Climb Any Mountain for You
, is a heartwarming tale of a mother's natural devotion to her child, and includes developmental milestones for the unborn child.
The Sisters of Life is a religious community founded in 1991 by John Cardinal O'Connor dedicated to the protection and enhancement of the sacredness of every human life.