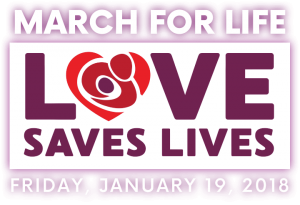 For the first time, Catholics participating in this year's March for Life in Washington, D.C., Jan. 19 can receive a plenary indulgence for doing so.
"In virtue of the authority granted by our Holy Father, Pope Francis… a plenary indulgence can be obtained under the usual conditions…by the Christian faithful who are truly penitential and compelled by charity, if they take part in the sacred celebrations, along with the great assembly of people, throughout the whole course of the annual event that is called 'March for Life,'" announced the Archdiocese of Washington and the Diocese of Arlington.
The December 20th document was signed by Cardinal Donald Wuerl of Washington and Bishop Michael Burbidge of Arlington.  They encouraged their brother bishops with the hope "that you will share this information with those entrusted to your pastoral care."
Individuals who wish to obtain the plenary indulgence must engage in the events hosted by the 2018 March for Life in Washington, D.C.: the youth rally, Mass at Capital One Area, the adult and family rally at St. Matthews Cathedral, or the Prayer Vigil for Life at the National Shrine of the Immaculate Conception.
The usual conditions for a plenary indulgence must be met.  Those requirements are that the individual be in the state of grace by the completion of the acts, have complete detachment from sin, and pray for the Pope's intentions. The person must also sacramentally confess their sins and receive Communion, up to about twenty days before or after the indulgenced act.
The letter also noted that "the aged, sick and all those who due to grave reason are not able to leave home" are also able to receive the plenary indulgence so long as they "spiritually join themselves to the holy ceremonies, while also having offered prayers and their sufferings or the ailments of their own life to the merciful God."
An indulgence is the remission of the temporal punishment due to sins which have already been forgiven.
The March for Life is the world's largest pro life witness, and has taken place for the past 44 years in the nation's capital, Washington, D.C., to publicly oppose the Supreme Court's 1973 Roe v. Wade legalizing abortion across the country.
Last year, hundreds of thousands of pro-life individuals were gathered in solidarity and prayer in the fight against abortion. Vice President Mike Pence spoke at the 2017 event, making him the highest ranking White House official to ever speak at the March for Life.
The theme for the 45th annual March for Life is "Love Saves Lives."
The March will take place at the National Mall Jan. 19 and include speakers such as Pat Tebow, the mother of professional football and baseball player Tim Tebow. Other keynotes include former NFL player Matt Birk, U.S. Rep. Dan Lipinski, U.S. Rep. Chris Smith, and Sr. Bethany Madonna of the Sisters of Life.
"May the efforts of all across this great nation to lift up the value and dignity of each life continue to bear fruit," the letter said, adding, "May we all experience God's blessings in this noble undertaking."
For bus seats from your area, or other March info, please go to www.MarchforLife.org
http://www.patheos.com/blogs/bornagaincatholic/2018/01/easy-ways-support-local-crisis-pregnancy-center/