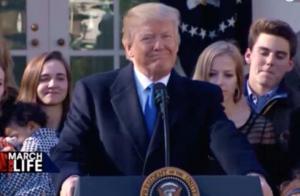 Across America are thousands of women who were faced with an unplanned pregnancy and who chose life for their children with the help of a local pregnancy care center. Four of these women along with their children joined President Trump at the White House Rose Garden as he addressed the March for Life.
All four women faced an unexpected pregnancy, and all four had resisted pressure to abort their babies.
In his March for Life address, Trump introduced Marianne Donadio, who chose life during a surprise pregnancy and is now a mother of six.  Donadio now helps other young women at a maternity home, Room at the Inn, in Greensboro NC.  Trump applauded her courage and sacrafice for women facing an unplanned pregnancy with little support around them, emphasizing this year's March for Life Theme, "Love saves lives."
"[Room at the Inn] has given them hope," Trump said. "It has shown each woman that she is not forgotten, that she is not alone, and that she really now has a whole family of people who will help her succeed. That hope is the true gift of this incredible movement that brings us together today. It is the gift of friendship, the gift of mentorship, and the gift of encouragement, love and support."  The maternity home has housed over 400 women to date.
Three other women were on stage with Trump during the March for Life, sharing how pro life efforts made the difference in their being able to give life to their children.  Each had come to Washington, D.C. this week to tell lawmakers how pregnancy centers had made a difference in their lives at an annual event called "Babies Go to Congress," hosted by the pro-life pregnancy help network Heartbeat International.
One of these moms, Kelsey Hedges, was a college student when she went to a pregnancy resource center in Rolla, Missouri.  It was the shock of a lifetime when her ultrasound showed she was expecting twins!  A good student and highly involved on campus, Kelsey was faced with pressure from the twins' father to abort them.  She considered going to a local Planned Parenthood, but once she saw her daughters on the ultrasound, her mind was made up. "I was in love from the moment I laid eyes on both of them," she said.  "They are such a blessing in my life and bring so much joy to myself and the rest of my family. I thank God often for my girls and for PRC who saved me and my pregnancy.
Not only did Kelsey give birth to Izabella and Brielle, but she went on to graduate on time, and is now working on a master's degree in accounting.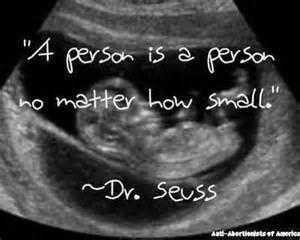 Nadya Boyer was raised in an Evangelical Christian home, but first turned to Planned Parenthood to escape her unexpected pregnancy. Though she'd convinced herself she had no other choice but abortion, a previous visit to a pro-life pregnancy help center in Lebanon, Ohio, had given Nadya the facts and information so she not convinced her life would be better if she aborted.  She was actually sitting in Planned Parenthood's waiting room waiting for her name to be called, when at the last second she found the strength to choose life for her baby.  She got up and left PP and went directly to Elizabeth's New Life Center, where she received all the love, support, and resources she needed to have her son, Charlie.  She and Charlie's father are now married and raising their little boy together.  Today she says about her unplanned pregnancy,  "If anything, I'm so much better off today."
Six years ago, Paula Garner was a 17-year-old staring at a handful of positive pregnancy tests in her high school bathroom. She knew she was pregnant, but just couldn't bring herself to accept the reality in front of her.  But reaching out to a local pregnancy center, Hand of Hope Pregnancy Centers in Raleigh, North Carolina made all the difference.  Paula learned the truth about every aspect of abortion and was offered all sorts of free assistance that made abortion unthinkable.
Today, Paula and her husband, Chris, are proud parents of two daughters, Skylar and Audrey. With the goal of working at as a pregnancy center counselor, Paula is midway through a psychology degree thanks to a scholarship awarded by Care Net, a network of pregnancy centers. "They showed us the love of Christ at a time when we felt so far from God and his plan for our lives," Paula said.  "Sometimes I sit back and think that without my daughter, and without being directed to Hand of Hope, I wouldn't be where I am today. I wouldn't be the person that I am today, and I don't even know if God would have been able to get a hold of my heart the way he has.
"Before my daughter was born, I was headed down a very bad path in life, but her life has given me new life in Christ. It changed the entire direction that my life was headed in and for that I could not be more thankful."
While President Trump's evolution from default-abortion supporter to ardent pro-life defender may seem impossible to believe—indeed, too unlikely for many to admit even now—it's backed up by a year of solid pro life follow through.
In his address, Trump gave a nod to his administration's reversal of an Obama-era rule forcing states to fund Planned Parenthood, as well as Thursday's initiation of a new department meant to protect the rights of medical professionals not to perform or participate in abortions.
Recent state laws in Illinois and California are meant to do just that—with the California law headed to the Supreme Court on grounds it violates the First Amendment by forcing pro-life pregnancy centers to advertise taxpayer-funded abortions.
"We are protecting the sanctity of life and the family as the foundation of our society," Trump said. "But this movement can only succeed with the heart and the soul and the prayer of the people."
Each year, over 1.5 million women experiencing an unplanned pregnancy turn to our nation's 2,750 pregnancy help centers and ultrasound-equipped medical clinics.  Through counseling, learning the physical and psychological risks of abortion as well as the deception and profit motive of the abortion industry, by seeing their ultrasound, through love and prayer, and by learning about resources available to them, thousands of these women reject abortion and choose either parenting or adoption for their child.
http://www.patheos.com/blogs/bornagaincatholic/2018/01/easy-ways-support-local-crisis-pregnancy-center/
photos: March for Life, pinterest