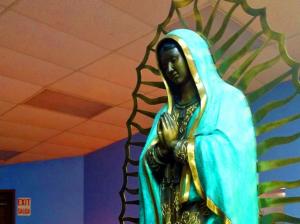 The Diocese of Las Cruces, New Mexico is investigating reports of a weeping statue of Our Lady of Guadalupe at a southeastern New Mexico church.
A local NBC affiliate reported the investigation, after alleged witness accounts of tears coming from the eyes of a statue at Our Lady of Guadalupe Catholic Church in Hobbs, NM
The first incidence of the tears was during a noon Mass on Sunday, May 20.  The second incidence was the following Tuesday. The first appearance of tears brought local and national new.  Visitors from throughout New Mexico and Texas flocked to Hobbs to see the statue for themselves. The building was filled with visitors by the time of Tuesday's second weeping.
Office manager for the parish Judy Ronquillo was there on Tuesday when the tears appeared.  She said the statue began crying as some parishioners in the church finished the Rosary.
"It's beautiful," she said. "The tears aren't watery, they are an oil-like substance and the tears smell like roses."
Diocesan Vice Chancellor Deacon Jim Winder says investigators will put together a report for Las Cruces Bishop Oscar Cantu.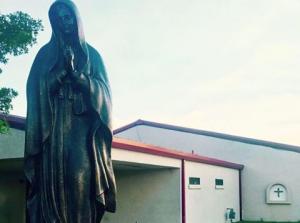 (front of Our Lady of Guadalupe Catholic Church..photo from parish facebook page)
"We try to take a scientific skepticism," Deacon Jim Winder, the vice chancellor of the Diocese of Las Cruces, said. "You can't prove a miracle, but you can disprove all other explanations."
The investigation is being reported on the Miracle Hunter website.
The Catholic Church does not refer to anything as miraculous without extensive investigation ruling out all natural explanations, even those only remotely possible.  The diocese has already collected samples of the tears to send for examination by a lab,  and the statue will be x-rayed to rule out anything inside that could cause the tears. You can see video footage here: https://www.youtube.com/watch?v=zVg9yh6xZ3M&feature=youtu.be.