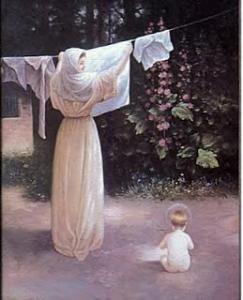 This is such a charming image of Our Blessed Mother. It's amazing it isn't more well-known.
I first saw this picture at a recent Marian retreat for women. Brother Joe Bellizzi, a Marianist, introduced it by telling us it hangs in his mother's dining room and that he's always been fond of it. Curious to know more about it, he did some research and learned that it's called the "Polish Madonna" or "Mary's Wash Day."
In such a beautiful way it calls our attention to the everyday chores Mary did like so many other mothers, during the years of Jesus's life known as the "hidden years." Brother Joe has decided to nickname this Mary, "Everyday Mary."
Here's the description that accompanies the image: "This charming picture depicts Our Lady hanging laundry while the infant Jesus sits nearby. Polish legend has it that the bright warmth of the sun must shine upon the earth on Saturday, if only for a brief moment, in remembrance of Christ's infancy when on that day Mary would wash immaculately clean his swaddling clothes so that Sunday might find delight in witnessing the baby God in pure and fresh-scented dress."
"Everyday Mary" reminds us of three important things:
Be present. Mary was always present to those who needed her. She rode miles on a donkey, probably with morning sickness, to visit her cousin Elizabeth, herself expecting a child, and here she is present to the child Jesus. We need to be present to those around us, in the moment, without getting ahead of ourselves with worries and concerns.
Contemplate the role God has given to us, His plan for our lives.
And most importantly, always keep our eyes on Jesus!
We can ask Mary, our Mother, to be with us in all the joys, trials, and sufferings of our own motherhood. We can ask Mary to be with us in the car as we drive to pick up our son, to be with us when we talk our daughter through a crisis, to be with us in our tears, to guide us with our concerns, to kneel with us in prayer, when we vacuum, cook and clean.
Dear Mary,

Everyday…

We face doubts…

 be our source of faith.

we face fears…

 be our source of courage

we face sorrows…

 be our source of comfort

we face loss…

 be our source of life

we face distractions…

 be our source of purpose

we face despair…

 be our source of hope

we lose our way…

 be our Star of the Sea

we have questions…

 be our Good Counsel

we feel lonely and abandoned…

 be our Mother

Mary, be our everyday Mary!

Amen.
Prayer by Bro. Joseph Belizzi, S.M., (Society of Mary) Principal of Chaminade High School, Mineola, New York