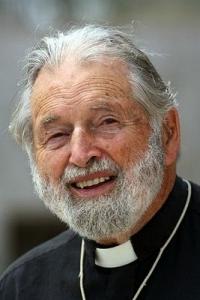 The Miracle Prayer is prayed by thousands all over the world every day.
At the age of ten, Peter Rookey was blinded by a fire cracker exploding right in front of his face.  Doctors told his parents the damage was so great they could not hope for any sight for their son at all.
But Peter's devout mother added the intention of Peter's eyesight to the family's nightly rosary, and asked everyone she knew to pray as well.
Peter prayed too.  "My mother's faith was such that I never doubted her belief that if it was God's wish my sight would return. I asked the Lord to heal me and I promised Him that if he gave me back my sight I would become a priest.  In my mind the two things were intertwined.  Obviously I couldn't become a priest if I was blind."
After three years, Peter could see again. "Gradually, despite the doctor's warnings that we were hoping in vain, my sight began to return until finally it was restored.  Obviously it was a miracle.  There was no other explanation."
He became a priest, and began a healing ministry that continued until his death in 2014 at age 97.  He became known as the "man of miracles" and held healing Masses across the U.S. and around the world.
Fr. Rookey often reminded people of the promise of Mark 11:24, Jesus said, "Therefore I tell you, all that you ask for in prayer, believe that you will receive it and it shall be yours."   In his talks he would tell people everything is possible through Our Lord and Savior Jesus Christ.  Whatever difficulty you might have, steadfast prayer is essential for receiving the Lord's blessing in order to change circumstances in your favor.  Pray daily!
The Miracle Prayer:
The prayer he wrote and encouraged thousands to pray is known as
Lord Jesus, I come before Thee, just as I am, I am sorry for my sins, I repent of my sins, please forgive me. In Thy Name, I forgive all others for what they have done against me. I renounce Satan, the evil spirits and all their works. I give Thee my entire self, Lord Jesus, I accept Thee as my Lord God and Savior. Heal me, change me, strengthen me in body, soul, and spirit.
Come Lord Jesus, cover me with Thy Precious Blood, and fill me with Thy Holy Spirit, I love Thee Lord Jesus, I praise Thee Lord Jesus, I thank Thee Jesus, I shall follow Thee every day of my life. Amen.
Mary, My Mother, Queen of Peace, all the Angels and Saints, please help me. Amen.
Fr. Rookey said, "Say this prayer faithfully, no matter how you feel. When you come to the point where you sincerely mean each word with all your heart, Jesus will change your whole life in a very special way. You will see."
https://www.youtube.com/watch?v=dtuS8a-MAb8
St. Joseph, Intercede for Fathers and for Children without Fathers