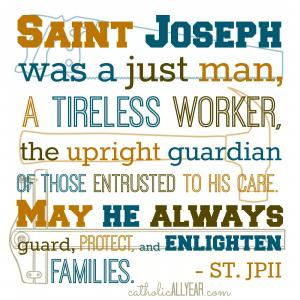 I admit it. I've always kind of ignored St. Joseph.  He just wasn't on my radar as a 'go to' saint.
Joseph was a quiet man.  Yet the role he played was enormous as the foster or adoptive father of Our Savior, Jesus Christ. Not yet married to Mary, he was humble and obedient to the role chosen for him and announced to him in a dream.
If we want to get to know someone who truly knew Jesus, St. Joseph is a natural choice right after the Blessed Mother.  He's known as a powerful intercessor,  referred to as the "Terror of Demons" and the "Universal Patron of the Church."
I heard an excellent talk on Joseph recently, and it was pointed out that Joseph could well be the father-Saint to ask for guidance for our children.  A young woman I met whose husband left several years ago has been praying for St. Joseph's intercession both for her children and for her husband.  She's asked Joseph to help fill in for the absence in the children's lives and to guide her husband back to the family.
Fr. Calloway, MIC recently put together a book of quotes about St. Joseph from the writings of popes, saints, blesseds, and the many venerables of the Church.  "It is amazing that the greatest saint after the Blessed Virgin Mary is St. Joseph, yet we don't have one single word from him in the New Testament.  But God does speak to him through his dreams," points out Fr. Calloway.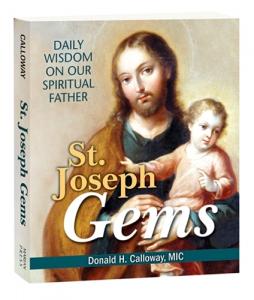 Here are just two of the beautiful quotes about St. Joseph:
Pope John Paul II: Saint Joseph was a just man, a tireless worker, the upright guardian of those entrusted to his care. May he always guard, protect and enlighten families.
Blessed Josemaria Escriva:  St. Joseph was an ordinary sort of man on whom God relied to do great things. He did exactly what the Lord wanted him to do, in each and every event that went to make up his life. 
And Joseph's calm acceptance and obedience can be a quiet but dramatic example for our own lives.
I began praying to St. Joseph for some young adults without a dad around.  A friend gave me this novena that brings St. Joseph out of the shadows and into the forefront of our prayers, entrutsting ourselves to his care. She and her family have found prayers answered because of their devotion to him  I love the part below where we ask St. Joseph to "please make my heart sensitive to the inspirations of the Holy Spirit."  This novena was written by Fr. Michael Gaitley, MIC, who has his own story of St.Joseph's intercession in his life: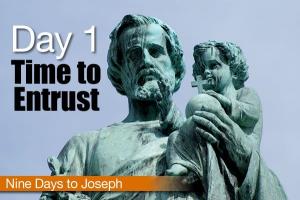 http://www.thedivinemercy.org/news/Nine-Days-to-Joseph-Day-One-6225
St. Joseph's Gems is available at www.Ignatius.com.