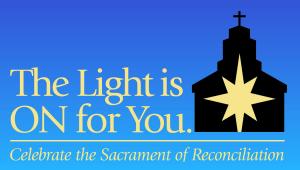 Want to head into Easter with a clean slate? Now's the time for Confession.
The Light is On is a reconciliation initiative that began in the Archdiocese of Washington and the Diocese of Arlington, VA several years ago.  To encourage Catholics to come to or return to the beautiful source of mercy and peace – Confession – during Lent, all Catholic churches across the DC-VA area were open for quiet prayer and Confessions every Wednesday evening during Lent.  The Light is On has now spread to dozens of diocese across the country.
In this Year of Faith, the Church invites us to renew our faith and rekindle our relationship with our Savior Jesus Christ. One of the greatest ways to accept this invitation is through the Sacrament of Penance, given to us by Jesus to receive His healing love.
The Church encourages us to make confession a regular part of our spiritual life, especially during the holy season of Lent, as we reflect on our baptism and repentance.
In NY, Cardinal Dolan designated Monday, March 26 as Reconciliation Monday for Lent, and all churches will have priests available for confession from 3:00 to 9:00 pm.   All parishes in the Diocese of Dallas will have their "lights on" for confession and quiet prayer so that Catholics can come to or return to this healing Sacrament. From Sacramento to Boston, The Light is On makes finding a time for Confession before the end of Lent easy.
For many of us the Sacrament of Confession is easy to put off.. We may be nervous or embarrassed to talk about our sins. We may forget how to start.  Many parishes post the brief "Act of Contrition" prayer (below) right inside the confessional. Priests expect to prompt those who haven't been to confession in many years, and are happy to encourage us in returning.
Pope Francis reminds us: "
How many times in my pastoral ministry have I heard it said, 'Father, I have many sins,' & I have always pleaded, 'Don't be afraid; go to him; he is waiting for you; he will take care of everything.' We hear many offers from the world around us, but let us take up God's offer instead: his is a caress of love
." –Pope Francis.
"The light of God's love, of God's mercy, of God's forgiveness, is always on, and we can always come home to God and to the Church if we have been away for a long time or even if we have been there all along." –Cardinal Donald Wuerl,  Archbishop of Washington
An Act of Contrition, recited during Confession
O my God, I am heartily sorry for having offended you and I detest all my sins, because I dread the loss of heaven and the pains of hell. But most of all because I have offended you, my God, who are all good and deserving of all my love. I firmly resolve with the help of your grace, to confess my sins, to do penance and to amend my life.  Amen.
St. Joseph, Intercede for Fathers and for Children without Fathers