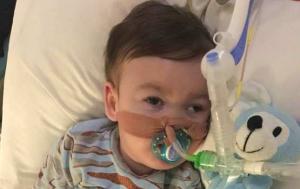 Yesterday (Wednesday ) the ironically named European Court of Human Rights (ECHR) denied Alfie Evan's parents' request to move him to a hospital that will actually provide care, rather than merely removing his life support.
Alfie, now two years old, has a devastating degenerative brain disorder that has baffled physicians and specialists. Alfie has been a patient at England's Alder Hey Childrens' Hospital since December 2016. The hospital has asked the courts for authority to disconnect Alfie's ventilator.
Today on Facebook,  Alfie's father Tom said personnel at the hospital won't let him hold Alfie Evans until he agrees to allow his son's ventilator to be removed.  "I have just brought my sister niece and younger brother in Alfies room to give him cuddle time," Evans says, "and was told that my family cannot hold my son until I speak about removing the vent with the consultants and agree to something."  "We are being blackmailed into our son's death," the aggrieved parent writes. "Let's have this post be seen by the world how wrong."
The parents asked for permission to move Alfie to a hospital in Rome for further evaluation and a treatment plan.   This latest rejection by the ECHM leaves the family without any legal options.  The court is allowing the hospital to effectively kill this little boy simply because it disagrees about whether or not he has a good quality of life.
The three judge panel of the ECHM argued that Alfie's condition is terminal and that the Bambino Gesu hospital in Rome can do nothing more than Alder Hey already has.  But Bambino Gesu Paediatric, a Vatican-linked facility, has offered to provide Alfie with full palliative care, including ventilation, and not surprisingly the parents intended to take their child to Rome. As of  today, a crowdfunding campaign to finance the trip had reached 85% of its £100,000 goal.
Failed Disgracefully by the System
On February 20, after a seven-day hearing, Mr. Justice Hayden concluded, "I am satisfied that continued ventilatory support is no longer in Alfie's interests," and that maintaining Alfie alive on a ventilator would compromise his "future dignity," mirroring the conclusions reached by Alder Hey Childrens' Hospital.
Evans and James appealed but on March 6, Lord Justices McFarlane and McCombe and Lady Justice King of the nation's second highest court concurred with the ruling of Judge Hayden. Last week the nation's Supreme Court turned down the parents' request to appeal, leaving an appeal to the European Court of Human Rights as the only recourse open to them.
Evans posted his outrage on Facebook last week after meeting with the hospital:  "Alfie isn't dying or unstable he is growing, putting weight on, responding etc.  He is not dying so Alder Hey do not have the right to remove his life from his parents or himself!!!  Mr Evans went on to say that he asked Alder Hey if he could take Alfie home "to a suitable setting with the private facilities and team to let him die in his own time with no further escalation of treatment and we will never return to Alder Hey and we will buy the vent and pay for the team out of Alfie's medical funds!!!  We are being denied this!!!!! Alder Hey want Alfie dead and on their time scale with their plans!!! Whose son is he???  Does he belong to the government or me and Kate???!!!"
Thom Evans said his son has been "failed disgracefully by the system."
LifeSiteNews has published videos taken by Alfie's parents showing Alfie "very much alive," reacting to stimuli such as lights and his father's voice, as well as showing a variety of activity including yawning and stretching.
You may be interested in this: http://www.patheos.com/blogs/bornagaincatholic/2018/03/aid-dying-laws-leave-many-vulnerable-choice-illusion/#comment-3790232627