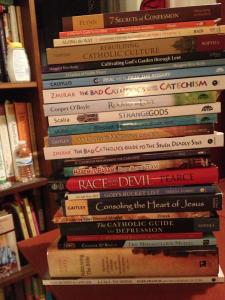 I suppose I could hoard worse things than Catholic books.  I once saw a show on people's collections and one person collected used oil can's from the 1930's, another had thousands of penguin stuffed animals lining every inch of her home, and another woman collected rooster salt and pepper shakers.  All entirely fine but may I say reading great Catholic books helps us not just in this life, but into eternity!  No rooster salt shaker can do that.
The books just seem to come to me.  They're seeking me out, somehow knowing the journey I'm on and just the kind of book I need and will dive right into.
Earlier on in my reversion to the Church, someone would suggest a book here and there to help me with my endless questions.  I'd pick up a couple in the library, and received a few as gifts.    One book would make me wonder about a whole other aspect of the faith and I started seeking out topics on my own.  Once I ordered a few, catalogues full of great Catholic titles tempted me to order more than I could read in an entire year.
As I became more involved with other practicing Catholics, life changing books would be recommended at prayer groups, rosary groups, retreats, talks.   My stacks of books grew and I'd be reading 3 or 4 at a time.  I had less and less interest in anything fictional or unrelated to seeking and finding God.  Church history, evangelizing, dealing with suffering and using it wisely, healing, apparitions, why we believe what we believe, purgatory, indulgences, miracles….each topic held its own fascination.
Recently a very holy woman I knew passed away, a few years after her equally holy husband.  Over the decades, this couple somehow managed to find time to read hundreds of books while raising ten children.  When I was offered whatever books the adult children didn't want, I was like a kid in a candy store.  You mean I can have all of them?? I just couldn't let them go to waste, knowing how my life has been transformed – and is still transforming – by simply reading the right books.  There were literally floor to ceiling shelves in almost every room, and 99% were Catholic.  Armed with boxes and bags, a friend and I perused the shelves.  I found an occasional book on African violets, but most were about living life devoted to Christ and getting ourselves to heaven.   Better yet, this beautiful couple, married 65 years, had their handwritten notes on the sides of pages here and there:  Wow!  Make a copy of this.  Send this to Jean.  Big stumbling block for me.  Pure genius.  Remember this.  Tucked inside more than a few books were various prayer cards from wakes of people loved and lost, meeting reminders (rosary Tues. 7 pm Barbara's),  and scraps of paper with names of people to pray for on them.
I started out planning to limit myself to just to just the books I wanted to read, but then I had an inspiration….I can find people who really want these books.  When I arrived home with the first car load and asked my 23 year old son to haul them in, I got this fun comment: "This has gotta be the weirdest thing you've done yet."  (I'm thinking, oh I've done much weirder stuff than this, while praying that maybe some day he'll be just as fascinated by the truth of Catholicism as I am!)
So I sent out an email, which was forwarded around.  First I heard from a deacon who has a prison ministry.  I couldn't wait to give him a box of books.  What a thrill it was to find people who didn't just want the books, they needed them.  Then I heard from an Indian couple, living in the U.S. for a few years.  They said their area of India has a good number of Catholics, but for some reason it's extremely difficult to get books and evangelization materials there.  They took at least 300 books, along with a few statues of the Blessed Mother and Sacred Heart of Jesus, and a bag of rosary beads.  A young brother and sister, both recent converts, took a shopping bag full.  A friend's daughter and son in law took a few box fulls for their homeschooling group, and a revert to the faith said a number of titles "just jumped out" at her.   The next best thing to hoarding and reading great Catholic books is giving them to others!
I came across a book list put together by Fr. John McCloskey, Opus Dei priest and fellow book-lover.  His "Catholic Lifetime Reading Plan" lists the 100 best Catholic books of all time (the late Fr. John Hardon wrote a book with the same name.) From the Catechism to True Devotion to the Holy Spirit to Spiritual Combat, each book leads to a clearer understanding and a firmer faith to stand on.  If you want to get started on the road to holiness, check out this great list.  I've read quite a few that have helped get me on the right path.  Now I just have to keep reading to stay on it!
.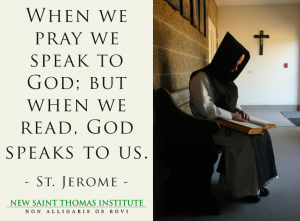 Fr. McCloskey's Catholic Lifetime Reading Plan:
Catholicism Explained/Theology
Catechism of the Catholic Church
The Spirit of Catholicism by Karl Adams

Spirit and Forms of Protestantism
 by Louis Bouyer
Christianity for Modern Pagans
 by Peter Kreeft
The Lord
 by Romano Guardini
Essay on Development of Christian Doctrine
 by Cardinal Newman
Parochial and Plain Sermons
 by Cardinal Newman
End of the Modern World
 by Romano Guardini
Rome Sweet Home
 by Scott & Kimberly Hahn
Fundamentals of Catholic Dogma
 by Ludwig Ott
The Four Cardinal Virtues
 by Josef Pieper
History and Culture
The Great Heresies by Hilaire Belloc
How The Reformation Happened by Hilaire Belloc
Survivals and New Arrivals by Hilaire Belloc
Christendom I: Founding of Christendom by Warren Carroll
Christendom II: The Building of Christendom by Warren Carroll
Christendom III: The Glory of Christendom by Warren Carroll
Christendom IV: The Cleaving of Christendom by Warren Carroll
Triumph : The Power and the Glory of the Catholic Church by H. W. Crocker III
Enthusiasm by Ronald Arbuthnott Knox
Love of Learning and the Desire for God by Jean Leclercq
Christianity and European Culture by Christopher Dawson
Our Lady of Fatima by William T. Walsh
Holy Men and Women
Something Beautiful for God by Malcolm Muggeridge
Apologia Pro Vita Sua by John Henry Newman
Journal of a Soul by Pope John XXIII
The Long Loneliness by Dorothy Day
St. Thomas Aquinas: The Dumb Ox by G. K. Chesterton
St. Francis of Assisi by G. K. Chesterton
Seven Storey Mountain by Thomas Merton
Mary of Nazareth by Federico Suarez
Cure of Ars by F. Trochu
Thomas More: A Portrait of Courage by Gerard B. Wegemer
Witness to Hope: The Biography of Pope John Paul II by George Weigel
Literary Classics
Lord of the World by Robert Hugh Benson
The Diary of a Country Priest by George Bernanos
Hopkins: Poetry and Prose by George Manley Hopkins
Don Quixote by Miguel de Cervantes
The Divine Comedy by Dante Alighieri

Christianity and Culture
 by T. S. Eliot
The Idea of a University
 by John Newman
Silence
 by Shusaku Endo
Quo Vadis
 by Henryk Sienkiewicz
Lost in the Cosmos : The Last Self-Help Book
 by Walker Percy
Love in the Ruins
 by Walker Percy
Kristin Lavransdatter I: The Bridal Wreath
 by Sigrid Undset
Kristin Lavransdatter II : The Wife
 by Sigrid Undset
Kristin Lavransdatter III: The Cross
 by Sigrid Undset
Flannery O'Connor: Complete Stories
 by Flannery O'Connor
The Lord of the Rings
 by J. R. R. Tolkien
Brideshead Revisited
 by Evelyn Waugh
Spiritual Classics
Confessions of St. Augustine
 by St. Augustine
Little Talks with God
 (modernized version of "The Dialogues") by St. Catherine
City of God
 by St. Augustine
The Problem of Pain
 by C. S. Lewis
Dark Night of the Soul
 by St. John of the Cross
Mere Christianity
 by C. S. Lewis
The Screwtape Letters
 by C. S. Lewis
The Everlasting Man
 by G. K. Chesterton
Orthodoxy
 by G. K. Chesterton
The Greatest Story Ever Told
 by Fulton Oursler
Meditations from a Simple Path
 by Mother Teresa
Interior Castle
 by St. Teresa of Avila
The Way of Perfection
 by St. Teresa of Avila
Story of a Soul
 by St. Therese of Lisieux
My Way of Life/Summa Theologica
 by St. Thomas Aquinas
Spiritual Reading
The Great Means of Salvation and Perfection by Alphonso Liguori
Uniformity with God's Will by Alphonso Liguori
Spiritual Theology by Jordan Aumann
Frequent Confession by Benedict Baur
In Silence with God by Benedict Baur

Difficulties in Mental Prayer
 by Eugene Boylan
The Tremendous Lover
 by Eugene Boylan
Covenanted Happiness
 by Cormac Burke
The Soul of the Apostolate
 by Jean-Baptiste Chautard
Friends of God
 by Jose Maria Escriva
Christ is Passing By
 by Jose Maria Escriva
The Way, Furrow, The Forge
 by Jose Maria Escriva
Way of the Cross
 by Jose Maria Escriva
All for Jesus
 by Frederick W. Faber
Abandonment to Divine Providence
 by Jean-Pierre De Caussade
Introduction to Devout Life
 by Francis deSales
Treatise on the Love of God
 by Francis deSales
Three Ages of Interior Life Volume I
 by Fr. Reginald Garrigou-Lagrange
Three Ages of Interior Life Volume II
 by Fr. Reginald Garrigou-Lagrange
Sinner's Guide
 by Venerable Louis of Grenada
The Imitation of Christ
 by Thomas A. Kempis
True Devotion to the Holy Spirit
 by Luis M. Martinez
True Devotions
 by Louis-Marie Grignion De Montfort
The Hidden Power of Kindness
 by Lawrence G. Lovasik
The Betrothed
 by Alessandro Manzoni
The Sadness of Christ
 by Thomas More
Conversation with Christ
 by Peter T. Rohrbach
Spiritual Combat
 by Lorenzo Scupoli
Theology and Sanity
 by Francis J. Sheed
Theology for Beginners
 by Francis J. Sheed
To Know Christ Jesus
 by Francis J. Sheed
Life of Christ
 by Fulton J. Sheen
Three to Get Married
 by Fulton J. Sheen
The Spiritual Life
 by Adolphe Tanqueray
Abba Father
 by Bonaventure Perquin
Transformation in Christ
 by Dietrich von Hildebrand
Miscellaneous
Crossing the Threshold of Hope by Pope John Paul II
Companion Guide to Rome by Georgina Masson
The King's Good Servant but God's First by James Monti
50 Questions on the Natural Law by Charles E. Rice
The Intellectual Life by A. G. Sertillanges

Essays on Woman
 by Edith Stein
You might like this article: http://www.patheos.com/blogs/bornagaincatholic/2018/04/everyday-heroes-ordinary-men-leading-holy-lives/