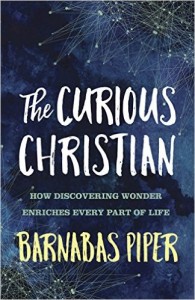 Christians struggle with questions—let's be honest. We don't know which questions to ask, which questions are "too far," or how to rightly question God himself. Thankfully, Barnabas Piper's new book, The Curious Christian, helps us navigate some of these tensions. Rather than running away from doubt or curiosity, Piper argues that these things can be signs of a faith that truly seeks to know God and his truth.
I am thankful to count Barnabas a friend, and excited that he's recently moved to the B&H Academic team and now offices across the hall from me. Here's a brief conversation I had with Barnabas about his fantastic and unique new book.
BRANDON: In your last book, Help My Unbelief, you talked about belief, doubt, and asking questions. How does The Curious Christian compare and contrast with that book?
BARNABAS: Without being a sequel it is sort of a natural follow-up book. Help My Unbelief offered ideas about asking questions well and The Curious Christian takes that idea and runs with it to show where our questions can take us in relationship with God and others and the world.
As I thought about questions and asking and seeking truth while I wrote Help My Unbelief I began to realize the significance of curiosity across the breadth of the Christian life and the utter lack of it for so many people. People don't know what questions to ask, what they can ask them about, who to ask them to, or where their questions will take them. And they don't know the wonder and the promise that lies on the other side of honest, truth-seeking questions.
How has curiosity played a role in your life as a Christian?
Having been raised in a conservative evangelical context, I had the tacit understanding that curiosity was, if not off limits, at least a bit juvenile. But I had this innate desire—nurtured by my parents—to know, to learn, and to connect with great ideas and people. I just didn't have a clear sense of how that fit into a systematized faith centered around Jesus.
I began to realize that each of those interests was not secondary to a love of God, but rather an inroad to knowing God more. It was then that curiosity became intentional for me—something to be fostered, fed, and practiced. I began to see more and more truth about God through people and places and things and ideas where previously I had tried to segment them into buckets of "sacred" and "secular." And I saw that faith is not as neatly systematized as many would like to make it.
Instead I began to learn how to be comfortable – or at least to reside – in theological tensions and cultural conflicts. Rather than take sides I began to see that both sides often reflect something of God's character and workmanship. We often try to boil things down to either/or and to simplify them into pat arguments, but truth doesn't work that way and God is not bound by our lists and points and arguments. Curiosity helped me see this and helps me navigate it now.
You've courageously written recently about a painful recent event in your life. In what ways has this book been formed by your own suffering?
Last year my wife of eleven-and-a-half years and I divorced. I have never experienced something so acutely painful nor have I ever been so thankful for the complexities of God's Word and promises and work. No pat answers would suffice. No books answered the questions I faced.
But curiosity, the pursuit of truth, lived on. And with it I was able to see hope in God's word beyond the proof-text promises so many Christians provide. I found it in Ecclesiastes and Job and Lamentations. I lived in the minor prophets, full of darkness and hope. And I was thankful for all the questions I had asked and explored for years prior through which God had shown Himself faithful and real.
And the complexities and ugliness of my own marriage's end taught me empathy and to seek to understand others better. People have hidden stories and pain that shape them. Am I curious enough to ask and to listen and to understand? Sharing some of my story connected me with others walking through something similar, and that is what curiosity does – it connects. It connects people to people and people to truth and ideas to ideas.
In writing the book, I hoped to offer hope and life and perspective to people whatever their circumstances. My own experiences told me that curiosity offered all those things, even and especially to the hurting.
What types of questions should Christians be asking on a daily basis?
I think most Christians just need to start asking questions to begin with. Curiosity is less about what particular questions are asked and more about where the questions are pointed. One of the hardest things to do is notice something you have never noticed before or to find a new perspective on something you've seen or heard a thousand times, but that is curiosity.
Any question is a good question if it genuinely, humbly seeks truth. And that mindset, that stance of the heart is where curiosity begins. The two things Christians need to focus their curiosity on are God himself and then the opportunities closest to them.
God is infinite, so the more questions we ask, the more truth we will find—leading to only more opportunities for discovery. And as we turn our curiosity on our immediate world, we will discover starting places in relationships, neighborhoods, neighbors, our immediate surroundings, or a hundred aspects of life we'd previously overlooked.
What's the difference between skepticism, doubt, and curiosity? How do each play a role in the Christian life?
Doubt is simply not knowing something, the inability to be sure. It is inherent to being human since we have finite knowledge of the work of an infinite God. We will encounter doubts all the time, and this is neither a good or bad thing. What makes it good or bad is what we do in response—do our doubts lead us to seek answers in God or lead us away from God?
Skepticism is when we mistrust something or someone. This is not a good lens through which to view life most of the time because it distances us from relationship or vulnerability or learning. However, skepticism is necessary in doses because we live in a world marked by sin and one that is full of deceit. We cannot be foolish or gullible in how we interact with it, so sometimes a dash of skepticism is simply wisdom at work. Curiosity is the pursuit of truth, which means it should be the force that take our doubts and points them in a godly, healthy direction and knows how and when to use skepticism.
Curiosity can't be overly skeptical or the pursuit of truth stalls. However, in order to find truth, a curious person must have enough judicious skepticism to sort through the nonsense.
Speaking of curiosity, have you been able to figure out why your Minnesota Vikings are actively trying to be the worst team in the league?
No. My questions have more to do with why God has cursed them to break the hearts of their fans despite their best efforts to win. It is one of the many inexorable conundrums of life. But any way, SKOL.