As dire as our political situation may be, as I heard a colleague say recently, it is vital to remember not only that we must pace ourselves for a marathon (not a sprint), but also that "this is a relay race." We are in this struggle together, and we need to hand off the baton to maintain resistance and resilience for the long haul. To empower your discernment of what your part might be in understanding and responding to such a time as this, the following are the resources I am finding most helpful: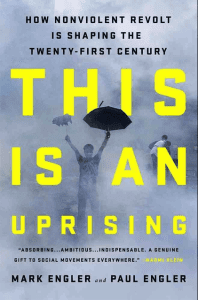 If you are willing to read one book, I recommend This Is an Uprising: How Nonviolent Revolt Is Shaping the Twenty-First Century by Mark Engler and Paul Engler: 
When mass movements erupt onto our television screens, the media consistently portrays them as being spontaneous and unpredictable. Yet, in this book, Mark and Paul Engler look at the hidden art behind such outbursts of protest, examining core principles that have been used to spark and guide moments of transformative unrest. With incisive insights from contemporary activists, as well as fresh revelations about the work of groundbreaking figures such as Gandhi, Martin Luther King Jr., Gene Sharp, and Frances Fox Piven, the Englers show how people with few resources and little conventional influence are engineering the upheavals that are reshaping contemporary politics. Nonviolence is usually seen simply as a philosophy or moral code. This Is an Uprising shows how it can instead be deployed as a method of political conflict, disruption, and escalation. It argues that if we are always taken by surprise by dramatic outbreaks of revolt, we pass up the chance to truly understand how social transformation happens.
My second highest recommendation would be The End of Protest: A New Playbook for Revolution by Micah White:
Is protest broken? Micah White, co-creator of Occupy Wall Street, thinks so. Disruptive tactics have failed to halt the rise of Donald Trump. Movements ranging from Black Lives Matter to environmentalism are leaving activists frustrated. Meanwhile, recent years have witnessed the largest protests in human history. Yet these mass mobilizations no longer change society. Now activism is at a crossroads: innovation or irrelevance. In The End of Protest Micah White heralds the future of activism. Drawing on his unique experience with Occupy Wall Street, a contagious protest that spread to eighty-two countries, White articulates a unified theory of revolution and eight principles of tactical innovation that are destined to catalyze the next generation of social movements. Despite global challenges—catastrophic climate change, economic collapse and the decline of democracy—White finds reason for optimism: the end of protest inaugurates a new era of social change. On the horizon are increasingly sophisticated movements that will emerge in a bid to challenge elections, govern cities and reorient the way we live. Activists will reshape society by forming a global political party capable of winning elections worldwide. In this provocative playbook, White offers three bold, revolutionary scenarios for harnessing the creativity of people from across the political spectrum. He also shows how social movements are created and how they spread, how materialism limits contemporary activism, and why we must re-conceive protest in timelines of centuries, not days. Rigorous, original and compelling, The End of Protest is an exhilarating vision of an all-encompassing revolution of revolution.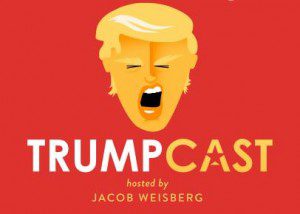 If you are willing to listen to one new podcast, I recommend Trumpcast: "A quasi-daily podcast from Slate that sets out to understand the real Donald Trump. Jacob Weisberg, chairman and editor-in-chief of Slate, talks to historians, psychiatrists, and other experts to help explain who this man is, and why this is happening, right now, in the United States of America."
If you are willing to take one daily action, I recommend dailyaction.org:
All you have to do is text the word DAILY to the number 228466 (A-C-T-I-O-N). You'll be prompted to enter your ZIP code and that's it—you're signed up. You will subsequently receive one text message every workday about an issue that we have determined to be urgent based on where you live. You tap on the phone number in your message, listen to a short recording about that day's issue, and from there you'll be automatically routed to your Senator, member of Congress, or other relevant elected official. In 90 seconds, you can conscientiously object and be done with it. You can make the phone calls when you're walking to the bus stop, or waiting in line for your morning latte. One touch of the phone and you're done.
As described in White's book above, mass protest may well be ineffective in trying to shame an administration that seems shameless. I am not saying there is no use in protesting at strategic times and places; rather, we need to be realistic about what protest can (and can't) accomplish. And I am inviting you to consider that increasing numbers of engaged citizens calling the elected representatives in their districts and state may be one of the most effective strategies at the moment. To learn more about the background of Daily Action read The Washington Post article "Capitol Hill mom directs thousands of anti-Trump activists with texts sent from her living room." Even if you do not always agree with a given day's talking points from Daily Action, the text will be a reminder to pause for a few moments to call your representatives with your primary concern of that day. Let your voice be heard!
If you want to reflect more broadly about strategies for moving forward, I recommend the free resource Indivisible: A Practical Guide for Resisting the Trump Agenda: "Former congressional staffers reveal best practices for making Congress listen."
Finally, keep in mind that we need both resistance and resilience. We need you both to pick up the baton and to pass it on to others so that you can rest and be ready to pick the baton back up again soon. In that spirit, the best short article I have seen recently is "How to #StayOutraged Without Losing Your Mind: Self-Care Lessons for the Resistance."
And for anyone wondering about the relevancy of this post on a spirituality blog, I'll close with these words from The Rev. Dr. Martin Luther King, Jr.'s book The Strength to Love:
The church must be reminded that it is not the master or the servant of the state, but rather the conscience of the state. It must be the guide and the critic of the state, and never its tool. If the church does not recapture its prophetic zeal, it will become an irrelevant social club without moral or spiritual authority.
The Rev. Dr. Carl Gregg is a certified spiritual director, a D.Min. graduate of San Francisco Theological Seminary, and the minister of the Unitarian Universalist Congregation of Frederick, Maryland. Follow him on Facebook (facebook.com/carlgregg) and Twitter (@carlgregg).
Learn more about Unitarian Universalism: http://www.uua.org/beliefs/principles