I'm up in the mountains enjoying my favorite weather. Rain. When rain falls on the mountain, it doesn't just fall on it. It's more like a kiss for revealing secrets. The mountain, of course, falls for no kisses, so the secret is safe. I have to say that I like this about the mountain, the fact that it never betrays any secrets. Since I have a thorough distaste for any promise to reveal secrets, the mountain and I have a tacit understanding. We enjoy the kiss of the rain, but we tell nothing.
I'm thinking of all this while I try to get past my frustration with listening to podcasts. I've tried. I've failed. No improvement. After some 3 minutes in I completely lose interest. It's not because of the topic. I give podcasts a try because there's something that interests me. I also like it when others seduce me with knowledge, so I want to hear what people have to say because I'm curious. But there's something in me that prevents me from staying with it. It's not because I can't listen either. I can listen very intently, provided, however, that what I'm listening to is not a world of platitudes. If that is the case, then it's worse than with the podcasts. I'm out of the listening tune in something like three seconds. I blame this impatience on my Zen training. That one pretty much fucked my listening to words capacity.
I prefer reading. I read all the time. Sometimes I wish that the people I talk to would simply just write what they have to say. Then I'd finish 'listening'. Same thing with the podcasts. I prefer a transcript. But not all come with one.
Oh, well, at least I'm listening to the rain. Such great kissing…
I asked the cards about improving my patience with podcasts. How can I finish listening to one? You're welcome to laugh at me, or think that I'm being precious on purpose.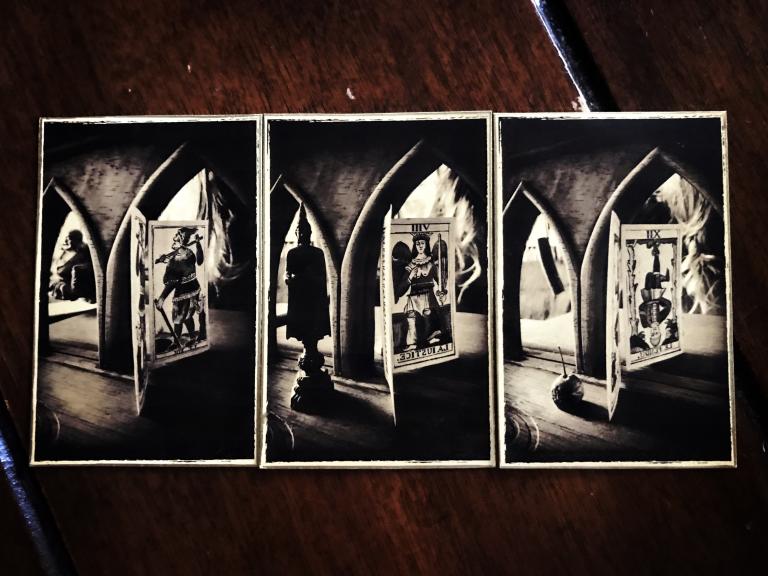 The cards, the Fool, Justice, and the Hanged Man, stated the obvious:
The only way in which the fool can do right by listening is if he hangs in here.
Right. Now that the rain just stopped, I might go back to it, and try to sit for the entire talking duration. I might finally learn something.
Enjoy your Sundays.