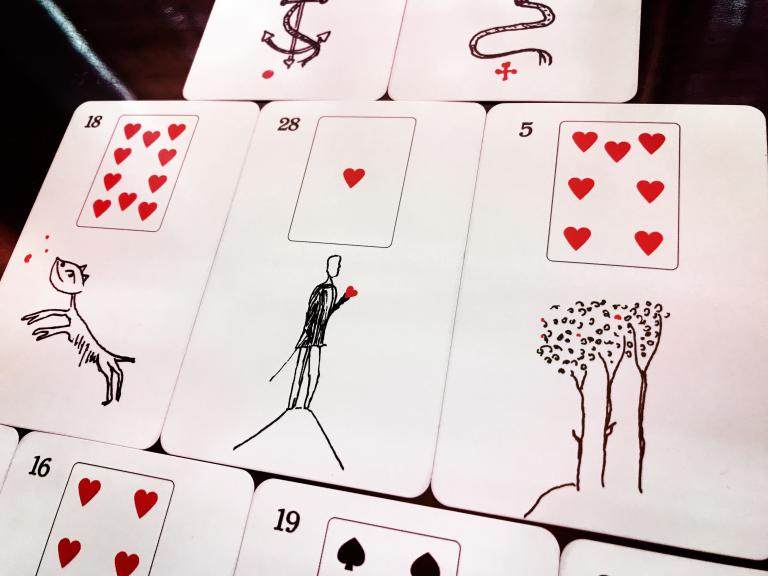 Ten cards on the table, and the perceptive woman in love will note the following: 'I'm not in the picture at all. There isn't a single card here that represents me.' 'No,' you say, and then point to the phrasing of her question: 'Knock, knock. Are you still there?' she wants to know, as she lost touch with her lover.
This situation is called mis- and missed communication. Most relationship questions that I get from people spring out of a failure to communicate, the most common expectation being that communication needs to exist, otherwise, no relationship.
I'd say this is a fallacy. Some relationships work just fine without the clichés regarding 'clear communication,' 'transparency,' and 'honest talk.' When I hear clients presenting me with these very expectations, namely that the communication be clear, transparent, and honest, what I also hear is a passive-aggressive threat, a demand. Not that anything is wrong with the clear, the transparent, and the honest, but when they are in demand with the indignant, something else is going on.
Depending on what the cards show, I often entice people to simply shut up and relax. While words can fix a lot of miscommunication problems, words are also notorious for ruining just about everything. How to tell the difference? That's the art.
Cards or no cards, I have a preference for the communication that's simply sublime, the type that's not based on a set of business-sounding agendas. When I hear people say to one another, 'we need to talk,' I have the urge to run, as a river of muddy waters runs through this demand, often deeply steeped in the desire to control the other, to take the upper hand. 'Oh, for fuck's sake, just shut up,' I say to the couples I consult for, if a couple is in the picture, and point to strategies of seduction instead. I often think about how our relationships would change if we replaced the word 'communication' with the word 'seduction.' I could write a whole book about that, and maybe I will, since that's my trade…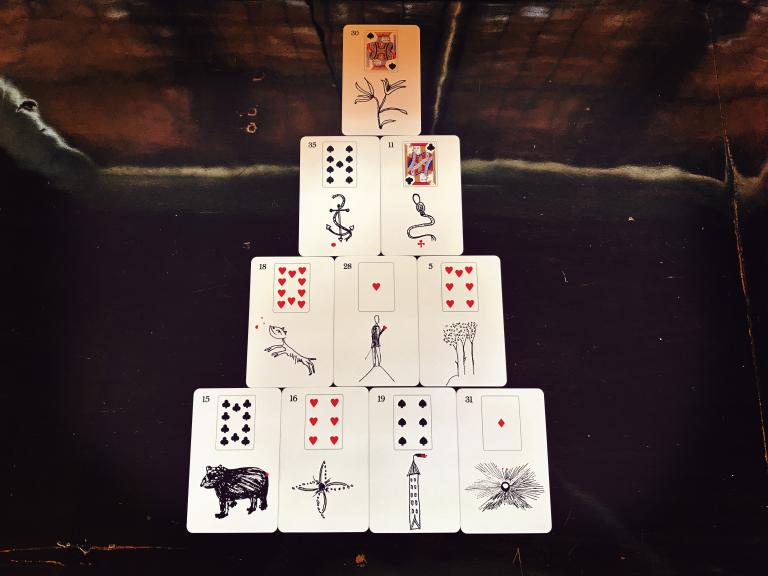 Meanwhile, with these reflections in mind, have a look at this tableau above, and listen to how I went about it, answering the woman's question about whether or not her lover was still there, hearing her. I said: 'yes, the man is still there in his full beauty (Lily), anchored in his readiness to heed your call (Anchor, Whip), loyal and rooted in his full presence (Dog, Man, Tree). His clarity shines strongly (Bear, Star), his moral spine just brilliant (Tower, Sun).'
'But he never says anything,' the woman exclaimed, and I went, 'oh, just shut up. What makes you think that communicating is only subject to words? There's a reason why you're not in the picture here, and that's because you don't make an effort to pay attention to something other than words.'
I have to admit that I like to shame people when the occasion for it is just right. Some simply don't get it, ending up ruining a perfectly good relationship on account of serving clichés about communication to the other they're in love with. Bad idea, for great love is never about clichés. Although it didn't go so well with Romeo and Juliet, at least they died honorably. Together. Their true feelings demonstrated. These days people crash and burn without honor. Why? Because they communicate without their senses.
Ten cards falling on the table can be revealing of many things that are missing, rather than merely showing who is in the picture and competing for what attention.
My Lenormand Foundation Course is open for registration in its last run. Hop on board if you want to read like the Devil, with penetrating insight and beyond clichés.
Cards: A Helium Poet Lenormand, second edition, by Camelia Elias
For more such practice with the cards, join the Read like the Devil Practice Club. Visit also Aradia Academy and sign up for the newsletter that will keep you informed on upcoming courses and cartomantic activities. Note the Off the Shelf offering that also includes free resources.