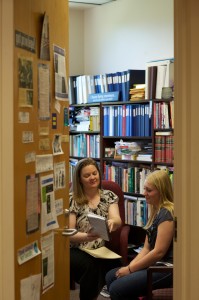 It happens regularly … a student comes into my office, stops and looks around, says: "So many books!" I usually smile, and say, "of course … it's my job." That's only partially true, of course, since as a college professor, the students are my job. Actually, introducing the students to the books is most precisely my job. If I can make that a long-lasting relationship, I count it a job well done.
So I read a lot. I write a fair amount. Recently I've been reading and writing a lot related to higher education and religion, things I've talked about here before. A few new(ish) books have risen to the top in the past year, and are ones that have informed my work on everything from vocation and higher education to teaching nonreligious students to integrating civic engagement into religion and women's studies classes.
Sacred Ground: Pluralism, Prejudice, and the Promise of America is Eboo Patel's latest book, and while the first half is about the history and politics of interreligious cooperation and conflict in the United States, the second half is about the central role played by colleges, universities, and seminaries in making interfaith cooperation a social norm. There are both resources and challenges in our collective history, and twenty-first century higher education is summoned to make religious diversity as central a part of its curricular and co-curricular efforts as it has done with gender, race, global and other diversity and inclusion issues. To that end, most recently, the Interfaith Youth Core founded by Patel has identified nine leadership practices of vanguard interfaith campuses. These are what those of us in higher education would call "high impact practices," things that characterize a campus committed to and successful at educating students to live, work, and lead in a religiously diverse world.
Dorothy Bass and Mark Schwehn have produced a lovely edited volume called Leading Lives That Matter: What We Should Do and Who We Should Be. This book is currently being used colleagues on my campus committed to a yearlong initiative on student advising, talking about ways to better engage students in reflection and activity that helps them discern how to … lead a live that matters … or in the words of our mission statement, lead a fulfilling life of leadership and service. This volume brings together religious and nonreligious texts, classical and contemporary voices, essays, articles, screenplays, autobiographical sketches, obituaries, and many other pieces focused on questions about work, life, meaning, and purpose. It stands out as an edited volume because of the introductory and transitional pieces by Schwehn and Bass that weave such disparate sources and personalities into one compelling whole.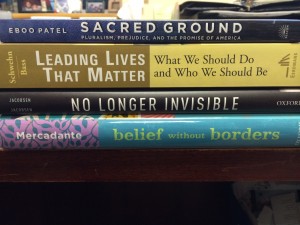 More recently, I picked up No Longer Invisible: Religion in University Education by Douglas Jacobsen and Rhonda Hustedt Jacobsen. Long recognized as leading voices in church-related higher education, the Jacobsens here begin to talk about the ways that the presence and purpose of religion in college and university life and education has and continues to shift in the twenty-first century. As the description states, "Religion in contemporary American life is now incredibly complex, with religious pluralism on the rise and the categories of 'religious' and 'secular' often blending together in a dizzying array of lifestyles and beliefs." The shift in demographics in U.S. society inevitably affect colleges and universities themselves, and this book invites us to consider what difference it makes.
And just as I was finishing writing a forthcoming article on teaching millennial students, who are more likely than any other age cohort to not identify with a religious tradition, I got my hands on and have begun reading through Belief Without Borders: Inside the Minds of the Spiritual But Not Religious, by Linda Mercadante. This is part of the new "array" of lifestyles and beliefs that the Jacobsens talk about in their book, especially for those of us who work with 18-25 year olds on a daily basis, and Mercandante devotes her entire volume to discussing the reasons, patterns, and consequences of the rise of those who call themselves "spiritual but not religious." I admit to being a person who doesn't care for that category, so I look forward to spending even more time with Mercadante's work to better understand what's at work and what's at stake.
It's a good life, this reading of books. I'm challenged every day by the young people in my classroom and my office to find ways to make religion compelling, to engage them in reading books and reading the world around them, to equip them to critically respond to issues that are personal and political, local and global. Lucky for me, there are plenty of thoughtful companions in the work, and these four books are a just a few.
What else is out there that we should be reading?
The Lilly Fellows Program in Humanities and the Arts regularly presents a Book Award that "honors an original and imaginative work from any academic discipline that [focuses on] faith and learning in the Christian intellectual tradition, the vocation of teaching and scholarship, and the history, theory or practice of the university as the site of religious inquiry and culture." It's a fascinating field of study and scholarship. Nominations are now open, and if you're interested in learning more about the process, nominating a book, or seeing other work on these topics, click here.