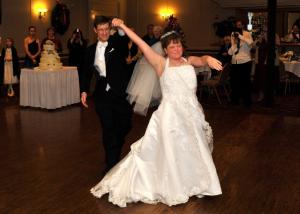 As I was scanning my Facebook feed, I noticed a friend of mine who was engaged.
I was shocked.
I was surprised.
The reason being, was I had gone to his wedding about 2 decades hence. He married one of my closest friends from college. Their marriage fell apart and now they are divorced. I always thought they had the perfect Christian marriage. But apparently not. What was supposed to be till Death Do Us Part, ended while they were still alive.
A few of my other friends whose weddings I had attended are also divorced and one of them remarried. Catholic weddings. Sacramental weddings where a vow was given before God. A wedding that actually took place in a church. A lot of weddings I have attend recently or will attend in the future are not being held in churches or have any religious connection to them at all. Often by people raised going to church. I went to a wedding where Dr. Seuss was read instead of the bible. In one wedding coming up the person's sister is getting an honoree degree just so she can perform her brother's wedding ceremony. Having a real pastor, I suppose is not that important anymore. Vows are only temporary until one or both parties decide to call it quits. I find it sad that marriages fall apart.
How do marriages fall apart?
How does the planning for the event of a lifetime crumble?
Why do people leave the one person they couldn't previously live without?
Why is God left outside the event?
It got me thinking…
I asked my wife "Will that ever be us"?
And she assured me "No, it won't."
I believe her. I think our love was founded on a strong foundation of friendship of 17 years before we got married. We both take God seriously and realize that He is foundation of all our decisions and actions. We have the role model marriages of both of our parents who stayed married till the end in the case of my parents and Kristin's who are still happily married. I also just can't imagine life without her. I can't imagine saying 'No I don't want to live with you anymore." I can't imagine growing old and not having her by my side.
Which is why the current situation of separation from my wife is sad and heartbreaking.
At the nursing home where I work, as of 05/08/2020 at 10:30am:
105 residents have tested positive for Covid-19
48 employees have tested positive for COVID-19
10 residents who recently passed away were also positive for COVID-19
I knew a few of the people who have died. One of them used to give me flowers to give my wife. She always gave the staff workers stickers and lollypops. She demanded a lot, but was a jolly soul. Her daughter always said she thought she was on a cruise.
Somehow my department seems to be untouched by the nasty virus ravaging the nursing home.
My wife has pre-existing health conditions which makes her vulnerable to something going terribly wrong if she gets it. So, I drove her down to her parents' house, where she will be safer from the coronavirus.
It reminds me of the discussion we sometimes have.
One of us will die before the other.
One of us will have to bury the other.
One of us will have to go on in life without the other.
Not to divorce or one leaving the other for someone else.
Death!
Kristin wanted to buy two caskets and leave it in the basement for that eventual day, but I thought that was a bit too much.
I can still call her on the phone.
I can still see her on the phone.
We can still laugh, cry and see each other's faces.
But we are still separated.
We are not around each other's presence.
This is temporary of course. We will, God willing, be able to see each other again.
We will be able to hug each other again.
We will be reunited.
When we finally part for good in this life, we will be separated more drastically
We can still communicate through prayer. Through non-sensory communication.
But it will feel incomplete.
Lonely.
Sad.
But, when the next one of us dies… Hopefully dying in a state of grace.
We will be reunited. Not as Husband and wife but as brothers and sister.
Still as best friends, united in love forever in the presence of our whole heavenly family.
Being separated here on earth, due to the coronavirus is practice.
It is practice for the day we are separated without a chance for reunion,
Accept in Death.
Thus, her moving away for the sake of health is
Practicing for Death!
A reader writes: Listen to Jason Isbell's "If We Were Vampires". Heartbreaker.
OK DONE!!!