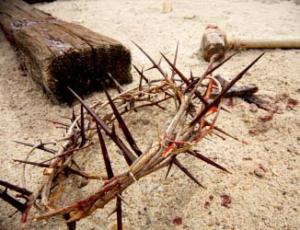 OH SUCH LOVE!
How can I please my Love?
For he has consumed my heart
And bathe me in His Love
He has suffered affliction for me and it is my greatest desire to console Him with my love.
How ought I soothe His wounds- deep wounds for love?
I offer You my every action Love
But still, this is not enough to give Him who is Love
Myself I give to you, do with me what You will
But also let me give you all my love
Indeed, I have fallen in Love
I could not bear to be separated from His Love
But if He willed it even this would I accept
Because He is my Love
I want to live and die giving all for the sake of This Love
My soul yearns to be with Him alone
To tell Him how much I want to give him in love
Jesus, You know my wretchedness
And still, you consume me in Your Love
Oh such Love!
Catholic Bard
Kristin Wilson
OFFER IT UP : My Thoughts
Can I offer my suffering up and still ask God for it to stop?
You can request anything from God, but then does your offering it up no longer "count"?
As Father Jack Hacket would say in the Irish TV show, a comedy called Father Ted
"That would be an Ecumenical matter."
That being said, what is the real answer?
We can look at Matthew 26: 39 When Jesus was suffering in the garden at Gethsemane, known also to us as the First Sorrowful Mystery of the Rosary. In the verse, Jesus says
"My Father, if it possible, let this cup pass from me; yet, not as I will but as you will."
We want to do the will of God. That means if we are suffering God will be with us. Even if physical death occurs, God can take care of our loved ones and us after death. We should pray for the dead. A wise and helpful priest taught me that prayer is retroactive.
Meditate on the power of that for a while!
Wow!
God allows us to suffer in a way that helps ourselves and others spiritually. This also is Biblical and referred to as redemptive suffering. 1Peter 2:5 says: "Be you also living stones built up, a spiritual house a holy priesthood to offer spiritual sacrifices acceptable to God through Jesus Christ."
The Catechism of the Catholic Church (1521) tells us that "Suffering acquires a new meaning; it becomes a participation in the saving works of Jesus."
The Saints found joy in their suffering. We are all called to be saints. We are all called to find joy in offering up our suffering. I know it is not easy. If I'm wrong then we would all be canonized after our deaths, I suppose. It is something Saints spend years of their holy lives working on. Saint Therese of Lisieux had a holy joy about her, even and especially when she realized she would be dying the painful death by consumption at an early age.
So, it looks like we can ask for healing and/or offer up our sufferings. We can offer them up with special requests. Any request, as long as it is not a sinful request simply because that would be counter-intuitive. The request can be for those in most need, those who will die today, friends, family, souls in purgatory, etc. We can offer up are suffering or make special, deliberate sacrifices, such as fasting from some pleasure, food, TV, smoking, going out of your way to help someone, etc. It would not be right to go around bragging about your suffering and sacrifices waiting for people to tell you how holy you are or that they feel bad that you are suffering discomfort.
I like the term "offer it up." I don't know why really. Maybe I've read a few too many books about St. Therese of Lisieux. No, I don't think that is possible. I do know that telling someone to suck it up sounds more like you just want them to shut up. My twin sister seems to prefer the term "redemptive suffering." My daughter hated when I would tell her she could offer it up, and that it was a real thing that people do for the love of God and for others.
Catholic Bard
Kristin Wilson OCDS