Harold P. Wilson March 17th 1921-May 3rd 2003 82 years of Age
Eulogy Given by Mark S. Wilson (His Son) also known as # 4.
He never remembered introducing me to anyone, so I have meet several people several times over.
In 1957 a young woman newly arrived in Massachusetts , activated her social life by going square dancing in Boston at the YWCA. That night she was asked to dance by a crazy young guy, whom was so wacky she thought he was drunk, wearing a rather white dirty shirt with sleeves rolled up. She accepted and kept on dancing for the next 46 years, 44 as husband and wife.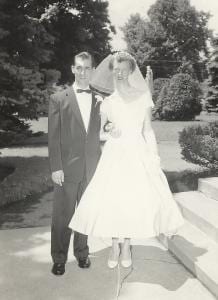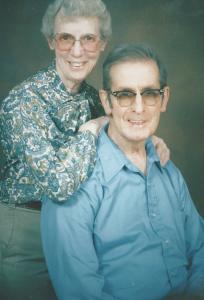 From my Mothers Journal- June 5, 1963
Tonight Daddy practiced square dancing. Mary stood right alongside him & imitated him exactly. She sang away clapping her hands and I sat & laughed. Patty meanwhile joined the act by crouching over & dancing Indian style. It looked like a regular Indian war dance. I called Irene, a dear friend and neighbor over & we sat & enjoyed them so much.

May 2, 1966 Daddy wants to be certain we put down the fact that Laurie enjoys chewing on his left thumb. She grabs hold of his hand with both of hers & "attacks" his thumb as though it were a nice juicy bone. She does this after supper as he holds her. Yesterday Daddy held her up over his head. As she looked down on him she let loose with a "juicy burp" and it went right in his eye, down his face and over his shirt. I got a real good laugh.

November 8th, 1971 After his bath Mark always smothers me with kisses but refuses to give one to Daddy. He just pushes Daddy away & laughs. He loves to cuddle in Daddy's shoulder though & sing before gong to bed.
For 44 years Harold P. Wilson (the P standing for the day on which he was born, St. Patrick's Day) was faithful as a husband to One Woman. And boy did he pick out a great wife to be Our Mother. Not all kids have two wonderful parents like we have had. He was also Faithful as a father to his children. He was faithful as a Grandfather to his Grandchildren , Faithful as a Brother and Faithful as a Friend. And most of all he was Faithful to His God. He was faithful because he loved God, and he loved others as himself.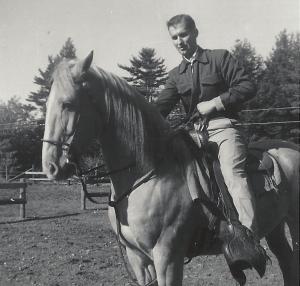 Let me share A few quick quips about him. Dad loved movies and when anyone came over he would begin to tell them the year the movie was produced, who produced it, who starred in it, and why it was a good picture. He bought a copy of Gary Cooper in 'Farewell to Arms'. Didn't open it. Bought another copy. Forgot he bought that one also bought a copy, didn't open it. If you went to the 10 am Mass at St. Pauls, you could hear his voice over every one else. He bought two of everything. He dug out the caller under our house.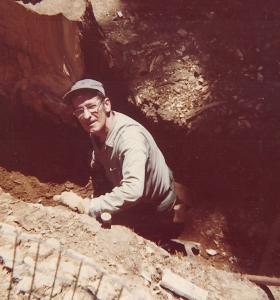 He used to take me with him into the woods to chop wood for our wood stove. He used to click his teeth, something that drove my mother nuts. He used to put water in the ketchup bottle when it was low to get out the last bit. I do not really like watery ketchup, I wish I had time to tell more stories of how great, wonderful and awesome this man is. I will simply say that My father is my hero.
I'm sure he is to many of you as well. I hope that as I grow older I can be just like him. in the way he loved God and loved others. The fact that their is 4 priests and 2 deacons celebrating his funeral mass is a testament to the legacy that this man has left to the church community.
Dedicate and summit your will to God's would be what Harry would say to you today.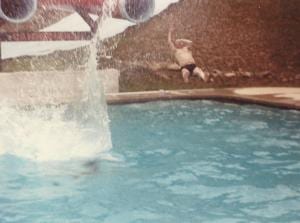 Go to Mass, especially on Sunday. If you can go to daily mass, do so. Go to confession on a regular basis.
He would want you to pray, especially the rosary. For the longest time he got up every morning at 4 am to begin his morning prayers. He would then go to Morning Rosary followed by Mass. Prayer was spread out throughout the day, with time for a nap, playing his nightly game of Yatzi or Mancalla with my mother, whom he always beat, and his daily dose of Walker Texas Ranger. He would go out at night to another Rosary Group followed by more prayers when he got home. Prayed every time I looked at him. No radio in the car, just prayer.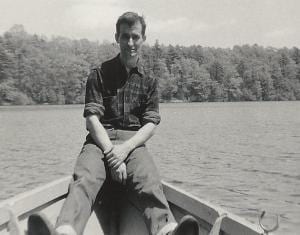 Even though he is with Jesus now he would ask you to not to forget to pray for him. Harold believed as a Catholic that our prayers help those who have passed on, in case they might have to be cleaned up a bit in purgatory before entering into the heavenly banquet. He really believed in his church and all that she teaches, so I know he wants and needs your prayers still. But also know that in spite of this, with his dedication to Christ you can be sure without a doubt that he is the safety net of Heaven, and that if you ask, he will pray for you, and don't be surprised if you get an answer to your prayer. Pray for all your loved ones who have died because our prayers help them, and their prayers help us.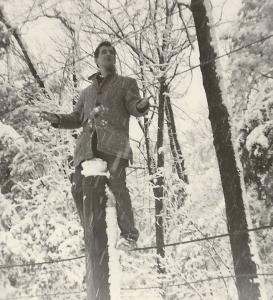 The last Mass I went to him with was on Holy Thursday. Because our church is under renovation we could not have adoration in our church community. I asked him if he wanted to go to adoration here at St. John's and he said no. Then he said 'well only if you want to." Then he said, I think I owe Jesus more time, I don't spend enough time with him." I told him, Dad, you spend more time with Jesus then anyone I know." Well Dad, now you get your hearts desire, you get to spend all your time with Him. I end with these words from another man also with the Lord, Christian Singer Rich Mullins:
But when I leave I want to go out like Elijah
With a whirlwind to fuel my chariot of fire
And when I look back on the stars
Well, It'll be like a candlelight in Central Park
And it won't break my heart to say goodbye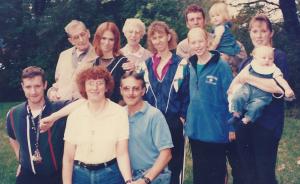 The side room at the church I grew up in St. Pauls has a side chapel dedicated to my father. His picture is still hanging there looking at everyone who enters. When I went there several months ago I meet a priest who knew my dad in the 70's.  When I went to Kristin's Carmilite group one time, I ended up talking to a woman who remembered my father. He was well liked and remembered by a lot of people. More importantly he was remembered God and the Blessed Mother.
Happy Father's Day To My Dad
And To All Dads