As I was laying down thinking about what pithy thing to say about the transfiguration on the solemnity there of, I realized that I could write about how I have nothing pithy to say about it.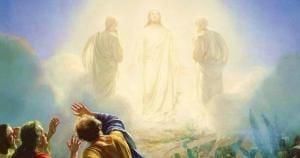 My co-partner is feeling too tired to write a glorious luminous Lectio Divina and my brain is so un-focused that I can't construct an original idea about the topic. I have writers block about this topic but want to try and honor all major Catholic solemnity's and feast days in my writing as a Catholic Blogger. I can't seem to construct original interesting thoughts about many topics that abound in our world. Especially this latest unpleasant news that happen just recently.
An explosion that looks like a bomb went off shattered the Lebanese capital of Beirut on Tuesday evening, leaving at least 135 dead with thousands injured and hurt. This is the event that gave the news something to talk about besides Covid-19, Racism, Riots, Destroying Churches, Silly things Trump and Biden say and Knocking over Statues. What can one say about such a horrible event that has effected the lives of so many except 'God have Mercy on the people of Beirut!
The world is full of sadness, pain, and suffering. We wallow in misery in the valley of despair but a flicker of light appears enticing us to climb the mountain to see what the glow is. When we arrive at the top, we notice the hidden silent loving God's luminous essence shining ever so brightly, but just for a moment. Just a glimpse of the glory that awaits us all if we continue on the path of calvary and carry our cross to the end. We then have to climb back down and try to spread that light we inhaled into our spiritual lungs. It would be great to spend our time in that glorious light, basking in the warmth, comfort and pleasure of the Lord. But that is for Heaven and that is after our divine mission is done.
But I'd love to live on a mountain top
Fellow-shipping with the Lord
I'd love to stand on a mountain top
'Cause I love to feel my spirit soar

But I've got to come down from that mountain top
To the people in the valley below
Or they'll never know that they can go
To the mountain of the Lord
Amy Grant-Mountain Top
I know that what I have written is not the most witty awesome thing you've read about the Transfiguration of the Lord from his the appearance of his ordinary human nature to that appearance of his heavenly Extraordinary nature, but hopefully somebody will read this and be encouraged to press on and finish the race and look forward to the things that God has in store for us who love him.
Somehow thinking about how I had nothing to write has helped me write. I pressed on and eventually the momentum of ideas happens and I just went with what came. Still. Only God can transfigure this ordinary writing into a spiritual experience for the reader if He so choses.
To give you the reader some more things to ponder and think about, here are some pithy things written about the Transfiguration.
Happy Solemnity.
Today is the solemnity of the Transfiguration. This great day celebrates the privileged moment when three of Christ's disciples glimpsed Christ's divine glory. Peter, James, and John saw Christ for who he really and truly is—not just a prophet, or a philosopher, or a social activist, or one of many important historical figures, but God!
Fr. Steve Grunow FEAST OF THE TRANSFIGURATION OF THE LORD (August 6, 2019) Word On Fire
On the mountaintop, after praying, He became transfigured before them as the glory of His Divinity flashed through the threads of His earthly raiment. It was not so much a light that was shining from without as the beauty of the Godhead that shone from within. It was not the full manifestation of Divinity which no man of earth could see; nor was His body glorified, for He had not risen from the dead, but it possessed a quality of glory. His crib, His carpenter trade, His bearing opprobrium from enemies were a humiliation; fittingly there should also be epiphanies of glory, as the angels' song at His birth and the voice of the Father during the baptism.
Fulton J. Sheen, Life of Christ (p. 213)
As at Caesarea Philippi, Jesus had climbed some way up a mountain to pray. As he prayed he was "transfigured"—the Greek word is "metamorphosed"—his face shining like the sun, his garments dazzling white, like snow. It is not clear at what point the three apostles went to sleep, but when they were fully awake, they saw their Lord "in his glory", and Moses and Elijah standing with him, they too in glory. The three were speaking of the death that he would die in Jerusalem.
Frank Sheed, To Know Christ Jesus.
The Transfiguration was a special event in which God allowed certain apostles to have a privileged spiritual experience that was meant to strengthen their faith for the challenges they would later endure. But it was only a temporary event. It was not meant to be permanent.
In the same way, at certain times in this life, God may give certain members of the faithful (not all of the faithful, all the time), special experiences of his grace that strengthen their faith.
Jimmy Akin, 10 things you need to know about Jesus' Transfiguration ncregister.com
Lofty mysteries should not be immediately explained to everyone, but should be handed down through superiors to others in their proper turn. Consequently, as Chrysostom says (on Matthew 17:3), "He took these three as being superior to the rest." For "Peter excelled in the love" he bore to Christ and in the power bestowed on him; John in the privilege of Christ's love for him on account of his virginity, and, again, on account of his being privileged to be an Evangelist; James on account of the privilege of martyrdom. Nevertheless He did not wish them to tell others what they had seen before His Resurrection; "lest," as Jerome says on Matthew 17:19, "such a wonderful thing should seem incredible to them; and lest, after hearing of so great glory, they should be scandalized at the Cross" that followed; or, again, "lest [the Cross] should be entirely hindered by the people" [Bede, Hom. xviii; cf. Catena Aurea; and "in order that they might then be witnesses of spiritual things when they should be filled with the Holy Ghost" [Hilary, in Matth. xvii].
The Summa Theologiæ of St. Thomas Aquinas, Question 45. Christ's transfiguration
We must look at the Resurrected Jesus if we are to see the properties our glorified bodies will possess on that day of the General Resurrection.
Light is the first quality our body will receive. It will take on the clarity of the soul, since it is now the subject to the soul. Our body will be luminous as the sun and beautiful to behold. It will take on the Glory of the Lord , and its degree of brightness will depend upon our love for God. We shall be as bright stars. The body of Jesus manifested this quality when It radiated light at the Transfiguration.
His body also shone with Glory when He manifested Himself to Stephen, and to Paul by that blinding light that threw Paul off his horse and made him cry out, "Who Are You Lord?" (Acts 9:5)
Mother Angelica, Mother Angelica on God, His Home, and His Angels