When a person ponders deeply the reality of Jesus and who He is, one cannot help but be on set on fire for Him. This fire engulfs one's entire fiber of being.

For the word of God is alive and active. Sharper than any double-edged sword, it penetrates even to dividing soul and spirit, joints and marrow; it judges the thoughts and attitudes of the heart.
Hebrews 4:12
The fire of God's word lets us know how to live in any and all circumstances that God may allow us to experience. It will allow us to say…
I know indeed how to live in humble circumstances; I know also how to live with abundance. In every circumstance and in all things I have learned the secret of being well fed and of going hungry, of living in abundance and of being in need.
Philippians 4:12
If trial should come…
Beloved, do not be surprised that a trial by fire is occurring among you, as if something strange were happening to you.
1 Peter 4:12
Trial comes to all who walk the path to heaven. It comes to all who desire to be saints. Anybody can be a saint at any age in any time.
If it came to a magic genie, I would ask him for two extra wishes. One would be that no one would have to live with the muscular dystrophy disease or any disease. And the second one would be world peace, that we just stop fighting, talk about things, and we could live in harmony once again, like God intended us to do.
-Mattie Stepanek
Matthew Stepanek (July 17, 1990 – June 22, 2004 Aged 13) was a young poet who embodied the truth that God works in the young and suffering. He and 3 of his other siblings died of a rare disease. His family is seeking his sainthood.
God doesn't always wait till one is old having lived many years to acquire this penetration of God's word in our souls. This is simply because some people don't live to an old age. Some are taken from this life at a young age. So these particular individuals were given an extra amount of grace so they could perceive and understand the light of God shinning in their souls. There are many examples of this youthful virtue those we now recognized as Saints. These young people may have literally died to this world but they are ever alive in God's presence praising his goodness and interceding for us stuck back here on earth.
We meet some in the last article God Exposes Young Saints,
Now I want to introduce you to some more inspiring examples of God's great works of art.
Let no one look down on your youthfulness, but rather in speech, conduct, love, faith and purity, show yourself an example of those who believe. 1 Timothy 4:12
Before we begin I want to dedicate this post to our young adult Catholic Bard contributor Jackson Werner, whose birthday is today. His conversion story is written about here in Gaining Faith in College. He's a lot like the young people your about to meet.
Blessed Imelda Lambertini (1322 – May 12, 1333)
Beatified 1826, Saint Peter's Square, Vatican City by Pope Leo XII
Feast May 13
She is our oldest youngest Saint on the List. She had an intense love of God and wanted to receive the Eucharist at the early age of 5.  The age limit for communion was 14.  At age 9 she went to live with the Dominican nuns at Val di pietra, near Bologna.
According to Wikipedia…
On May 12, 1333, the day of the vigil of the Ascension, she knelt in prayer and the "Light of the Host" was reportedly witnessed above her head by the Sacristan, who then fetched the priest so he could see. After seeing this miracle, the priest felt compelled to admit her to receiving the Eucharist. Immediately after receiving it, Lambertini went back to her seat, and decided to stay after mass and pray. Later when a nun came to get Lambertini for supper, she found Lambertini still kneeling with a smile on her face. The nun called her name, but she did not stir, so she lightly tapped Imelda on the shoulder, at which Imelda collapsed to the floor dead. Her remains are kept in Bologna at the Church of San Sigismondo, beneath the wax effigy of her likeness.

Gabriel of Our Lady of Sorrows (March 1, 1838 – February 27, 1862: Aged 23)
Canonized   May 13, 1920, Rome, Italy by Pope Benedict XV.
Feast  February 27

Before he began the journey on the road to becoming a priest in the Passionist community, Gabriel was quite the ladies man.  He was known as the dancer and there was still a hope he might marry a local girl named Maria Panachetti, who was in love with him  and had been on several dates with him. Instead of marrying him, she attended his Beatification and Canonization ceremonies.

 
St.Gemma Galgani (March 12,1878 – April 11, 1903: Aged 25)
Canonized May 2, 1940, Saint Peter's Basilica, Vatican City by Pope Pius XII
Feast April 11th
She was in ill health and died an early age like St. Therese.
She was said to levitate like Saint Joseph of Cupertino,
She was a mystic like St. Anna Schäffer  and Padre Pio who had the stigmata  St. Padre Pio also  had visions and communicated with her guardian angel, the blessed mother, Jesus and especially Gabriel of Our Lady of Sorrows.
She was canonized on the same day as the foundress of the Congregation of Our Lady of Charity of the Good Shepherd, Mary Euphrasia Pelletier.
St. Maria Goretti (October 16, 1890 – July 6, 1902: Aged 11)
Canonized June 24, 1950, Rome by Pope Pius XII
Feast Day July 6th
Alessandro Serenelli was sentenced to 30 years of prison on October 11, 1902 for the murder of 11-year Maria Goretti. There are some Catholics who probably think he deserved the death penalty. Maria Goretti was not one of them. He was pretty unrepentant for her murder and was quite nasty to all who tried to talk to him about it. That is until he learned something important. Bishop, Monsignor Giovanni Blandini, visited him in jail and gave him some starling information about his murder victim.
Maria like St. Stephen, like Christ, forgave her killer. She wanted him in heaven with her. This broke Alessandro. His heart was further broken and also strengthen by his murder victim appearing to him in a dream and handing him 14 white flowers, which corresponded to the number of stab wounds she received. These flowers burned up in his hand. She had come from heaven to personally offer him forgiveness. WOW. How could that not soften the hardest heart.
When he got out of prison, he sought out her mother and she forgave him as well.
Alessandro Serenelli (June 2, 1882 – May 6, 1970: aged 87)
The man who killed Maria Goretti, spent the rest of his days in a convent. He was there for Maria's canonization right along with her family. The power of conversion and forgiveness is on full Catholic Display in the life of one of the youngest canonized saints in the history of the church.
 
Saint Dominic Savio: (April 2, 1842 – 9 March 9, 1857: Aged 14)
Canonized June 12, 1954, in Rome by Pope Pius XII.
Feast Day May 6th
Saint Dominic Savio is the youngest non-martyr to be canonized in the Catholic Church until the canonizations of the Fatima children Francisco and Jacinta Marto, in 2017. What we know of this young saint was written by another saint, St. John Bosco.
When John Bosco was 9 he had the first in what would be a series of dreams. In this first episode of Bosco's dreams he saw a multitude of very poor boys. Some of them were not acting in accord with Catholic principals. There was also a man in the dream who "appeared, nobly attired, with a manly and imposing bearing". The man said to him: "You will have to win these friends of yours not with blows, but with gentleness and kindness. So, begin right now to show them that sin is ugly and virtue beautiful."
One of the ways he did this was to impress others with his skills as a juggler, magician and acrobat and then preach the gospel and pray with those people. One of the boys he became a spiritual mentor too, was young Dominic Savio.
Growing up my father was known to the kids who were Catholic as the Man who went to Church. In the later years of his life he would literally spend his entire drenched in prayer. This is a lot like the young Dominic who would often be seen praying, sometimes in the mud and snow outside the church or in front of the Eucharist inside the church. While walking once on a hot sunny day to school, young Dominic was asked by a local farmer if he was not tired from walking, and he received this reply:
"Nothing seems tiresome or painful when you are working for a master who pays well."
St. Dominic Savio is a model example of how holiness can inflame anyone of any age.
St. John Bosco (August 16, 1815 –January 31, 1888: Aged 72) is the patron of stage magicians.
He was canonized on April Fools Day on April 1st.
His feast day is January 31st.
Blessed Marcel Callo (December 6, 1921 – March 19, 1945: Aged 23)
Beatified (October 4 1987) Saint Peter's Square, Vatican City by Pope John Paul II
Feast Day March 19th
Servant of God Cardinal Joseph Leo Cardijn (November 13, 1882 –  July 24, 1967) was dedicated to social activism and founded
the Jeunesse ouvrière chrétienne (JOC) Young Christian Workers. Marcel Callo a pious nerdy looking young adult French Catholic joined the YCM to help him with being a Christian in the work place. He worked in a print shop and had a hard time putting up with and listening to all the locker room talk from his fellow co-workers.
He used to go off on breaks and seclude himself from the ungodly co-workers until he decided that although he was keeping away from the un-purity of his working companions, his hiding away wouldn't bring them closer to Christ. So… he brushed up on his social teaching and dedicated himself to being the hardest working individual of the group. This stimulated good conversation with good arguments for the faith. The YCW, much like Opus Dei, helped him to realize the dignity of work.
It helped him with his emotional outbursts when conversations got heated. Marcel realized his own shortcomings and wrote…
We are often poor instruments in the hands of God because we have bad habits, bad inclinations. Sin dampens our spiritual life, lowers us, and keeps us from being activists, from dedicating ourselves. It is in the measure that we put on Christ that we will work for the good of the community. Every day I must be a little more conformed to Christ.
Eventually during the war when he was forced to do work under the regime of the Nazis, he was arrested for continuing his very vibrant work of Catholic action with his fellow forced workers. He was arrested as one Nazi put it, "Monsieur is too much a Catholic."
He would later die in Mauthhausen Concentration Camp.
Read more of his story at Catholic Saint Guy
Blessed Laura Vicuña  (April 5, 1891 – January 22, 1904: Aged 12)
Beatified: (September 3, 1988, Saint Peter's Square, Vatican City by Pope John Paul II
Feast  January 22
The Daughters of Mary Help of Christians, which become known as The Salesian Sisters of Don Bosco, was founded to work alongside Saint John Bosco and his Salesians of Don Bosco. They had a school in which Laura Vincuna went to. Laura lived with her mother and her sister; her father having died. They had fled Chile because of political unrest and moved to Argentina.  There her mother wanted her to have a good education but couldn't afford it, that is until she promised to give herself away to the owner of the hostel where they were living at. The man's name was Manuel Mora and he was not a nice guy. He would physically abuse Laura and her mother.
Laura under the influence of the nuns at the school took her faith rather seriously and offered God a serious prayer. Her life in exchange for her mother's, and also her father. She wanted her mother to leave the abusive man and do the right thing in the eyes of God. And her mother did have a conversion and Laura also got sick and died.  She wanted to imitate her Lord by laying down her life for another.
She is the patron of abuse victims, having herself experienced physical abuse.
"We must live only for Jesus. I will consider myself a little fool for Jesus. Suffer silently and Smile always.

Clelia Barbieri (13 February 1847 – 13 July 1870)
Canonized April 9 1989, Saint Peter's Square, Vatican City by Pope John Paul II
Feast July 13

She died young, pious, and poor. She was very active in her parish and catechized other young people and served the poor and needy. She is founder of the Little Sisters of the Mother of Sorrows. Her religious order operates in places such as Tanzania and India and in 2008 there were 296 religious houses in 36 different communities. After she died this young saintly girls voice continued to sing on in the scripture readings and songs said and song in the parishes she visited and houses in which her order is located.  I don't mean that metaphorical either, people literally heard her actual voice. But it was never alone, but part of a group. People from various backgrounds have reported hearing the voice which is described to be unlike any they have ever heard. The first reported occurrence happened in 1871 when the sisters of her congregation were in their usual evening meditation.
Blessed Pier Giorgio Frassati (April 6,1901 – July 4, 1925: Aged 24)
Beatified May 20th, 1990, Saint Peter's Square, Vatican City by Pope John Paul II
Feast Day 4th of July
Pier Giorgio Frassati was a young man who had Ordinary Problems.
His parents didn't get along, he hated studying, he failed latin, he fought with his sister.
Pier Giorgio Frassait had Ordinary Interests
He enjoyed soccer, bicycle riding, skiing, smoking, photography, and mountain climbing.
He was involved in Ordinary Causes
He fought off home invaders who tried to break into his home, was Involved in speaking out about politics and he fought against boredom by being a roguish prankster and started a group called the Shady Characters Society.
He also fell in love with a young woman named Laura Hidalgo.
If Pier Giorgio Frassati Was so ordinary How did he get to be so Blessed???
Certainly, at a superficial glance, Frassati's lifestyle, that of a modern young man who was full of life, does not present anything out of the ordinary. This, however, is the originality of his virtue, which invites us to reflect upon it and impels us to imitate it. In him faith and daily events are harmoniously fused. His love for beauty and art, his passion for sports and mountains, his attention to society's problems did not inhibit his constant relationship with the Absolute. Entirely immersed in the mystery of God and totally dedicated to the constant service of his neighbor: thus we can sum up his earthly life! –St. Pope John Paul II
Pope John Paul II. He called him the "Man of the Eight Beatitudes. An athlete and lover of the Blessed Sacrament and the poor. A patron saint of youth.
Come , and your every sacrifice will be repaid in heaven, because Jesus Christ promises that everything we do for the poor in this name we do for Him. You do not want to deny Christ this love, He whose infinite love for humanity gave himself to us in the sacrament of the Eucharist, as our Comforter and the bread of life. –Blessed Pier Giorgio Frassati
Blessed Pier Giorgio Frassati's sister Luciana Frassati Gawronska (August 18, 1902 –October 7,2007) was a prominent anti-Nazi and anti-Fascist activist in both Poland and Italy and wrote some books about her brother's life. She lived to 105.
Blessed Isidore Bakanja (c. 1887  – August 15,  1909: Aged 21-22)
Beatified  April 24, 1994, Saint Peter's Square, Vatican City by Pope John Paul II
Feast August 15 (Assumption of the Blessed Virgin Mary)
Isidore Bakanja was a zealous convert when he accepted the Catholic faith at 18 from the evangelization effort from Belgian Trappist missionaries, receiving the sacrament of Baptism at 18. He carried around rosary beads and wore the brown scapular. This caused ire among one of overseers of the job he was working for.  His attitude was, "You'll have the whole village praying and no one will want to work." So, he beat him. He beat him so bad that his wounds would become infected and eventually kill him, but not for another 6 months. But like St. Maria Goretti, he forgave his attacker.
Again here is the Saintly Pope commenting on Isidor's saintly life.
In an Africa that is sorely tried by ethnic strife, your shining example is an encouragement to harmony and reconciliation among the children of the same heavenly Father. You showed brotherly love to all, without distinction of race or social class; you earned the esteem and respect of your companions, many of whom were not Christians. Thus you show us the necessary way of dialogue among men.
Read more at aleteia.org
Blessed Ceferino Namuncurá (August 26, 1886 – May 11, 1905: Aged 18)
Beatified    November 11, 2007, Chimpay, Río Negro Province, Argentina by Pope Benedict XVI
Feast August 26th
He is the the first Catholic Argentine to receive the title of venerable and the first South American aborigine.  Blessed Ceferino Namuncurá went to a Salesian school to study and there he learned to love St. John Bosco and emulate St. Dominic Savio. According to Wikipedia ..
The devotion to Ceferino Namuncurá, the saintly young Mapuche, known popularly as The Lily of Patagonia ("El lirio de la Patagonia") became very extensive in Buenos Aires and throughout Argentina. In particular the indigenous people recognize him as one of their own. The affection of the people of Argentina for this selfless young man is quite touchingly sincere and images and representations of his face are myriad.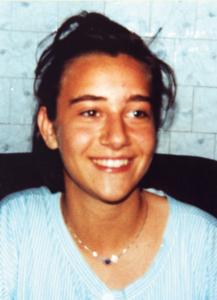 Chiara Badano (October 29, 1971 – October 7, 1990 : Aged 18)
Beatified   September 25, 2010, Our Lady of Divine Love in Rome by Pope Benedict XVI
Feast October 29th
Chiara Badano  was born the same year I was and if she was alive she would be the same age as I am. If I had known her when she was alive, I probably would have had a crush on her. She is beautiful and loves Jesus. What more could you ask for.  I have asked for her intersession and I think she has helped us out with our daughter when she in some less then good circumstances.  She was part of the Focolare Movement and corresponded with the founder of the movement Chiara Lubich on a regular basis. The Focolare Movement works to foster unity and universal fraternity at all levels of society. Like Pier Giorgio, Chiara enjoyed sports including tennis and swimming. She also liked listening to pop music, singing and dancing.
When she was dying of a rare form of bone cancer she didn't want to comforted with morphine or pain relief medicines because she wanted to be aware of her pain and offer up her sufferings.   She said, "It reduces my lucidity and there's only one thing I can do now: to offer my suffering to Jesus because I want to share as much as possible in his sufferings on the cross.
Cancer is a deadly killer of some young Catholics.  Charlene Richard (January 13, 1947 – August 11, 1959: Aged 12) known as  The Little Cajun Saint was declared a Servant of God in 2000 along with a local religious figure, an Arnaudville teacher and evangelist Auguste Nonco Pelafigue.  A few months before she died Charlene was inspired  after reading a book about Therese of Lisieux, She asked her grandmother whether she, too, could become a saint by praying like Therese.
20 years after she died of cancer another young man also died of a form of cancer.  Silvio Dissegna (July 1, 1967 –  September 24, 1979) was declared venerable on November 7, 2014 by Pope Francis. He said to his distressed parents…
"Papa, have courage! Jesus will not abandon us".  If I die it is not important. I will suffer to the end".
Before Chiara  died, she told her mother,
"Oh Mama, young people…young people…they are the future. You see, I can't run anymore, but how I would like to pass on to them the torch, like in the Olympics! Young people have only one life and it's worthwhile to spend it well.
Maria Orsola Bussone (2 October 1954 – 10 July 1970) is another young saint from who was lit on fire for Christ by her participating in the Focolare Movement.
On March 18 , 2015 Pope Francis declared her to be Venerable after confirming her life of heroic virtue. She liked to sing and had a brother named Giorgio.  She sadly died  of an electrical discharge while she dried her hair with a defective hair-dryer as she prepared to attend Mass.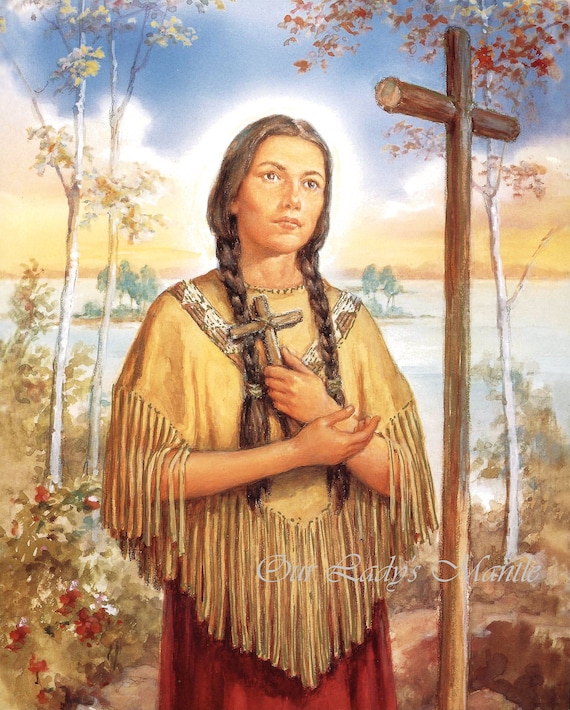 Saint Kateri Tekakwitha (1656 – April 17, 1680: Aged 24)
Canonized   October 21, 2012, Vatican City by Pope Benedict XVI
Feast July 14
Kateri Tekakwitha   was informally known as Lily of the Mohawks and was an Algonquin–Mohawk laywoman.
"I am not my own"
After St. Kateri's death, a lot of her family and friends were extremely sad. And by the light and will of God she was able to appear to at least 3 of them. Her mentor Anastasia Tegonhatsiongo reported seeing her kneeling at the foot" of her mattress, "holding a wooden cross that shone like the sun." Her good friend Marie-Therèse Tegaiaguenta was sleeping when  she heard a knocking on her wall. A voice then asked if she were awake, adding, "I've come to say good-bye; I'm on my way to heaven." Marie-Thérèse went outside but saw no one. Marie then heard a voice murmur, "Adieu, Adieu, go tell the father that I'm going to heaven." The Jesuit priest Claude Chauchetière  saw Catherine at her grave; he reported that she appeared in "baroque splendour; for two hours he gazed upon her" and "her face lifted toward heaven as if in ecstasy.
Later on after she went to heaven she started to perform some miracles.
According to Wikipedia…
Joseph Kellogg was a Protestant child captured by Natives in the eighteenth century and eventually returned to his home. Twelve months later, he caught smallpox. The Jesuits helped treat him, but he was not recovering. They had relics from Tekakwitha's grave, but did not want to use them on a non-Catholic. One Jesuit told Kellogg that, if he would become a Catholic, help would come to him. Joseph did so. The Jesuit gave him a piece of decayed wood from Kateri's coffin, which is said to have made him heal. The historian Allan Greer takes this account to mean that Tekakwitha was known in 18th-century New France, and she was already perceived to have healing abilities
Saint Kateri brings the Catholic teaching of the communion of Saints to life.
Pedro Calungsod (July 21, 1654 – April 2, 1672: Aged 17)
Canonized       October 21, 2012, St. Peter's Basilica, Vatican City by Pope Benedict XVI
Feast April 2nd
Pedro Calungsod was was a Catholic Filipino migrant, sacristan and missionary catechist who, along with the Spanish Jesuit missionary Diego Luis de San Vitores, suffered religious persecution and martyrdom in Guam for their missionary work in 1672.  He lived at around the same time as Saint Kateri but in a different part of the world. They were canonized on the same day.
Diego Luis de San Vitores, was beautified October 6, 1985, Vatican by St. Pope John Paul II. He was a Spanish Jesuit missionary who founded the first Catholic church on the island of Guam.
He was killed by the angry chief of Tumon, Guam named Mata'pang. His wife had let them baptize their new infant daughter. The chief believed due to a rumor by a criminal Chinese man from Manila, who was exiled in Guam named Choco, that  the baptismal water used by missionaries was poisonous.   St. Pedro could have escaped once the chief started hurling spears at him, but he didn't want to leave San Vitores behind. He could have easily defended himself and kicked some serious butt, but San Vitores wouldn't let him carry a weapon. So instead they both died as a witness to the faith.
José Sánchez del Río (March 28, 1913 – February 10, 1928: Aged  14)
Canonized October 16, 2016.
Feast February 10th
The Cristero War broke out as a response to the anti-Catholic regime of the Mexican government in 1926. Catholics didn't take too kindly to the seizure of church property, the closing of schools, convents and the execution of priests. Blessed Fr. Miguel Pro, (born January 13, 1891 – executed November 23, 1927) is one such example of a priest who died as a result of being a devout servant of God in a country where the officials hated Catholics. He was beatified in Rome September 25, 1988 by Pope John Paul and his final words were
""Viva Cristo Rey!" – "Long live Christ the King!"
he said right before he was shot.
When the Cristero War broke out, young Jose he wanted to join the fight like his brothers but his mother and The rebel general, Prudencio Mendoza wouldn't let him. He was eventually captured and just like the martyrs of old was asked to renounce his faith which he flatly refused to do.  His capturers were hell bent on making him denounce Christ. They killed other Christeros in front of him. They cut the bottom of his feet and made him walk around. These were not nice guys.  At times they stopped him and said,
'If you shout, "Death to Christ the King" we will spare your life'.
José would only shout,
'I will never give in. Viva Cristo Rey! "Long live Christ the King."
He was eventually killed by being hacked with machetes, stabbed with bayonets and finally shot all because he refused to renounce his Catholic faith. His life is portrayed in the movie  For Greater Glory, in which he is the best thing about that film.
 José Sánchez del Río  was declared a saint on the day my mother Louise Wilson  (December 3rd, 1928 -October 16, 2016) died.
Like St. Pedro he was martyred for standing up for his faith.
Sts. Cristobal, Antonio and Juan (d. 1527-29), Children of the Diocese of Tlaxcala; Martyrs (Tlaxcala, Mexico)
Canonized: 15 October 2017 by Pope Francis
Feast September 23
The Martyrs of Tlaxcala were three Mexican Roman Catholic teenagers from the state of Tlaxcala: The three Teenagers were converts from the indigenous traditions of their families to the Roman Catholic faith and received their educations from the Order of Friars Minor who baptized them and evangelized in the area. Their activism and evangelical zeal led to their deaths at the hands of those who detested their newfound faith and perceived them as dangers to their values and rituals.- From Wikipedia 
Blessed  Carlo Acutis   (3 May 1991 – 12 October 2006: Aged 15)
Beatification  Saturday, October 10 at 4 P.M, Papal Basilica of St. Francis of Assisi  by Pope Francis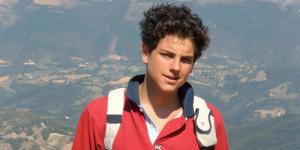 Young Carlo is about to become the newest Blessed in the church.
Young Carlo was passionate about computers
Young Carlo was passionate about the Eucharist.
Young Carlo was inspired by blessed James Alberione (April 4, 1884 – November 26, 1971)the founder of the Society of St. Paul,  and of the Daughters of St. Paul to use the media to to evangelize and proclaim the Gospel.
So the result of all 3 ingredients led him to create a website listing all Eucharistic miracles in the history of the church.
Like other young saints in this article he contracted a form of cancer which led to his death.
His words are a good way to close out this article.
"Do not be afraid because with the Incarnation of Jesus, death becomes life, and there's no need to escape:
in eternal life, something extraordinary awaits us."