Young Christian Lucia of Syracuse (283–304) was engaged to a wealthy pagan young man which quickly ended when he denounced her to Paschasius, the Governor of Syracuse. Her betrothed didn't much like the fact that his bride to be was distributing her family's riches to the poor. It probably didn't help that she wanted to remain a virgin and she was also one of those pesky annoying Christians. The Governor told her to sacrifice to the emperor's image in which she told him to bug off. Her punishment was not at first death, that would come later when the other punishment failed to come to fruition. She was sentenced to be defiled in a brothel.
But God was having none of that. When the guards came to take her away to the house of ill repute, she couldn't be moved by all the brute strength. She was anchored to the spot where she stood. They tried to set her on fire, but alas, that flamed out as well. Finally, they stabbed her in the throat which worked. At some point she had her eyes gorged out. What she saw that her killers didn't see is that living for Jesus is worth living and dying for. What the whole world saw through the centuries up to the present day is an obscure young girl taken out of the shadows of life and brought to center stage as an example of a living witness of Jesus Christ by her martyrdom and commitment to Him.
Today she is known as Saint Lucy, The patron saint of people with eye problems and of writers. Sometimes God wants to make certain members of his flock an example of what He can do if we only give our whole life over to Him. He wants to show off his handy work in the lives of those we call saints. A saint can be anybody of any nationality, race, sex or age. You don't have to be a virgin martyr like Saint Lucy or Saint Agatha who visited her in a dream to inspire her and cheer her on. Where Lucy's eyes were gouged out, St. Agatha's breasts were cut off with pincers.
You also don't have to have an appearance from someone from the heavenly realm in order to become a saint.
All though some great individuals did become saints after receiving a supernatural visit from the blessed mother. I'm talking about Saint Juan Diego, The Fatima children and Saint Bernadette. St. Juan gave us an image still revered today, the picture of Our Lady of Guadalupe. The Fatima kids and St. Bernadette were obscure poor children whom God choose for the whole world to know about as evidenced by the movies that were made about their lives. 'The Song of Bernadette' is a classic film that has of all people in it, horror icon Vincent Price. A new movie version of the Fatima children just arrived on VOD ready for a new generation to learn about them.
As evidenced by the example of St. Lucy, other saints can visit future saints. St. Joan of Arc had visions of the archangel Michael, Saint Margaret, and Saint Catherine of Alexandria. Since her death by burning at the stake for supposed heresy she has become quite the popular saint known as The Maid of Orléans.
But You don't have to lead armies into battle to be saint.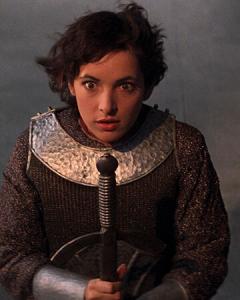 Sometimes thou, God allows certain saints to become popular. She was greatly admired by Tom Sawyer creator and adamant atheist Mark Twain who wrote a book about her life.
The shadow approached Joan slowly; the extremity of it reached her, flowed over her, clothed her in its awful splendor. In that immortal light her face, only humanly beautiful before, became divine; flooded with that transforming glory her mean peasant habit was become like to the raiment of the sun-clothed children of God as we see them thronging the terraces of the Throne in our dreams and imaginings.
He further remarks…
Whatever thing men call great, look for it in Joan of Arc, and there you will find it.

It took six thousand years to produce her; her like will not be seen in the earth again in fifty thousand.

She is easily and by far the most extraordinary person the human race has ever produced.

Mark Twain, Joan of Arc
St. Joan of Arc was Canonized May 16, 1920, at St. Peter's Basilica, Rome by Pope Benedict XV
Over 30,000 people attend the ceremony in Rome, including 140 descendants of St. Joan of Arc's family.
She left us this great little prayer that should be prayed by all Christians everywhere.
If I am not in the state of grace, may God put me there; and if I am, may God so keep me.
She has been depicted in several movies including the silent classic The Passion of Joan of Arc (1928) The script for the film is based on the original transcripts of her trial, condensing 29 interrogations over the course of 18 months into one single day.
St. Joan was one of the historical figures Bill and Ted picked up in their time traveling phone booth (not a TARDIS ) to help them finish their history project.
She was greatly admired by St. Thérèse of Lisieux, who performed her in a play for the cloistered Carmelite sisters. Joan and Therese are both patron saints of France along with several others and they are also both quite popular.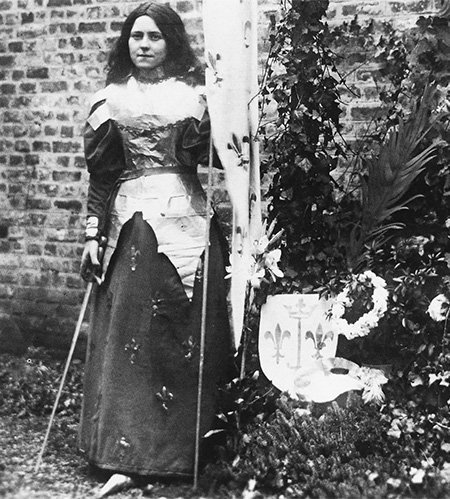 St. Thérèse was profiled in another article I wrote St. Therese and the Hidden Life Exposed, which talked about how God unhid her from Carmel cloister and exposed her deep spirituality to the world.
You however don't have to be in a cloistered convent to be a saint.
And he did that for several other Carmelite young women as well.
Including
33-year-old St. Mariam Baouardy (January 5, 1846 –August 26, 1878) or Mary of Jesus Crucified who actually had the stigmata. She became the second Greek Catholic to be canonized a saint of the Catholic Church, the first being Josaphat Kuntsevych in 1867.
26-year-old St. Elizabeth of the Trinity (July 18, 1880 –November 9, 1906), whose spirituality and suffering were similar to her counterpart St. Thérèse. While St. Thérèse was a great actor, St. Elizabeth was a good singer and played the piano rather well.
23-year-old St. Teresa Margaret Marianne of the Sacred Heart (July 15, 1747 –March 7, 1770) who lived an even more quiet life in the convent then the Little Flower did.
And
19-year old Saint Teresa of Jesus of Los Andes (July 13, 1900 –April 12, 1920). She was greatly impacted by St. Thérèse's story of a Soul which lead her to the convent. She is Chile's first saint and the first Discalced Carmelite outside of Europe to be proclaimed as a saint and is the fifth saint of the order with the name "Teresa". She was popular enough to have a movie made about her life.
And lastly of all
You don't have to be canonized to be a saint.
There are probably more un-canonized saints in heaven then canonized ones. Just because you're not canonized doesn't mean your not a saint. There are some saints who we will never learn about until we get to heaven. Perhaps some of these saints may yet be unveiled to the church. Like a nun named Sister Clare Crockett.
You can read about her in my article 12 Interesting Fascinating Catholics and Christians.
There may be future saints walking around. One such person is a young friend of mine. He wrote a blog post about his conversion. You can read about it in
Remember that were all called to be saints.
"The only real sadness, the only real failure, the only great tragedy in life, is not to become a saint."Leon Bloy
Most of the saints I mentioned in this blog post were young adults. In the next article I want to introduce you to 18 young people and and their companions.
And in yet another article I want to introduce you to 12 American Saints, Blesseds, Venerables, and Servants of God.