Of your charity, please pray for the repose of the soul of Thomas Howard, to whom I owe an unpayable debt. His _Evangelical is Not Enough_ was a hugely important book for me and paved the way to my becoming Catholic. He was a gracious, courtly man, who helped me on my path as a writer. He was also extremely well-read, a fine teacher, and devoted disciple of Jesus. May his soul and all the souls of the faithful departed, through the mercy of God, rest in peace through Christ our Lord. Amen.- Mark Shea on facebook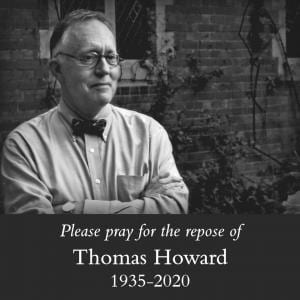 Thomas Howard created cathedrals and flower gardens of prose. Only Lewis has had a deeper effect on my relationship to language.
He also shaped how I think about being human. CHANCE OR THE DANCE? and HALLOWED BE THIS HOUSE are books to be savored and revisited.
He was gracious to everyone, including me in our few encounters. I'm grateful to have known him a bit. May perpetual light shine upon him. Deacon Steven D. Greydanus on facebook
I met him in the late seventies, as a newish and secularish Christian. He invited me to a small reading group he hosted called Beer and Bull. The first book I remember us reading was an Orthodox work called The Way of the Ascetics, all of which was new to me, and a little strange. I also remember being amazed that so lively a man, who loved living so much, took asceticism so seriously. Only later did I see that his deep prayer and liturgical life created the lively man. Behind the effortlessness with which he seemed to move through the world lay a great deal of sacrifice and discipline and self-giving. David Mills, RIP Thomas Howard: 1935-2020 (October 15, 2020) catholicherald.co.uk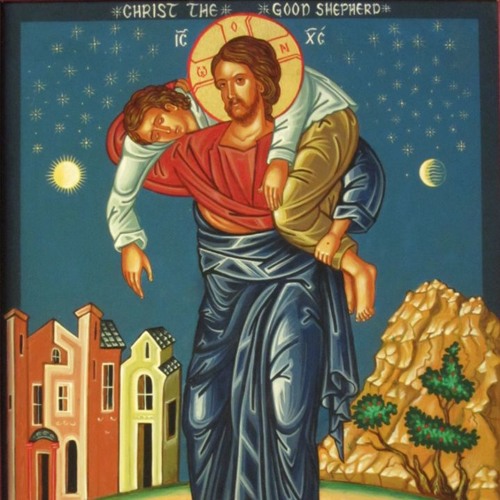 The new myth, I say, sees imagination as a flight into fancy—useful, to be sure, in helping us grasp rare abstractions like deity or ultimacy, or to articulate our experiences of grief or love or beauty, but undoubtedly leading us astray to the extent that it makes us picture and personify things. After all, we know that mathematics and linguistic analysis and astrophysics are the disciplines under which we must describe our universe, and this whole mythopoeic way of speaking belongs to the ages that really believed that things were all animated and charged with identity and being, all dancing in the great Dance. It was that sort of thing that came up with the picture, for instance, of God the Father as a bearded valetudinarian sitting on a throne dressed in a golden cope and tri-regnum, whereas our age knows that this is foolish and that no such thing is the case. Insofar as we are prepared to speak of "God" at all, we may say something about the Ground of Being.
–Thomas Howard, Chance or the Dance? (1969) 2nd Edition (2018) A Critique of Modern Secularism . Ignatius Press.
The ancients used to hallow places. They set aside groves and grottoes and mountains, and built temples and shrines and enclaves. Places mattered to them. They thought that a place could be fenced off and acknowledged to be the dwelling of the god, or the spot where the god had done some memorable thing. Here was a holy well, and there was an oracle. Here was an altar, and there was a tabernacle. The landscape of antiquity is dotted with these things, and it is natural that it should be. If the gods are there, and if their influence touches our realm, then memorable things are going to happen, and we men do well to mark off the precincts. Otherwise somebody might step across a line he ought not to step across, or cut down a tree that is not available for lumber, and end up paying with his life for having missed his cues.-Thomas Howard, Hallowed Be This House: Finding Signs of Heaven in Your Home (1977) Ignatius Press
4
At bottom, though, one cannot distinguish evangelical teaching from traditional Christian orthodoxy. We could be counted on to embrace wholeheartedly all that is spelled out in the ancient creeds of the Church. There is nothing in the Apostles', Nicene, Chalcedonian, or Athanasian creeds that we would have jibbed at. We were stoutly among those who with Athanasius, "hold the Catholic Faith . . . whole and undefiled." In this sense we would have been more at home in the company of apostles, fathers, doctors, confessors, and the ancient tradition of catholic orthodoxy than among modern churchmen who look on the gospel as being shot through with legendary matter.
Thomas Howard, Evangelical is Not Enough (1984) Ignatius Press
The Chronicles of Narnia are a "comedy" in the old sense of that word. It does not mean lots of laughs. Rather, it refers to a tale that ends in marriage, whatever ordeals may have gone before. Readers already versed in the Chronicles may object here that there is no marriage in Narnia. No. Not as such, of course. But that great rush at the end, when Jewel the Unicorn leads them all in a great race "farther up and farther in", is akin to the glorious consummation of all things which we find in Dante, and, before that, in Christian revelation itself. It is the in gathering of all of God's people into his kingdom, the way a bride is brought into the household of her lord or, in this case, the way all of the good creatures in Narnia are swept up into Aslan's country. Thomas Howard, Narnia And Beyond (1987) Ignatius Press
There was a girl named Elizabeth Barrett in my class at our school, whom I knew to be Catholic. She used to speak of "our Lord" once in a while. There must be something wrong about that, I thought: one says "The Lord". But she seemed to be wholehearted in both the naturalness and the reverence with which she spoke this title. How it was that she could not be a Christian, I was not entirely sure. (Besides, she had the courage to speak of Jesus, whereas I, who had a corner on access to him, could never muster any such courage. My Sunday school had given us little red pins saying "Jesus Saves" on them, as openers for witnessing. "Did he save you?" asked a boy named Donny Flynn one day. "No", said I, and that was the end of my efforts at witnessing. I took the pin off on the spot.)
Thomas Howard, Lead Kindly Light (1994) Ignatius Press
Is man religious? The testimony of anthropology, archaeology, history, mythology, and art would seem to oblige us all to answer Yes to such a question. Temples, altars, statues, tombs, frescoes, scrolls, mosaics, murals, barrows, ziggurats, minarets, inscriptions, dances, amulets, sacrifices, mumbo-jumbo: it would be a highly idiosyncratic view of man that reached any conclusion here other than that we are deeply religious creatures, quintessentially and incorrigibly so.
Thomas Howard, On Being Catholic (1997) Ignatius Press
We need the tradition springing from the ancient wellsprings of the race to come to our assistance and furnish us with words and movements that will give adequate shape to what it all means. Likewise with death. This is "merely" a biological event (like birth and marriage). But we all know that biology is simply the tiny tip, under the species of mortal flesh, of the infinitely deep mystery of personhood. So when a human body ceases to breathe and live, we cannot leave the matter with simply disposing of the awkward residue. Nothing will do but ritual and ceremony, that is, words and movements, which, by virtue of themselves springing from the heart of the race, as it were, and of having been tested and dignified by ancient usage, have taken on the weight and solemnity that answer to the occasion, as opposed to our own helter-skelter attempts to respond to what has happened.
Thomas Howard, If Your Mind Wanders at Mass (2001) Ignatius Press
There would be no point, obviously, in my offering a mere period piece to my supposititious audience. Thomas Wolfe, Marcel Proust, Vladimir Nabokov, and a hundred others have evoked the past in the course of their work, and scarcely need my help in keeping the past vivid. I suppose I would try to argue that the true substance of what is here cast in the New York of the late nineteen seventies is of a nature that has not changed qualitatively since the day after the expulsion from Eden. What was borne in upon me under the kaleidoscopic species of that city was of a piece with what T. S. Eliot called "the permanent things". The cities of the plain, with all that marks them—their fashions, their argot, their preoccupations, their amusements, controversies, and concerns—pass. But the permanent things are just that: permanent. Thomas Howard, The Secret Of New York Revealed (2003) Ignatius Press
There is something daunting, not to say presumptuous, about embarking on any commentary on T. S. Eliot, or on any of his works. The whole thing has been done—and done, and done, a reader might justly murmur to himself. The shelf of Eliot studies would stretch from Tierra del Fuego to Ultima Thule, surely. The students, critics, scholars, and biographers who have addressed themselves to Elioteana, so to speak, constitute a dazzling galaxy. Is anyone calling for yet another meteorite to dash briefly across the firmament?
Thomas Howard, Dove Descending: A Journey Into T.S. Eliot's Four Quartets (2006) (Sapientia Classics) Ignatius Press.
For a good overview of Thomas Howard's works read
The Night Is Far Spent compiled by Vivian W. Dudro (2007)
Dave Armstrong's list of Thomas Howard Quotations