Feast of the Exaltation of the Cross
OH MY GOD!
Jesus, my Love, oh how your heart bled.
You rose from the grave when you were dead.
Jesus you suffered each scratch, each blow
So that eternal life we might know.
In the garden where You prayed
None of Your friends even stayed.
In Your sweat was blood, was pain
To You a cup of sorrow came.
Your friend Peter thrice denied
Pontius Pilate had You crucified.
All alone up on the cross
How we gained from Your loss.
Imagine the pains of Your hands and feet
This for victory, not defeat.
You were dead as the story goes
But on the Sabbath Day You rose.
Thank You for freeing us from Hell.
Of You we must not be afraid to tell.
Now death will be no more
That you Jesus who I adore.
–Kristin Wilson O.C.D.S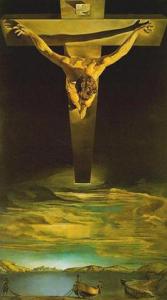 At the center of Christian vision and imagery stands a great and enigmatic sign, the sign of the cross. The cross attracts the unceasing efforts of man's intellect and imagination and affection to respond….
It is carried in procession with great pomp in Rome
and hangs on a string around the neck of an Irish farmer.
It glimmers from a plaque next to a child's crib
and shines from the pages of Aquinas.
It is hailed in sorrowful chants (O vos omnes…videte si est dolor sicut dolor mei)
and in hymns of contrition ("When I survey the wondrous cross")
and of triumph ("Onward, Christian soldiers").
There are gold crosses,
plastic crosses,
wooden crosses,
jeweled crosses,
and stone crosses.
There are huge crosses towering in the Alps and the Andes
and tiny crosses on dashboards and shelves.
There are crosses on spires and crosses on gravestones.
There are Celtic crosses,
Crusaders' crosses,
crosses of Saint Anne,
and Coptic crosses.
There is the bare cross,
the crucifix, and the Christus Rex
(Christ crowned and in royal robes on the cross).
And of course there is no counting
the frescoes,
mosaics,
icons,
and oil paintings that have for their subject the crucifixion scene….
Christians see themselves, then, as a people under the sign of the cross.
It is the sign of their salvation;
it is their ensign,
their banner,
their cover,
their plea,
and their glory.
–Thomas Howard on the Image and the Mystery of the Cross
as found in The Night Is Far Spent: A Treasury of Thomas Howard (Ignatius Press, 2007)
Feast of Our Lady of Sorrows
Today it would be good to stop a moment and think about Our Lady's pain and sorrows. She is our Mother. And how she bore them, how she bore them well, with strength, with tears: they were not false tears, it was truly a heart destroyed with sorrow. It would be good to stop a moment and say to Our Lady: "Thank You for accepting to be Mother when the Angel said it to You, and thank You for accepting to be Mother when Jesus said it to You."
Homily of His Holiness Pope Francis (April 3, 2020)
"Our Lady of Sorrows: disciple and mother"